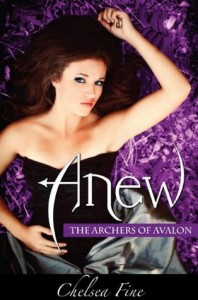 Anew
(
The Archers of Avalon #1
)
by
Chelsea Fine
Purchase on:
Amazon
, 
iBooks
Add to:
Goodreads
Synopsis:

Three curses. Two brothers. One love triangle.
Sometimes love is meant to be. But sometimes...love is the death of you.
Review:
I was hooked from the very first page. Anew sunk it's claws deep into my heart, and I am still in shock over how much this book made me feel. The sarcastic humor had me constantly laughing, the undercurrent of mystery and love had me turning the pages as fast as possible and the characters warmed and angered my heart. Anew completely captivated me, and I never wanted to leave the town of Avalon.
It would happen. Tristan couldn't stop it. And, if he really cared about Scarlet, he shouldn't stop it. But that didn't make the thought of them together any less gut-wrenching.
Tristan stared blankly at the floor as a piece of his heart broke.
His very real, very existent heart.
And so it begins.
Hope, mystery, love, despair, and at the bottom of it all is a curse. Three curses to be exact. This will become Scarlett's life but she doesn't know that yet, or more correctly stated, she doesn't remember her past yet. Scarlett wakes up in the middle of the forest alone and terrified out of her mind. The only thing she can remember is her name. The rest is blank, completely blank. Fast forward two years and she has settled into a nice, safe life. She is lucky. But her world is about to be shaken and she will have two boys to thank for that. Gabriel has a voice that she recognizes, that she knows but can't place. While getting close to Gabriel, she discovers that he has kept his brother, Tristan, a secret. Why would he do that? And why does she feel such a strong pull to Tristan? What other secrets are they keeping from her?
Wind blew across the porch, lifting a strand of her dark hair and blowing it across her face. A rush of memories – shoved to the depths of his soul in punishment – broke free and flooded his mind as he stared at her. Memories of love. Memories of life. Memories of torment…death… (Tristan)
For me, there is no competition. There is no debate over which Archer brother is the right one for Scarlett. Tristan completely won over my heart and soul. His dark, sarcastic humor was intoxicating. His selflessness and bravery was endearing. And his love and interactions with Scarlett were incredibly butterfly inducing. Even when he was being a jerk, I couldn't get enough of him. Tristan is everything I love, and so much more.
Scarlet eyed the brothers for a moment.
Trust her gut? Her gut was currently telling her to run her hands through Tristan's dark hair. She wasn't so sure her gut was reliable.
Scarlet is sassy, tough and brave. Throughout each pitfall and each emotional memory, she tried to stand strong. She wasn't going to let some curse get the better of her. I loved her attitude, but one thing drove me a little crazy this second time around. Her ability to become close to Gabriel. I understand he made her feel normal and safe but honestly, I just can't stand behind Gabriel. He was so vanilla. I never felt any passion or lust between him and Scarlet. And some of his actions bothered me. They say love makes you do desperate things, but for me, he takes it to a level I wasn't comfortable with. To put it bluntly, there were a few times I wanted to punch him in the throat, make him disappear, and bring Tristan into the picture. I'm clearly not biased or anything! But in all due honesty, Gabriel wasn't that bad. But the problem for me was that he wasn't Tristan. He could never be Tristan.
He looked haunted. Pained.
Her heart thrummed as she felt something sorrowful grow inside of her. Heavy and warm and full of regret, it whispered something to her soul. Something powerful.
Something sad.
Something Scarlet couldn't remember.
Anew mesmerized me. While the mystery unfolded, I found myself falling head over heels for a tortured soul and rooting on a new favorite heroine. The side characters were quirky, fun and memorable. And the storyline left me laughing, breathless and the feeling that my heart was going to explode out of my chest. I can't wait to see how the rest of the series progresses, because I may have just found a new favorite series!
From the corner of her eye, she saw a sad smile tug at his mouth. "Your life has had more meaning than a thousand lives put together." A few more leaves fell. "You don't remember how beautiful your life has been, but someday you will." (Tristan)
Save
Related Posts