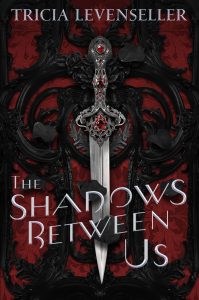 The Shadows Between Us
by
Tricia Levenseller
Purchase on:
Amazon
, 
iBooks
, 
Book Depository
Add to:
Goodreads
Synopsis:

Alessandra is tired of being overlooked, but she has a plan to gain power:

1) Woo the Shadow King.
2) Marry him.
3) Kill him and take his kingdom for herself.

No one knows the extent of the freshly crowned Shadow King's power. Some say he can command the shadows that swirl around him to do his bidding. Others say they speak to him, whispering the thoughts of his enemies. Regardless, Alessandra knows what she deserves, and she's going to do everything within her power to get it.

But Alessandra's not the only one trying to kill the king. As attempts on his life are made, she finds herself trying to keep him alive long enough for him to make her his queen—all while struggling not to lose her heart. After all, who better for a Shadow King than a cunning, villainous queen?
Review:
The Shadows Between Us is being advertised as a Slytherin romance and I can't really think of a better description for it. However, I want to caution it fell on the Slytherin-lite side of things for me, as I think there were some missed opportunities for it to get darker and for the leads to really show how ruthless they were.
Alessandra is the main character of the book and the story is told entirely from her perspective. The opening of the book is one of the best ones in I've read in a long time. It quickly and fiercely set a tone for the book and gave us a perfect introduction to her. It's why I truly wished there were more scenes later on that were like this. Alessandra is the youngest of two daughters and lives with her father. She's constantly overlooked and only seen as a means to an end for her father. Because of this, she's determined to meet, woo and kill the Shadow King and take his throne so she can lead the kingdom how she believes it should be run.
The early chapters were so much fun, with us learning why she is so cunning and self-assured. She knew how to get the king's attention and how to prove to her father she was so much more than he gave her credit for. Once she gets to the king's palace, things slow down for a while. We see Alessandra make friends and allies, who were all wonderful characters in their own right, put her schemes into motion and earn the king's trust. We also see Alessandra make all of her own outfits, as she is a skilled seamstress, which I thought was a really nice touch. A lot of MC's seem to lack any kind of hobbies and it was great to see this represented.
As for the king, his name is Kallias and is your fairly typical dark and brooding boy king with a softer side. We learn a lot about his backstory, which was appropriately tragic and made me really feel for him. He's determined to figure out who murdered his parents, and thus, has problems trusting others. He also has an adorable dog named Demodocus (and nothing happens to him, just fyi!).
Their relationship is definitely of the slow burn variety, but I enjoyed their private (and sometimes public) interactions. Their approaches to sexuality and past relationships was very open and honest and incredibly refreshing. It was great to see Alessandra so confident in her sexuality and the lack of judgement from Kallias about it.
There's a lot of court happenings and some side storylines that keep the story moving outside of the main plot. The pacing of the book was a bit uneven overall, but I felt the book really stuck the landing. As I mentioned before, the main thing I wanted more out of this book was taking the Slytherin aspect of the book farther. A lot of problems are easily resolved and the internal conflict for Alessandra over how/when to kill Kallias is dissolved quickly. The opening of this book was pretty much the only moment of its kind and didn't end up the setting the precedent I wish it would have.
Overall, I thought this book was a lot of fun and had great characters. With a few tweaks, this could have been a five-star read instead of just a four. It's good as a standalone, but I won't be surprised if in the future there's ever a followup. I certainly wouldn't mind seeing what Kallias and Alessandra are up to a few years down the line.
Favorite Quotes:
They've never found the body of the first and only boy who broke my heart. And they never will.
*
"You are beautiful," he continues. "But not so beautiful to tempt me. You are everything I am looking for. You are perfect."
*
"Kallias." I say, letting the syllables drift off my tongue: kuh-LIE-us.
I have been entrusted with the name of a king.
Now I need him to give me his heart.
*
Kallias, who stood by my entrance, says, "You kept him waiting. Belly rubs are the price you must pay."
*
"Alessandra Stathos, that's positively despicable." He says the words like they're the highest compliment he can give me. "You are an absolute gem, do you know that?"
*
"Rest assured, the only dangerous thing out here is me."
"And should I fear you?" I ask.
"Never."
*
His answering smile is that of a predator, masculine pride at its finest.
*
"You and I are playing a very dangerous game."
*
"I can't stand being alone for one second longer. I can't stand being apart from you for one second longer."
*
"And though I will not have millennia to live, I want to give however many years I have left to you. Because I love you. I love the woman who saved me. And though she doesn't need me, I want her. Fiercely. All the time in the world is worth nothing if I don't get to spend it with you."
Giveaway:
Want to win one copy of The Shadows Between Us (US only)? Enter here:
About Tricia: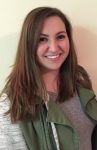 Tricia Levenseller is the author of the Daughter of the Pirate King duology, Warrior of the Wild, and forthcoming The Shadows Between Us. She likes to describe her books as young adult alternate–world historical fantasies with heavy romantic subplots.Initially from a small town in Oregon, Tricia now lives next to the Rocky Mountains with her bossy dog, Rosy. She received her degree in English Language and editing, and she is thrilled that she never has to read a textbook again. When she's not writing or reading, Tricia enjoys putting together jigsaw puzzles, playing volleyball, playing Overwatch with her siblings, and watching shows while eating extra-buttered popcorn.
Keep up with Tricia: Website | Goodreads | Twitter | Facebook | Tumblr | Instagram | Pinterest
Related Posts