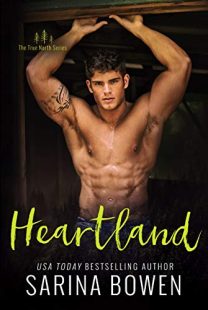 Heartland
(
True North #7
)
by
Sarina Bowen
Purchase on:
Amazon
, 
iBooks
Add to:
Goodreads
Synopsis:

An emotional friends to lovers romance full of risky secrets and late-night lessons in seduction.

Dylan is my best friend, and the only person in my life who understands me. He doesn't mind my social awkwardness or my weird history. The only glitch? He doesn't know that I've been hopelessly, desperately in love with him since the first day we picked apples together in his family's orchard.
But I know better than to confess.
Now that we're both in college together, I'm seeing a new side of him. College Dylan drinks and has a lot of sex. None of it with me.
Until the night I foolishly ask him to tutor me in more than algebra…and he actually says yes.
But the cool morning light shows me how badly I've endangered our friendship. And I don't know if anything will be the same again.
Review
If there were one fictional family that I would gladly want to be folded into, it would be the Shipley clan.  From the very first time we are introduced to all of them in Bittersweet, I knew that I was going to form a life-long attachment and love for the entire family.  I actually recently went and re-read that first book and I forgot how many little snippets we see of a younger Dylan that are just hilarious.  He still had that larger-than life, easygoing personality (especially compared to Griff).
Since most of the other books take place when the MCs are in their mid-to late-twenties or so, I enjoyed this one being set in college.  Since I'm an old woman now with almost two kids (har har, jk..kinda) I always get giddy and nostalgic thinking back to those easygoing times.  This book was no different.
I was also pretty excited to learn more about Chastity.  After Zach's book when she shows up and it's pretty evident that she has her own story to tell about how she got the hell out of there, I was eager to learn more about it and how she was going to fit in in a college setting.  Other than struggling with some of the class aspects of things though, I thought she really thrived.  She ate up those "normal" college experiences and craved more.  Of course I loved that Dylan helped tutor her.  What a sweetheart.  Really though, other than him having a filthy mouth and being this super brawny hunk of man meat (lolll) he may be the sweetest Shipley out there.  No, I take that back.  He definitely is.
My heart broke for him on numerous occasions because of the blame he was placing on himself for his father's death.  It's always easy to see from an outside perspective that there would have been absolutely NOTHING he could have done that day to make his father still be alive.  But he still couldn't see that and of COURSE because he's a stubborn male he couldn't talk about it with anyone.  I was so happy when he finally was able to talk that out with his mom and brother *sobs*.
Hmmm what else?  Oh, the steamy scenes?  Yeah, you aren't going to want to miss those.  The whole dynamic where the girl wants the more experienced guy to "teach her" the ways of things always gets me.  I mean, how can it not?  Especially when Dylan is so sweet to her and cares to make things as good for her as they possibly can be ~shivers~.  Highly, highly recommend, as always.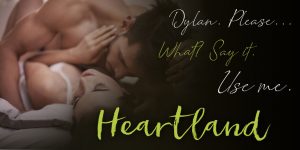 Extra Purchase Links
Kobo https://geni.us/HeartlandKobo 
Nook https://geni.us/HeartlandNook 
Google https://geni.us/HeartlandGoogle
About Sarina Bowen:
Bowen is the USA Today bestselling author of 30 books, including: the True North series, co-author of Him/Us and the WAGs series with Elle Kennedy, The Ivy Years series and the Brooklyn Bruisers. And more!
Are you looking for a friends-to-lovers story or maybe even a secret baby book? You can read a list of Sarina's books broken out by trope and style.
Need to know what's coming next ? Get all the latest news on Sarina's website, and sign up for her newsletter so you don't miss a book or a deal.
Related Posts