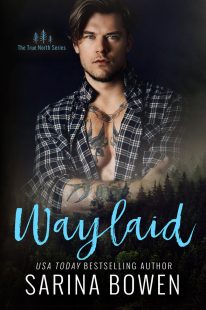 Waylaid
(
True North #8
)
by
Sarina Bowen
Purchase on:
Amazon
, 
iBooks
Add to:
Goodreads
Synopsis:

It's a tale as old as time: the bad boy meets the good girl. He makes a daring proposition. Then the boy gets a mysterious head injury and loses a year of his life…

The first time I meet Rickie, I don't know what to make of him. The second time we meet, he doesn't remember the six hours we spent together. Or standing me up afterward.

I'm not the same, either. I've got secrets. I've told lies. Bad boys aren't my type, anyway. Even the ones with troubled gray eyes.

But now we're roommates. Cue the awkward moments in the hallway when he's wearing only a towel and a smile. He's determined to win me over, and his talented hands weaken my resolve.

It's all fun and games until my past rears its ugly head and his secrets come to light, shaking our fragile connection, maybe even breaking it…

Note: this is Daphne Shipley's story. Contents include Vermonty ice cream flavors, nerdy awkwardness, tattoos, and a playboy grandpa.
Review
I knew I needed a book about Rickie from the first time we laid eyes on him in Heartland. He was such an enigma to me and I knew that if we were to get a glimpse into what him, him that I would consume it in a day (I did).
I have said this in just about every True North review to this day but every time I start these books, I remember how good it feels to be back on the Shipley farm with one of my favorite fictional families in the entire universe. Right from the get go we see Rickie almost dying bc his poor body isn't used to farm work quite yet (lol) and we see Daphne acting quite strange. Speaking of enigma's, I have ALSO been dying to get Daphne's story because she has always been the Shipley that I have feel the least connected to. I think it's because when we first met Griffin she was still younger and she was in the background and then away at school ever since.
There was a tension between these two that we eventually find out stems from a meeting and budding friendship that Rickie knows nothing about. He went through some kind of traumatic injury years ago and just straight up can't remember about an entire year of his life. I just KNEW right then and there that there was going to be some very delicious twists and turns in this book.
Boy was I right. As certain memories and even parts of Daphne's past at Harkness start surfacing I began to have some suspicions about not only why Rickie's memory was like it was, but who might be involved. I was right on somethings, wrong on others. The important part was how amazingly intricate it all was and how beautifully Bowen tied it all together. I was downright obsessed with the chemistry that Daphne and Rickie had, too. It was so hot and palpable.
The cherry on top was Daphne mending fences with her family after the entire truth came out AND of course Grandpa Shipley gettin' some. LOL Love, love, LOVED this book and I don't want my time with this family to ever end.
Huge thanks to Tuxbury Publishing LLC and Sarina Bowen for allowing me to read an eARC of this book in exchange for my honest review.♥
Related Posts