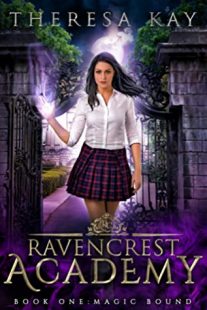 Magic Bound
(
Ravencrest Academy #1
)
by
Theresa Kay
Purchase on:
Amazon
Add to:
Goodreads
Synopsis:

Starting a new school is never easy and this time not fitting in could cost lives.

Despite being raised by shifters, my life was fairly ordinary . . . until I tried to break up a fight and got zapped with magic.

Then, all hell broke loose.

Power I didn't know I had came surging out of me, revealing me as a witch and drawing unfavorable attention to my adoptive parents.

Now, as the witches attempt to use my concealment as an excuse to push an anti-shifter agenda, the only way to keep my parents—and myself—safe is to enroll in the elite Ravencrest Academy and prove I can control my newfound abilities.

Unfortunately, raw power doesn't translate into competency and everything is way more difficult than I imagined.

Even with all the things working against me (like my complete ignorance of magic and witch society), I manage to make a few new friends and there's a spark of something more with the last person I expect.

But I can't let that distract me from the ugly truth that many who walk the halls of Ravencrest are eager to see me fail. To keep the peace between shifters and witches I must succeed . . . no matter the cost.

Magic Bound is the first book in an exciting new YA paranormal academy series with a slow burn enemies-to-lovers romance. Perfect for fans of Supernatural Academy, Shadowspell Academy, and Evermore Academy.
Review:
Magic Bound was heartwarming, addictive and completely mesmerized me.  With characters that were easy to relate to and a story line that made this book impossible to put down, I devoured this book so fast!  It was just so much fun.  With enemies to lovers, magic and friendship swirling through the pages, Magic Bound easily landed on my favorites list!
The fragile hold I have on my emotions shatters, and the tears come down full force, followed by a hiccuping sob.
I can't do this. I don't want to be here. I want to go home.
Selene had been raised by her adoptive parents, who were shifters. She thought she was a blank, a child that had no magic and was from two witches. But a moment at a party went awry, and she discovered she had magic.  To help protect her adoptive family, since shifters should not have raised a child with magic, she was shipped off to Ravencrest Academy.  But life wasn't easy there for Selene, and what unfolded had me turning the pages faster and faster.
The level of arrogance dripping off this guy is ridiculous. And I've dealt with moody alpha level shifters. It makes me want to punch him. Hard.
Selene is definitely one of my favorite heroines.  She was brave, kind, held her own, and acted from her heart. So she was someone I easily looked up to and respected. But oh my gosh did she struggle. She had problems with something as simple as opening a door, with her magic.   And because of how she was raised, and her lack of knowledge, others weren't kind to her.  She was different.  She was an outsider.  But even though Selene struggled with magic, she was still completely kick ass. She had so much fire in her and I loved that she had a backbone and stood up for herself.  Especially when it came to her interactions with Tristan.
From the very first moment I met Tristan, he irritated me. The fact that he's a St. James just makes it all the worse.
Ohhh the illustrious Tristan St. James.  I. Loved. Him!  He landed on my favorite book boyfriend list, but it wasn't an easy path.  You see, Tristan was a total douche bag.  He wasn't nice to Selene and he hurt her at times.  But I always looked for the tiniest of clues that Tristan was so much more than what he showed the world. And what I saw underneath it all, made me fall for him so hard.  As more of his past came to light, and we saw how he was raised, it all started to click together.
"You are a St. James after all. I don't know why I ever expected better. You're just as bad as everything I ever thought about your parents. Maybe worse. Perfect, pretty Tristan who always gets what he wants."
"I always get what I want?" he asks, the question carried on a huff of incredulity. "If only that were true . . ."
Selene and Tristan had the most addictive slow burn enemies to lovers romance.  Especially since there was a forbidden feel to it, because of who they each were.  So I loved watching their interactions.  They butted heads, each had their preconceived notions and it was rough at times.  But I fell so hard watching them interact.  Moments made me smile and sigh, and others had me wondering how they could even be in the same room together lol.  So hold on because it was a bumpy ride.  On top of Selene and Tristan, there was friendships, family, school and even politics in the pages.
Tristan grabs my arm. "You didn't have to do that. There'll be . . . repercussions for you, won't there? With your pack or whatever."
"Did you think I was going to stand there and let you get hurt? That's really not my style." I tug my arm out of his hold.
The side characters rounded out this story so perfectly.  There was Basil, the eccentric "Grandpa" who helped guide Selene at the academy.  And whose quirks made me smile.  To Isobel, who was Selene's roommate and was the sweetest girl ever.  To even her cousin Reid, who felt more like a brother and was someone I cared deeply for.  But my favorite side character was Adrian.  He was a fellow student who made me laugh and smile so much.  He seemed to have a lot of secrets, so I can't wait to learn all about him in this series!
My entire world narrows down to nothing but the feel of his mouth on mine, his breath against my face, his fingers around my waist. And I am lost in it.
So, yup, this book had it all!  And that ending had me beyond excited to see what will happen next.  It was such an easy book to devour and understand their world.  Plus I loved so many of the characters.  So if you're a fan of enemies to lovers, academy books or paranormal stories, then definitely add this one to your list!   I can't recommend it enough!
*I voluntarily read and reviewed an advanced copy of this book, provided by the author. All thoughts and opinions are my own.*
Related Posts