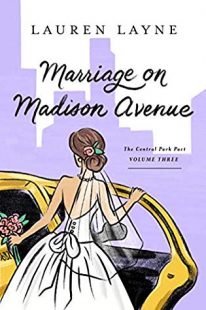 Marriage on Madison Avenue
(
Central Park Pact #3
)
by
Lauren Layne
Purchase on:
Amazon
, 
iBooks
Add to:
Goodreads
Synopsis:

Can guys and girls ever be just friends? According to Audrey Tate and Clarke West, absolutely. After all, they've been best friends since childhood without a single romantic entanglement. Clarke is the charming playboy Audrey can always count on, and he knows that the ever-loyal Audrey will never not play along with his strategy for dodging his matchmaking mother—announcing he's already engaged…to Audrey.

But what starts out as a playful game between two best friends turns into something infinitely more complicated, as just-for-show kisses begin to stir up forbidden feelings. As the faux wedding date looms closer, Audrey and Clarke realize that they can never go back to the way things were, but deep down, do they really want to?
Review:
Marriage on Madison Avenue was the perfect ending to this series.  I fell madly in love with the fake fiancée story-line…oh my heart, it was so much fun!  And I loved Audrey, Clarke, and their group of friends.  I found myself laughing, crying and even gasping out loud while reading, this book was such a huge win!  So if you're a fan of swoon worthy romance, a fabulous group of friends and the fake boyfriend trope, you definitely have to pick this one up!
Clarke's fingers dug slightly into her hip, reminding her of the plan, and she played her part, winding an arm around his waist and beaming up at him. "Me, too. I don't know what took me so long to see that he's the one, but I'm glad I finally woke up."
The smoldering look Clarke gave her in return caused her breath to hitch just for a second and made her think the man had seriously missed his calling— that was some Oscar-level acting right there.
I have been excited for Audrey's story since the first book, Passion on Park Avenue.  She was always my favorite, but shhh don't tell the others.  Audrey was an Instagram influencer who was extremely popular.  But an evil troll got dirt from her past and tried to tarnish her reputation.  When her best friend since childhood, Clarke, announced they were engaged, it looked like all of their problems could be fixed.  Her troll would hopefully disappear, right along with Clarke's ex who was back in town.  And being pushed on him by his over bearing mother.
What had been brutally true was that Audrey was the other woman. The whole time she'd thought she'd finally found her happily ever after, she was destroying someone else's. A woman who, as Audrey had come to discover, deserved it more than anyone she knew.
I absolutely loved Audrey, she felt like a friend. Her thoughts made her easy to relate to and I loved all of her energy.  But my heart hurt for her.  She had lost faith in herself when she was damaged by a horrible man.  And it ate away at her.  Audrey had been the other woman, even though she had no clue.  So she didn't think she deserved a happily ever after.  A fake engagement was not only perfect, since it'd fix her reputation, but it'd be the closest thing she would ever get to experiencing marriage. Without it going anywhere. Or so she thought.
"Smile,"he instructed, stepping even closer and sliding his hand around her waist. She smiled automatically, even as she registered that his hand had slid low on her back, his face needlessly close to hers.
"Clarke—"
"Brace yourself,"he said out of the corner of his mouth.
"What—"
His lips closed over hers.
Clarke was the ultimate friend and book boyfriend.  He was driven, dedicated and I loved how much he loved Audrey.  And how he always tried to do right by her.  Even the relationship Clarke had with Audrey's parents was what hopes and dreams are made of.  But with his overbearing mother pushing his ex in front of him and his ex showing up where he was, being engaged seemed like the perfect answer to fix it all.  It was a safe plan.  Especially since Audrey had been his best friend since they were kids.  What could possibly go wrong?
It was no big deal, she told her thundering heart. Just a perfunctory stamp of a kiss to get the doubters to back off. It'd be over before she knew it.
Clarke's lips moved against hers, his head tilting to the side, deepening the kiss slightly as his hand slid up her back, pulling her more firmly against him.
Audrey felt something strange and unfamiliar flutter in her stomach.
As Audrey and Clarke got further into their charade, I was a smiling, laughing and oh my gosh what's going to happen next mess.  I had butterflies and excitement, but I was also so nervous for them.  Because what happened when pretending to be in love with your best friend caused feelings to stir inside?  Especially when you had to touch each other in public.  Act like you're in love.  And have kisses that melted those around you.  It was only a facade.  Right?!  Ahhh see that's why I love these types of books so much.  They're such a blast and Lauren Layne, for the second time, has pulled this trope off beautifully and seamlessly (the other book she wrote with this trope is Isn't She Lovely and that book is like a modern day Pretty Woman…sooo addictive!).
"Okay, I'm going to ask something that's not my business," Naomi said.
"Now, there's a surprise," Claire said. Naomi gave Claire a toothy smile and turned back to Audrey.
"Have you ever thought about trying this whole romance thing for real with Clarke?"
On top of a beautiful romance story, there was a friendship that spanned these three books.  And it was such a huge gem in these stories!  Audrey, Naomi and Claire seemed like an unlikely trio.  Especially since Audrey and Naomi had been sleeping with Claire's husband, unbeknownst to them that he was married.  And from their first meeting on the day of his funeral, a beautiful friendship blossomed.  One that was based on trust and respect.  These ladies had true friendship goals, and I loved watching them grow with each other throughout this series!
She glanced down and winced. "I was in a hurry to talk to you."
"About?"
Slowly she dragged her gaze back up, but only as far as his Adam's apple. "About us getting married. Shouldn't there be . . . more?"
He swallowed, though it felt like a Herculean effort. "Do you want there to be more?"he asked roughly, needing to ask the question even if he wasn't at all sure that he wanted to know the answer.
If you're looking for a fun romance story that is light and will make you smile and laugh, but also deep and will pull at your heart, then definitely add Marriage on Madison Avenue to your list!  This story left me feeling so happy, especially with that epilogue!  Just keep in mind, this series is a little different than LL's other books, since it's a fade to black.  But it was still extremely sexy!  So yes, I definitely recommend this book and series!  And Marriage on Madison Avenue can easily be read as a standalone.
PS The crossover with Alexis Morgan, from To Love and To Cherish, as their wedding planner had me squealing with delight!  Especially with that Bride Wars reference…the scene with it was absolutely perfect!
*I voluntarily read and reviewed an advanced copy of this book, provided by the publisher. All thoughts and opinions are my own.*
Related Posts