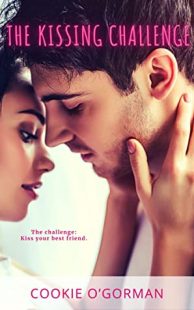 The Kissing Challenge
by
Cookie O'Gorman
Purchase on:
Amazon
Add to:
Goodreads
Synopsis:

The challenge: Kiss your best friend.

Sixteen-year-old Anne Elliot is in love with Captain.

He's been her best friend for years. A rising musician with a special smile he reserves just for her, Captain even lets Anne practice her makeup skills on him—though his bandmates give him flack for it.

When Anne gets an anonymous comment challenging her to kiss her best friend, it threatens to reveal her secret. But how can she resist doing the one thing she's wanted forever? It's just one kiss. She and Captain's relationship can stay the same…right?

The real challenge: Kiss your best friend, and don't let him know you're in love.

This YA romance novella is fun, fast-paced, and flirty, the perfect story for anyone who loves best-friends-to-lovers. Inspired by TikTok & Jane Austen, THE KISSING CHALLENGE is sure to make you swoon!
Review:
The Kissing Challenge quickly pulled me in and was impossible to put down! With a girl I wanted as a bestie, a guy who I was obsessed with, a group of friends I wanted to be a part of and a story line that was so much fun, it was no surprise that I read this book in one sitting. If you love YA romances that are swoon worthy and smile inducing, then definitely add this one to your tbr! I can't recommend it enough!
Captain wasn't just any guy. He was the love of my life. I'd tried so many times to stop loving him, tried to like different guys, but no one could ever compare. He was my penguin.
Anne had been in love with her best friend forever. But Captain didn't see her that way. When she got an online challenge to kiss her best friend, she knew she couldn't back down. She hadn't said no to a challenge yet, so I was just as nervous as she was! You guys, I loved Anne right away. She was open, kind, brave and extremely talented when it came to makeup. And Captain was good hearted to let her practice on him.
His big hand cupped my face with the utmost gentleness, like he was holding something precious. My eyes opened, and as he looked at me, the weight of what I'd just done came crashing down.
"Oh my God," I gasped.
Cookie O'Gorman writes male characters that I desperately want to steal from the pages! So Captain consumed me and I loved him so much! He played guitar in a band and was beyond sexy, patient and such a good friend to Anne. He truly cared for her and his mannerisms and words captured my attention. I was beyond obsessed anytime he was on the pages!
But he'd kissed me with such emotion and heat. I hadn't known my best friend was capable of that— at least not with me. It had felt real.
The thing was… I couldn't decide whether that was the truth or wishful thinking.
Anytime Captain and Anne were together, I couldn't knock the smile off of my face! They were so fabulous together and there was so much laughter in the pages. I constantly felt giddy. The excitement that thrummed through me kept my heart oh so happy. And the kisses?! The kisses in these pages were SO hot *fans face*! Cookie O'Gorman writes the most sigh worthy kisses! But I was nervous with how it was all going to play out, since they had always been just friends.
He lifted his hand in response and pushed a strand of my hair back behind my ear. The light touch made me shiver.
"There's only one girl I see," he said while gazing down at me.
It made my heart skip.
On top of Anne and Captain, I adored the side characters! Everyone just felt so real to me! Like Gemma, Anne's bestie. Their friendship was adorable and I loved Gemma, even when she meddled in Anne's life. But hey, what are friends for, ha! And Captain's band-mates….ohh I feel like they could each have their own story. Especially Knight and Liam, they intrigued me the most and I wanted to know all their secrets!
My best friend smiled, and it was as if my soul took flight. Looking into his eyes, I said the only thing that was left to say.
"Kiss me, Captain."
And he did.
If you're looking for an adorable and sigh worthy book, then look no further, The Kissing Challenge is it! Fans of friends to lovers and YA romance will fall in love with this story! The amount of emotions that were packed into this novella blew my mind! I could have easily read a full book about Anne and Captain and their time together ♥.
Related Posts