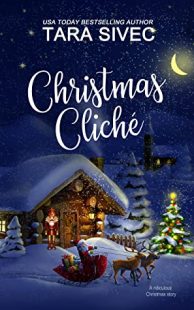 Christmas Cliche
by
Tara Sivec
Purchase on:
Amazon
, 
Book Depository
Add to:
Goodreads
Synopsis:

'Twas the week before Christmas
and all through L.A.,
Allie Parker's famous twin sisters
were driving her cray.
She fled to the mountains
with a hostage in tow,
hoping to sleep through the holidays,
which were a sh*t-show.
A crash in a blizzard,
and a hot mountain man,
definitely wasn't part
of her evacuation plan.
Santas, and stockings,
and creepy nutcrackers too,
everywhere she looks,
it's a crazy Christmas zoo.
But there are hugs, and smiles,
and a beautiful view,
kisses and laughter,
and no time to be blue.
Maybe this family,
with their hot mountain man,
will make this a Christmas
Allie can actually stand.
Review:
Christmas Cliche was laugh out loud hilarious and filled with all the cliches. Celebrities, snow storms, sexy mountain men, best friends and tons of Christmasy vibes filled the pages. So if you're looking for a Christmas story that is lots of fun, with romance in the pages, then take a look at adding this one to your tbr.
I just wanted to get away from the chaos and not think about Christmas. Was that too much to ask?
The prologue jumped 17 years into the past, when Allie's life was simpler, and she still loved Christmas. But in present day LA, there was nothing heartwarming or loving about the holidays. Her twin sisters had a reality TV show. Christmas Eve was to be filled with an over the top celebrity party and lavish items. It felt like they were living the life of the Kardashian's, but even crazier. And Allie was in charge of it all. Dealing with her superficial sisters and their constant schedule and needs, seemed overwhelming. So when the straw finally broke the camel's back, Allie bolted with her best friend in tow to West Virginia. To where she used to spend the holidays with family, when she was younger.
"This isn't Christmas magic. It's just insane. I'm insane. I'm seriously thinking about never, ever going back to California after only being here for four days."
I laugh, and it comes out a little high-pitch and hysterical.
I adored Allie, she was kind and down to earth. But everyone seemed to have a preconceived notion of who she was. Even the man who ended up rescuing her. Jason was the sexiest mountain man and Allie and Jason's meet cute was one of the funnier ones I've read. It was so smile inducing and unique lol! And I loved Jason too. He was helpful, loving, sweet and oh so thoughtful. The two of them together were perfect. It didn't matter that she was only supposed to stay at his parents bed and breakfast until her cousin came back home, after the holidays. It felt like they were meant to be together forever. So there was definitely an insta-attraction mixed with insta-love. And let it be known that I don't like insta-love, but in this cliche filled story I enjoyed it so much.
"You were adorable half-dressed for a blizzard, and when you had to borrow one of my sister's ugly Christmas sweaters," he tells me honestly. "But you're goddamn stunning when you're relaxed and laughing, and I think being here in my family's Christmas wonderland has something to do with it."
The side characters rounded out this story so well. I loved Jason's sister and mom, who had more game then him ha. His relationship with the both of them warmed my heart. And I loved how they played such a big part of story. But the one who continually stole the spotlight was Allie's best friend, Millie. She was a celebrity who was over the top ridiculous and such a good friend to Allie. I'm pretty sure I said OMFG out loud a hundred times because of Millie. She shocked me! Her observations, random comments and questions killed me! Sometimes she was too much, but it was impossible not to love her. Especially as we saw her learn about life as the story progressed, heaven help her lol.
"That was so cliché."
"This whole thing is cliché," Millie complains, leaning over on the couch to whisper to us. "Can we just get to the part where you guys profess your undying love for each other?"
Christmas Cliche was an over the top story filled with humor, friendship and love, cliches and all. Even the titles of the chapters were hilarious. It almost felt like a crazy, outrageous Hallmark movie, that was definitely not PG lol. So I was surprised that the sexy moments weren't descriptive. But I enjoy books with our without them, I just wasn't the hugest fan of the location when it did happen….you'll see what I mean lol. But all in all I enjoyed this book so much! Plus that ending was perfect! I'll definitely be checking out Tara Sivec's other books!
Related Posts