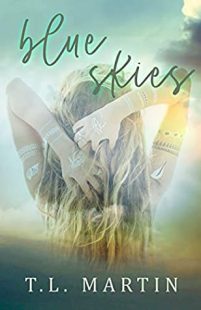 Blue Skies
by
T.L. Martin
Purchase on:
Amazon
Add to:
Goodreads
Synopsis:

All Blue Everest wants is the wide open sky above her head and the soft earth beneath her feet. And maybe to spread a little love where she can. When she gets the opportunity to live with a father she's never met and to enroll in public school for the first time, she brings her optimistic and free-spirited nature with her.

But it's not long before she meets her polar opposite, Joshua Hunt, whose hard edges resist every smile she sends his way . . .

Hunt's never met a girl who smiles so easily. It can't be normal. Combine that with the flowers in her hair, constant daydreaming, and a knack for sticking her nose where it doesn't belong—and he wants nothing to do with Blue Everest. He's got enough going on without her distractions, and everything, everyone, he cares about is depending on him to stay focused.

Blue's ready to go wherever the wind takes her, and Hunt's determined to steer his own ship. But sometimes the wind changes course, pulling two people into a rough and devastating storm that can crush the strongest of hearts. And sometimes, it takes more than you ever thought you were capable of to get back to blue skies.

CONTENT WARNING: contains sex, profanity, and sensitive subject matter, including addiction and suicide.
Review:
Blue Skies was a story filled with hope, love, family, secrets, hurt and trust. The writing had this calming effect, even though you were taken on a sea of emotions. So if you're a fan of opposites attract and YA books that are seductive and hot, then definitely add this one to your tbr!
So often we don't see—let alone feel—the magic in the moments we're making until we're old enough to pause and view them as memories.
Blue was going to be staying with her dad, who she had never met or even knew existed until now. I was beyond nervous for Blue and had no clue what to expect, just like her. Not only was she meeting her dad for the first time, but his wife and stepdaughter too. And to top it all off, she was going to public school where she knew no one. What unfolded was a beautifully slow, methodical tale of family, love and the journeys we face.
I don't know how so much intensity could be locked inside one person—the kind of intensity that sucks the oxygen from my lungs. He's like the night sky just before a tornado hits: heavy and quiet all at once, whispering secret, dangerous promises and threatening to erupt at any moment.
But I don't want to stop it.
I adored Blue! She was a hippy girl who was kindhearted and saw the world for all of its sunshine and happiness. She had so much hope and love in her heart. And I loved that Blue took journeys in the most optimistic of ways. She was a breath of fresh air in YA, and someone that could help others find the good in their lives. So Blue was carefree, yet thoughtful of those around her. But right from the start, she saw a boy out her new bedroom window. And he was one that was going to completely change her world.
He's so certain the universe has sewn him together with dark, misshapen parts. But I'm looking, I'm always looking, and these aren't the actions of a sick or corrupted soul.
His scare tactics won't work on me.
Joshua Hunt lived in the guesthouse of her father's home, and we also got to hear the story from his pov. I loved Joshua. He was all rugged, thunderclouds and seemed to have a wealth of secrets. He was haunted by his past and present, so Joshua had this cold exterior and kept everyone at arms length away. And while he was attracted to Blue. he needed to keep his focus on school. He didn't want to be bothered with distractions. But Blue had this way of pulling him out of his shell. So as he started to share little pieces of his life with her, oh my heart. Even though it wasn't much, it felt like the world to me.
"What are you doing?" I breathe even though his body tells me everything. I want to hear it in his voice.
A muscle twitches in his jaw, and his strong grip clutches the back of my neck. "Something I've wanted to do for too damn long," he rasps, his lips almost brushing mine. But then he stops. Shuts his eyes. "Tell me it's okay, Blue. Tell me to kiss you."
My heart thumps. My knees sway.
"Kiss me."
I loved watching Blue and Joshua in and out of school. Being the new girl, and different at that, my heart hurt watching her be bullied. But then there was Joshua, silently watching everything unfold. And when he was protective or thoughtful of her?! Sigh. I'm a huge sucker for those types of moments. And later on when things became physical, you guyyyysssss, it was deliciously seductive and oh so hot *fans face*!

He tears his lips from mine, dragging them down my throat, "So . . ."—my collarbone—"fucking . . ."—my shoulder—"perfect." Then he returns to my mouth.
A deep shiver chases my spine.
Blue Skies was an emotional tale about first love and family. While I wanted to rush or fast forward a few things in the latter half of this story, I understand that that was not how Blue and Joshua worked. And looking back, there are so many things I didn't even touch upon. One being how we got to watch the relationship between Blue and her father, Tim, develop. Tim was one of my favorite characters in this book, besides Blue and Joshua. So I loved that this book was also about family, and watching how one grows and blends together. With first love and opposites attract, I really enjoyed this book! I'll definitely be looking into Martin's other books!
For every jagged edge he gives me, I give him some of my softness in return. He nips my lower lip, and I gently lick his. He fists my hair, and I glide my fingertips down his tense back.
Related Posts