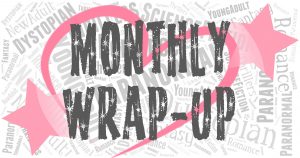 During our Monthly Wrap-Up, we'll take a look at what has happened around here in the last month. That'll include what's happened in my life, what we've read, any other posts we may have had, our most popular Instagram posts, and books that I've added to my ever-growing TBR.
*We linked this post to the January Monthly Wrap-Up Round-Up Link-Up at Feed Your Fiction Addiction*
Jen's Life:
✮ We officially hit the halfway point for the school year, a few weeks ago, and homeschooling has been going amazing well.  I'm very thankful that the curriculum I picked out for my boys last summer has been such a great fit.  Math is still my favorite subject to teach, but I'm shocked that I'm loving history so much.  They looooooove history and their love for it is definitely contagious.
✮ We've just been playing in our feet and feet and feet of snow lol.  We made a snow jump on our driveway and our kiddos have spent countless hours just going off of that jump again and again. LOL!
✮✩✮✩✮✩✮✩✮
What We Read:
5 Stars:
✮ Her Wicked Marquess (Sinful Wallflowers #2) by Stacy Reid
✮ The Forever Girl (Wildstone #6) by Jill Shalvis
✮ My Clarity (My Clarity #1) by M. Clarke
✮ Dating Makes Perfect by Pintip Dunn
✮ Unchosen by Katharyn Blair

4.5 Stars:
✮ 10 Blind Dates by Ashley Elston

4 Stars:
✮ Roommate by Sarina Bowen
✮ Christmas Cliche by Tara Sivec
✮ All the Tides of Fate (All the Stars and Teeth #2) by Adalyn Grace
✮ The Perfect Guests by Emma Rous
✩✮✩✮✩✮✩✮✩✮
Our Favorite Books of the Month:
Cassie's Choice – Unchosen by Katharyn Blair
This book was so many things: scary, funny, emotional and thrilling. It had so many wonderful characters, was well-paced and totally intriguing. I had a hard time putting it down and loved how everything came together at the end.
✩✮✩
Chelsea's Choice – Kingdom of the Wicked (Kingdom of the Wicked #1) byKerri Maniscalco
Sometimes a story is just picked up at the right time, for the right person, and in a moment that someone needs them the most.  This is THAT book, I am THAT person, and I needed this book more than I needed my next breath.
✩✮✩
Jen's Choice – Her Wicked Marquess (Sinful Wallflowers #2) by Stacy Reid
An intricate tale filled with seduction and so much more than meets the eye.  By that first chapter, I was already obsessed and knew that this book was going to be an instant favorite.  The story brimmed with irresistible banter, charm, humor, romance and was so easy to devour.  If you love historical romance, then you definitely need to add this one to your tbr!

 
✩✮✩
Arielle's Choice – Roommate by Sarina Bowen
Roderick stole the show with his bright and sunny personality and of course, since this is a Sarina Bowen novel, his FOOD. I swear I always wind up hungry after finishing her books and want to try making all these new things, lol.

 
✩✮✩✮✩✮✩✮✩✮
✩✮✩✮✩✮✩✮✩✮
Instagram:
We thought it would be fun to share our most popular posts for January. And they were….
 

 

View this post on Instagram

 
 

 

View this post on Instagram

 
✩✮✩✮✩✮✩✮✩✮
Books Added To Jen's TBR This Month:
So this was our January….did you read any of the same books that we did? Or share the same favorite book as us? If not, then what was your favorite book? Or have you read any of the books I just added to my TBR?
Here's hoping you all had a wonderful January. And cheers to February being fabulous for all of us!
Related Posts