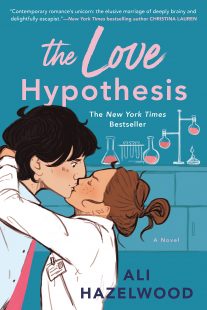 The Love Hypothesis
by
Ali Hazelwood
Purchase on:
Amazon
, 
iBooks
, 
Book Depository
Add to:
Goodreads
Synopsis:

When a fake relationship between scientists meets the irresistible force of attraction, it throws one woman's carefully calculated theories on love into chaos.

As a third-year Ph.D. candidate, Olive Smith doesn't believe in lasting romantic relationships--but her best friend does, and that's what got her into this situation. Convincing Anh that Olive is dating and well on her way to a happily ever after was always going to take more than hand-wavy Jedi mind tricks: Scientists require proof. So, like any self-respecting biologist, Olive panics and kisses the first man she sees.

That man is none other than Adam Carlsen, a young hotshot professor--and well-known ass. Which is why Olive is positively floored when Stanford's reigning lab tyrant agrees to keep her charade a secret and be her fake boyfriend. But when a big science conference goes haywire, putting Olive's career on the Bunsen burner, Adam surprises her again with his unyielding support and even more unyielding...six-pack abs.

Suddenly their little experiment feels dangerously close to combustion. And Olive discovers that the only thing more complicated than a hypothesis on love is putting her own heart under the microscope.
Review:
The Love Hypothesis snuck up on me and captured my heart.  It was addicting, sexy, angsty and thoroughly intoxicating!  I'm sure a huge fan of the fake dating trope and it not only made this book a ton of fun but it had a lot of emotional power too.  With a broody male, a quirky girl and a story filled with science, contemporary romance lovers will fall head over heels in love with this book!
"Have you considered getting a real girlfriend?"
His eyebrow lifted. "Have you considered getting a real date?"
"Touché."
The prologue quickly pulled me in.  Not only was the meet cute beyond adorable and memorable, but it was laced with emotion too.  When we jumped two years and eleven months into the future in chapter one, we found Olive fake kissing some random guy.  I was like what is even going on?!   But it was because she hoped that her best friend would see her liking someone else and would then start dating her ex, who she never had feelings for. So to prove to her bestie that she had moved on, she kissed the first guy she saw. And it was Adam Carlsen who was a professor at her school and a complete jerk. It led to them fake dating and there's so much more to the story then this but eeps I loved every minute of it!
"People who date, they—they talk. A lot. More than just greetings in the  hallway. They know each other's favorite colors, and where they were  born, and they . . . they hold hands. They kiss."
Adam pressed his lips  together as if to suppress a smile. "We could never do that."
A fresh  wave of mortification crashed into Olive. "I am sorry about the kiss. I  really didn't think, and—"
He shook his head. "It's fine."
Olive was a brilliant scientist in grad school, but she was a little unsure of herself at times.  It took me a little while to warm up to her, and I wanted to shake her a time or two about her lying.  I wanted her to be upfront and honest but as the story unfolded and we learned the whys behind her actions it was impossible not to love her.  Her past and present helped mold who she was nowadays and we get to know every part of Olive.  So during moments like when she explained why she was so passionate about her research, I got tears in my eyes.  I loved her determination and dedication! And when she found her voice and the courage to say and do what she wanted, I was so proud of how far Olive grew from that first page till the last!
Olive laughed, and the way he looked at her, kind and curious and  patient . . . she must be hallucinating it. Her head was not right. She  should have brought a sun hat.
Adam Carlsen was such an unknown besides his reputation as an arrogant asshole. Yet each time we learned a little something more about Adam, I kept falling harder and harder.  Adam knew how to take control and be in charge of a situation.  Yes it sometimes made him come across as a complete and total jerk but other times it came across so hot *fans face*.  He left me feeling beyond happy, giddy and counting down till his next interaction with Olive!  But with Adam, I loved how he commanded attention from others without even trying. I also loved how his humor was so subtle and effortless; each time he made me laugh out loud he snagged another piece of my heart. Adam was caring, strong, beautiful, someone so easy to become obsessed with and the moments he was thoughtful made my heart exploded. I was absolutely obsessed with this broody man who oh so easily got added to my book boyfriend list!
"We are friends, right?"
His frown deepened. "Friends?"
"Yes. You and I."
He studied for a long moment. Something new passed through his face,  stark and a little sad. Too fleeting to interpret. "Yes, Olive."
Olive and Adam's moments together created even more speculation and gossip of what was truly happening between them.  So it easily led to them fake dating. They both had reasons behind wanting to do that. So each time they were together, I desperately wanted them never to part. I was obsessed with their coffee dates or when they ran into each other. Because even the most simplistic moments between them, like listening to a presentation or a school picnic, made me have butterflies in my stomach. The chemistry between them was through the roof hot. And while I guessed how quite a few things would play out, it never once took away from my love of this story.  But one thing I didn't guess correctly was how unbelievably sexy this book was.  Pages upon pages of scenes had me melting into a pile on the floor.  Together they were sigh worthy!
He took a deep breath. His shoulders rose and fell in time with the  thudding of her heart. "I wish you could see yourself the way I see  you."
The Love Hypothesis was a mixture of steamy and adorable, and landed right on my favorites list! It was impossible not to cry tears or stop the smiles that constantly appeared on my face. Ohhh plus it was so cute that Olive kept thinking of them as a book trope, like the fake boyfriend, possible one bed, her wearing his shirt and he's speechless.  It truly didn't even matter that I've read so many of these tropes countless times, Olive and Adam made it feel unique on every single page. Now I now can't wait to read whatever else Ali Hazelwood releases!
He tilted his head. "Standard protocol?"
"Yup."
"How many times have you  done this?"
"Zero. But I am familiar with the trope."
"The . . . what?" He  blinked at her, confused.
"It was good, wasn't it?" Olive asked, with a small, wistful smile. She  wasn't herself sure what she was referring to. Maybe his arms around  her. Maybe this last kiss. Maybe everything else. The sunscreen, his  ridiculous answers on his favorite color, the quiet conversations late  at night . . . all of it had been so very good.
"It was." Adam's voice  sounded too deep to be his own. When he pressed his lips against her  forehead one last time, she felt her love for him swell fuller than a  river in flood. 
Related Posts