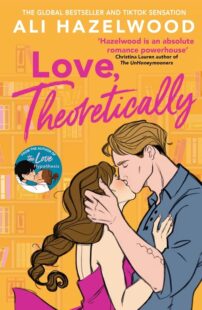 Love, Theoretically
by
Ali Hazelwood
Purchase on:
Amazon
, 
iBooks
Add to:
Goodreads
Synopsis:

The many lives of theoretical physicist Elsie Hannaway have finally caught up with her. By day, she's an adjunct professor, toiling away at grading labs and teaching thermodynamics in the hopes of landing tenure. By other day, Elsie makes up for her non-existent paycheck by offering her services as a fake girlfriend, tapping into her expertly honed people-pleasing skills to embody whichever version of herself the client needs.

Honestly, it's a pretty sweet gig—until her carefully constructed Elsie-verse comes crashing down. Because Jack Smith, the annoyingly attractive and arrogant older brother of her favorite client, turns out to be the cold-hearted experimental physicist who ruined her mentor's career and undermined the reputation of theorists everywhere. And he's the same Jack Smith who rules over the physics department at MIT, standing right between Elsie and her dream job.

Elsie is prepared for an all-out war of scholarly sabotage but…those long, penetrating looks? Not having to be anything other than her true self when she's with him? Will falling into an experimentalist's orbit finally tempt her to put her most guarded theories on love into practice?
Review:
Love, Theoretically was a heartwarming, academic romance.  With a smidgen of enemies to lovers, this book was so easy to binge in a day!
I hate that I look at Jack Smith, with his good jaw and his good dimples and those good hands, and find him handsome.
Elsie Hannaway was a theoretical physicist.  She wanted to be a researcher, yet she was currently adjuncting at three different colleges.  So on the side to help pay for her bills, she was a fake girlfriend.  Her favorite client's older brother was Jack Smith.  Who was my favorite *screams*, totally not biased at all haha!  Yet when Elsie went on an interview for a dream job, she realized Jack was actually Dr. Jonathan Smith-Turner, the head of the MIT Physics Institute.  Elsie hated that man with a passion.  His past published work ruined her mentor's career and undermined her career field.  So with her nemesis standing in the way of her dream job, Elsie was determined, focused and set to get that job! 
I remember his hands, warm, unwavering around my waist, a hushed settle down murmured against my temple, and I suppress a shiver. Have I mentioned that I hate him?
My heart hurt for Elsie.  Her shock at who Jack was, was so palpable.  She got it all wrong.  And during that interview dinner, I was laughing way too hard.  Jack had no problems messing with her and I loved that.  But what I loved most of all was that Elsie was finally herself with Jack.  With everyone else, she tried to be who they wanted her to be.  Even with her best friend.  With Jack, she was always true to herself.  She let him know she hated him.  She let him know what he did to her field and how she has struggled because of that.  She let it all out!  As she continued to go through the interview process over the days, I loved that she killed it time and again!  Yet Elsie could definitely be her own worst enemy.  By not being herself.  By reading other people wrong.  By blinding following along.  And at times being clueless and assuming too much.
I notice it, the amused gleam in his eyes, like he knows exactly what I'm trying to say. I press my lips together, because I don't want to encourage him, I don't want to smile, but I'm about to. "I hate you."
"Sure you do."
While Jack Smith was closed off with his expressions and feelings, I just knew that time and again Elsie had to be reading him wrong.  Her preconceived notions made her see him in a completely different light than who he truly was.  I loved how he interacted with his brother.  I loved how much passion he had.  But most of all, I loved when Jack would mess with Elsie.  It felt like he secretly liked her.  So when he could see through her BS, facades and called her out on it, I was cheering!  He seemed to want what was best for her.  Even if he did damage her field of study in the past, but I knew there had to be a solid reason behind it.  He didn't seem like the type to not have reasons behind his actions.  So as we got to watch Jack stand up for Elsie and protect her, I continued to fall for him.  He not only showed that he cared, but he was smart, kind, compassionate and beyond sexy.  And as Jack got vocal, sigh, he completely had me melting into a puddle!
"Bold of you to assume that the real me is my best hand." That stupid, crooked half smile is back.
"Foolish of you to think it isn't."
Jack and Elsie's progression had me grinning from ear to ear.  I loved the banter and sexual tension between them.  I loved that it wasn't aways easy.  So as they slowly started to become friends, I loved watching them build that foundation.  And when more happened, ohhh their story was so steamy!  The side characters were my absolute fabulous too.  I adored Jack's Grandma, his brother and Elsie's bestie too.  AND we got to see Adam and Olive from The Love Hypothesis *cheers*!  My only hiccup with this book was I hate being pulled out of a story.  I don't mind pop references, but political people no matter if I adore or hate them are a big no for me.  There were multiple references and each time it appeared on the pages I was pulled out of my happy place and put into the real world.  I desperately need a break from the real world when I'm reading and this book didn't fully give me that, sigh.
"You could be my entire world," he whispers in my ear before moving to my collarbone. "If you let me."
This was just one of those stories where it's so easy to sit down and read it in a day.  It flowed so quickly and was so much fun!  While The Love Hypothesis still holds the spot as my favorite Ali Hazelwood book, this story was so much fun!  It's also a great book to buddy read with a friend and talk about!  I loved how binge worthy this story was, and I'm hoping that Ali's next book will hopefully become my next favorite story ever!
Related Posts