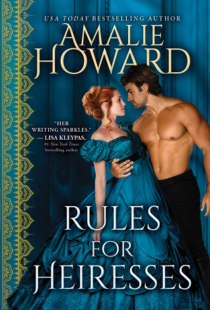 Rules for Heiresses
by
Amalie Howard
Purchase on:
Amazon
, 
iBooks
Add to:
Goodreads
Synopsis:

USA Today bestselling author Amalie Howard whisks you away with a historical romance full of drama, true love, and the perfect happily ever after. Readers will devour this tale of:

A rebellious heiress determined to be independent
A shunned duke forced to return to his family estate
And a scandal between them that will have the whole town aflutter

Sometimes, finding love means flouting the rules...

Born to a life of privilege, Lady Ravenna Huntley rues the day that she must marry. She's refused dozens of suitors and cried off multiple betrothals, but running away―even if brash and foolhardy―is the only option left to secure her independence.

Lord Courtland Chase, grandson of the Duke of Ashvale, was driven from England at the behest of his cruel stepmother. Scorned and shunned, he swore never to return to the land of his birth. But when a twist of bad luck throws a rebellious heiress into his arms, at the very moment he finds out he's the new Duke, marriage is the only alternative to massive scandal.

Both are quick to deny it, but a wedding might be the only way out for both of them. And the attraction that burns between them makes Ravenna and Courtland wonder if it'll truly only be a marriage of convenience after all...
Review:
Rules for Heiresses was absolutely captivating!  With friendship, romance and charm, I adored this book!  These characters pulled me in so easily and it felt like I was watching a movie unfold!  If you love adult historical romance, fierce heroines and tortured male characters then you definitely need to check this one out!
"Ravenna."
"Yes?" she said, breathless.
"I will always value your opinion."
On that shockingly solemn pronouncement, he hauled her gracefully upright amid deafening cheers, and Ravenna let out a shuddering breath.
Lady Ravenna Huntley and Lord Courtland Chase had been arranged to marry since infancy.  When he left eleven years ago, she thought he had died.  So meeting years later, under the most unusual circumstances, it was impossible not to smile.  Their meet cute was shocking and so much fun!  Even after so much time had passed, they not only still had a connection but there was also an intense attraction and chemistry too!  When Ravenna and Courtland were caught in a compromising position and forced to wed, I was clapping my hands excited for what would happen next!
"People are staring," she murmured.
He lifted her gloved hand to his lips. "Let them."
I loved Lady Ravenna Huntley!  She was independent, fierce, level headed and knew what she wanted in life.  And I adored the relationship she had with her sister-in-law.  When Lord Courtland Chase waltzed back into her life, I was obsessed!  He could be so grumpy, closed off and pushed others away.  But with Lady Ravenna, he constantly found himself drawn to her.  Even though he tried his best to push her away too.  Courtland antagonized her which made me laugh, but there was that intense tension between them that neither of them could deny.  So when they traveled back home, we started seeing an even bigger picture.  This book had a richness and depth to it that surprised me!
"Save us both the trouble and tell me what it is you want from me, Your Grace."
Your body. Your consent. Your surrender.
But none of those things were his to demand. Courtland blew out a breath.
At the core of this story was Courtland and Ravenna.  And as they stepped back into their lives, I loved watching not only him defending her, but that she also stood up for him too.  Together they felt like a team, but Courtland was so damaged from his past.  And I kept hoping he would open up and trust Ravenna.  Because when they got along it felt like the sun was brilliantly shining, it was smile inducing!  And their moments together later on were hot and very steamy!  They are a couple you will definitely be cheering for every step of the way!
"What do you do to me?" he bit out, breaking from her.
"The same you do to me." Her fingers threaded through his wet hair, those singular eyes on his, molten and wanting. She tugged, a devious smile on her lips.  "Kiss me again, Duke."
Rules for Heiresses was my first read by Amalie Howard and I will definitely be bingeing her back-list!  The story not only kept me intrigued but the characters felt so real! If you enjoy historical romance, steamy moments and meaningful story-lines then you'll want Rules for Heiresses on your tbr!
"You are neither misfortune nor ruin, Courtland Chase. You're the star… the light that brightens everything it touches. It's time you saw that."
PS  Bronwyn needs her own book!
*I voluntarily read and reviewed a copy of this book, provided by the publisher. All thoughts and opinions are my own.*
Related Posts