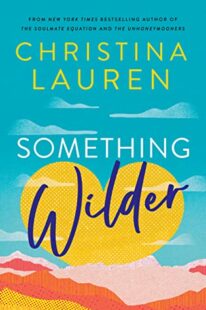 Something Wilder
by
Christine Lauren
Purchase on:
Amazon
, 
iBooks
, 
Book Depository
Add to:
Goodreads
Synopsis:

Growing up the daughter of notorious treasure hunter and absentee father Duke Wilder left Lily without much patience for the profession…or much money in the bank. But Lily is nothing if not resourceful, and now uses Duke's coveted hand-drawn maps to guide tourists on fake treasure hunts through the red rock canyons of Utah. It pays the bills but doesn't leave enough to fulfill her dream of buying back the beloved ranch her father sold years ago, and definitely not enough to deal with the sight of the man she once loved walking back into her life with a motley crew of friends ready to hit the trails. Frankly, Lily would like to take him out into the wilderness—and leave him there.

Leo Grady knew mirages were a thing in the desert, but they'd barely left civilization when the silhouette of his greatest regret comes into focus in the flickering light of the campfire. Ready to leave the past behind him, Leo wants nothing more than to reconnect with his first and only love. Unfortunately, Lily Wilder is all business, drawing a clear line in the sand: it's never going to happen.

But when the trip goes horribly and hilariously wrong, the group wonders if maybe the legend of the hidden treasure wasn't a gimmick after all. There's a chance to right the wrongs—of Duke's past and their own—but only if Leo and Lily can confront their history and work together. Alone under the stars in the isolated and dangerous mazes of the Canyonlands, Leo and Lily must decide whether they'll risk their lives and hearts on the adventure of a lifetime.
Review:
Something Wilder was an action packed adventure! The authors note from the very beginning made me laugh out loud and I could easily see myself watching this story unfold in the movie theater someday!  While it was lighter on the romance then some of their other books, if you're looking to get lost for a few hours and have a ton of fun then this may be the book for you!
She wanted to hate him. She wanted to resent this man forever. But how could she? Whether he was aware of it or not, he was looking at her like she was the prize at the end.
I loved the premise behind this story!  A guy's getaway where each year one of them plans their adventure, yet the others truly don't know the details of what they're going to be doing.  How fun!  And as fate would have it, Leo Grady ended up on a horseback riding, camping, fake treasure hunting adventure ran by his ex from ten years ago, Lily Wilder.  Lily's father was a notorious treasure hunter and she had been using his maps to take tourists on adventures.  And while it payed her bills, she desperately wanted to be able to buy back the ranch she grew up on.  While guiding Leo's group on their adventure, their whole trip went sideways and left them realizing that there may just be a true treasure out there after all!
There was an ember of hope flickering faintly beneath her ribs; he stoked it with the unexpected hunger in his expression. What did he want her to say right now? It all felt like too much to process at once.
I have to get out of the way my biggest issue with this book…..Terry.  He was a tag along in Leo's group and he felt like a cartoon character at times.  He was ridiculous, rude, beyond crazy, and just so over the top that every time he spoke or did an action it pulled me out of the story and left a bad taste in my mouth.  I struggled hard to stay focused.  I even contemplated not finishing this book because of his character and some truly odd placed humor which made me uncomfortable.  But I'm so glad I pushed through because the latter part of this book was amazing!
He nodded, smiling at the fire. "That was one crazy fucking day."
This made her laugh, and he looked up at her, pleased at the sound. Her heart tugged.
Leo and Lily had a short yet bright and passionate relationship ten years ago.  It didn't seem like either of them were able to get over their past, or how things fell apart between them.  So when they saw each other again, feelings were still there yet there was a huge world of hurt.  I'm so glad this story didn't drag out their talks about what happened in the past.  I was thankful that wasn't an issue!  And while Leo and Lily didn't have banter like I'd come to love with CL's other couples, in that latter half of the story I loved feeling the passion between them!  I just wish it didn't take that long for it to get there.  But by then I was rooting for their second chance happily ever after and for them to just stay alive!
Hope was a dangerous drug, and Lily was standing at the precipice between two worlds: one that promised everything she ever wanted in life, and another where she'd have to figure out how to make the life she had into the life she wanted.
Something Wilder focused more on the adventure then the romance for the first part of the story.  So I was ecstatic that the latter half added in the romance and even some passion in the pages.  By 62% I was more than hooked and if I could I'd give that last part all the stars!  While I guessed quite a few things, it didn't take away from my enjoyment with how the story unfolded.  And that last part was so action packed and nonstop, that it was impossible not to smile, gasp or put down this book! With being in the wilderness, treasure hunting while solving puzzles and life and death situations, this story was a lot of fun!
Never in all her life had she imagined her own death, but if pressed, she'd say what anyone who was at least part optimist probably said: she expected to die when she was old, after a long, happy life. She absolutely did not expect to die in the Green River, chasing her father's lunatic dream.
Something Wilder wrapped up beautifully and I loved getting to know what everyone was up to and that some of the characters definitely got their happily ever after!  I think so many people will adore this story and I'd love to watch it as a movie, with a few tweaks with a certain character.  If you adore action, adventure and romance, then definitely check out this book!
*I voluntarily read and reviewed an advanced copy of this book, provided by the publisher. All thoughts and opinions are my own.*
Related Posts