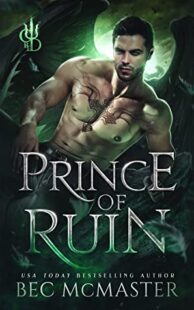 Prince of Ruin
(
Claimed by the Demon #1
)
by
Bec McMaster
Purchase on:
Amazon
Add to:
Goodreads
Synopsis:

This demon prince will ruin you….

A story of forbidden love, two reckless hearts on either side of a vicious war, and betrayal.

Sera

Sera knows the taste of the bitter ashes of love. The former angel gave her heart and soul to a demon once, and it cost her everything.
Cast from Heaven and newly mortal, she's forged herself anew on the vicious streets of New Purgatory, but she's never forgotten him.
And when Uriel offers her a chance of redemption, she takes it.
Even if it means facing her most vicious heartbreak—and her greatest threat.
And stealing from him.
But when she walks into Azazel's club, she can't deny the obvious. Even though he won't recognise her new body, one look into his piercing eyes and she knows the fierce connection they once shared hasn't faded.
Is there any mercy left in Azazel's villainous heart?
Or will his darkness consume her?

Azazel

Once upon a time the angel, Sariel, betrayed him.
He swore to break her.
Ruin her.
Destroy her.
Until she vanished over a thousand years ago, and he was forced to leash his desire for vengeance…
But when a sassy blonde calling herself Sera comes strutting into his club during one of the infamous reaping nights—wearing a pair of angel wings in a blatant middle finger to his kind— he can't take his eyes off her.
Her innocence consumes him.
But it's the knowing look in her eyes that makes his breath catch.
Because his soul hasn't forgotten hers.
And while he swore to punish her, he takes one look at her and realizes vengeance has a new desire…
He will possess her, body and soul.

Prince of Ruin is a deliciously sexy novella featuring two former lovers, a war between mortal enemies, and the price of betrayal. Expect danger, wicked sin (and piercings) and a possessive mafia-style hero (is that the right word?) who may just try to tempt her to the dark side. Who will win? The demon with a heart of pure obsidian? Or the innocent whose love still burns like a supernova?

Warning: This novella is full of savage desire and sweet vengeance, and ends with a HFN.
Review:
Prince of Ruin was wickedly seductive and intoxicating. While I binged this book in one sitting, it sure didn't feel like a novella. The world was richly imagined, the characters leaped from the pages and the story-line was one I kept thinking about long after I finished that last page. If you're looking for a steamy, paranormal romance you definitely need to give this one a try! It landed right on my favorites list!
Uriel's words echoed in her head. "What price are you willing to pay for redemption?"
Everything, she'd breathed.
Sera was a former angel who was now in a human body. To redeem herself from the past and prevent a war from happening, she needed to steal the shard of Michael's sword back. But stealing it had consequences. Azazel had the shard, and she would have to get close to him to take it from under his nose. Azazel was a demon, who she had once fallen for. Hard. Their love was forbidden and betrayal was going to be laced throughout their future, again.
"Once upon a time a demon fell in love with an angel." His voice was like velvet over her skin, but she could sense the threat within the words.
It took all her strength to swallow down the rush of feeling those words conjured. "Love? Can a demon truly love anything other than himself?"
I absolutely loved Sera! She was so brave, cunning and fearless. She did what she believed was right. Even if that meant she had to trick, lie or weave stories to others. It all led her to where she needed to be. And at the end of the day, she protected those she loved and would do anything for them. So when Sera wore angel wings and white into Azazel's demon club, she easily grabbed Azazel's attention. She toyed with him, just like she wanted. Now all she had to do was locate and steal back the shard!
Azazel leaned down, a gentle kiss spilling from his brutal lips. It stirred against Sera's lips. A kiss of heat and sin. A promise of sweetness and seduction.
A lie.
Azazel was wickedly charming. Yes he could be deadly and ruthless. But underneath him simmered so much more. He was lust. He was power. And he was someone Sera knew she couldn't trust. Their past proved it, didn't it? At the same time, Azazel could also be kind, caring and extremely attentive….for a demon. Sera played a tricky game when it came to Azazel. She didn't think he would know it was her. But they both got sent down a path that neither of them saw coming!
You loved him. Once.
You wanted this to happen.
You needed it to happen.
The chemistry between Sera and Azazel was electrifying. When they physically got together, their moments were extremely passionate, erotic and scorching hot! But sacrifice, duty and love swirled throughout the pages. And those sacrifices and risks that were taken were absolutely everything! I was obsessed with how their story unfolded. Plus, there were other characters I can't wait to learn more about, especially Sera's technowitch friend, Tayla. She was hilarious!
There'd been a moment where he'd looked at her, and she saw the angel she'd loved.
Her treacherous heart wanted to defend him. He was there, he was still there. Or parts of him, anyway.
Prince of Ruin left us at the perfect stopping spot. We were left with a happily for now that allowed us to breathe, but I desperately need more! I can't wait to see what happens next, there is still so much story to tell! Prince of Ruin was a forbidden love story that was sinfully hot and completely consumed me! It's a must read for paranormal romance lovers!
*I voluntarily read and reviewed an advanced copy of this book, provided by the author. All thoughts and opinions are my own.*
Related Posts