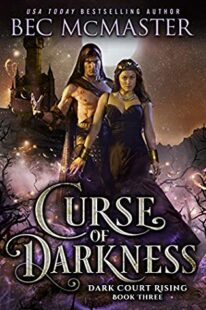 Curse of Darkness
(
Dark Court Rising #3
)
by
Bec McMaster
Purchase on:
Amazon
, 
iBooks
Add to:
Goodreads
Synopsis:

The Darkness is coming....

Can Iskvien save her husband's soul? Or will her mother's wrath destroy them all?

The third book in the Dark Court Rising series.
Review:
I don't fear Death.
But as I summon my thorns, one of them circling my waist, I can't help thinking: Maybe he should fear me.
Curse of Darkness was a stunning conclusion to the Dark Court Rising trilogy!   With war, love, sacrifice, friendship, and risks laced throughout the pages, this book was entirely addicting!  From start to finish this series has been action packed with romance that was sigh worthy.  I fell so deeply in love with these characters and the journeys they went on.  If you're looking for a completed adult fantasy to binge, then look no further!
I didn't get to burn his body.
I didn't get to say goodbye.
I didn't get to tell him I loved him one last time….

From that first page, this story sliced my heart open.  I was not ready for the heartache that would follow the ending of Crown of Darkness.  The tears wouldn't stop coming.  But have faith, because there were so many twists and turns in this book that kept me of my edge of my seat!  And there were also revelations that blew my mind!  As the story kept unfolding, I loved that we got a clear picture of all the players and what was truly going on.  The insights we gained kept me holding my breath.  Because I was terrified how it would all pan out!
I can't control the rage that ignites my magic. Where once there was heat and flame, now there's only ice.
Through it all, we had Vi who was a true queen we could respect!  The dangerous games she played, while trying to hold an unfathomable amount of precarious cards, left me feeling nervous and so proud of her.  She had come so far from that first moment we met her!  And while she prepared for the upcoming war that was looming in the background like a ticking time bomb I got chills with who she fought tooth and nail to align herself with.  She was truly unstoppable.  Or so I hoped!  And if that wasn't enough, she also had to save her husband's soul.
"…We're family, Vi. Now you need to understand that."
My heart feels so fucking heavy in my chest. "I know."
Finn falls back to clap a hand on my shoulder. "You're not alone, Vi. I just want you to know that. And the weight on your shoulders isn't your burden to carry alone."
Hot tears threaten to spill down my cheeks.
Finn, Eris, Thalia, Amaya, Grimm, Baylor and so many more, I adored this found family so much!  Together they were a formidable team and at times they left me laughing manically because of how things unfolded.  And as they helped Vi on her journey, the bargains that were made, the risks that were taken, and the terrifying plans that played out were mesmerizing!  They had to put their trust and faith in those you hoped wouldn't do them wrong. And at times there were unseen consequences and heartbreaking moments but there were also so many that made me laugh and cry happy tears.  I definitely cried all the happy tears while reading this story!
"Well, well," she whispers as her laughter fades. "The little queen of Evernight is learning to play the game."
Curse of Darkness brimmed with emotions and tensions ran high, making this book impossible to put down.  This series is a must read for fantasy lovers!  And we're definitely given a HEA for Vi, you know I'm not going to offer more than that lol.  But at the same time, there was still so much going on in this world and so many stories that still need to be told.  I have a lot of guesses for future love matches *fingers crossed*.  So after you read that final page, we're told whose story is up next and I was screaming with excitement!  I. Can't. Wait!
Molten eyes lock on mine. "Remind me what it feels like to live."
I gift him with a dangerous smile. "Done."
*I voluntarily read and reviewed an advanced copy of this book, provided by the author. All thoughts and opinions are my own.*
Reading Order:

Review #1:
Jen's Review

Review #1.5:
Jen's Review

Review #2:
Jen's Review


Review #3:
Jen's Review

 
 
Related Posts