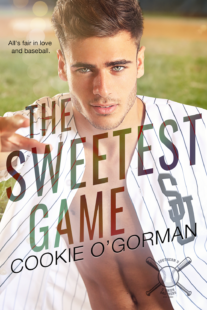 The Sweetest Game
by
Cookie O'Gorman
Purchase on:
Amazon
Add to:
Goodreads
Synopsis:

Hopelessly in love with my best friend's brother.

That's what it will say on my tombstone. Here lies Junior "June" Dorsey. Tomboy. Car lover. Bookworm. She suffered from a severe case of unrequited love syndrome.

It's not like I haven't tried liking other guys. I have. It's just none of them measure up to him.

Baylor O'Brien. Beautiful. Cocky. Talented (on the field and in the bedroom—or so I've heard).

And completely oblivious to my love for him.

When Bay asks for my help, I can't say no. He needs my PR expertise to revamp his reputation and up his chances of being scouted after one scout—the one he really wants—dismisses him as nothing more than a party-loving playboy.

When he asks me to be his fake girlfriend, I accept his proposal.

But how am I supposed to act like I'm in love without revealing the truth? And why is Baylor so good at pretending?

One thing I know that's true:

All's fair in love and baseball.

Wish me luck,

June

This new adult sports romance features two friends destined to become lovers, one sizzling fake romance, and a sexy set of brothers guaranteed to make you swoon.
Review:
This laugh out loud romance was an instant favorite!  With characters that were so easy to love, a story line that was absolutely adorable and an ending that will make your heart soar, this book was such a huge win!  If you love the fake dating trope, you so need this book in your life!  The Sweetest Game was heartwarming, swoon worthy and a beautiful love story!
The O'Brien brothers were off-limits.
At least to me.
Too bad my heart didn't get the memo.
That rule had been broken the moment I met him.
I had already fallen for June and Baylor in the previous books.  And while this one could easily be read as a standalone, I can't recommend them enough.  June had been in love with her best friend's older brother, Baylor, since forever.  Baylor saw June as just a really good friend.  When Baylor's pro-baseball dreams started to go up in smoke, he desperately needed to change his act.  Enter June.  Not only could she help fix his social media presence, but by being his fake girlfriend she could fix his image too.  What's a little fake dating to be able to reach ones dreams?
"Please don't hate me for this."
Before I could say I could never hate him, not in a million years, before I could ask what he meant or utter a sound, Baylor's lips met mine……
and my world ignited.
His kiss set me on fire.
I absolutely loved June!  She was sweet, heartfelt, such a good friend and a hard worker.  She lived with her dad to save money while going to college.  And she worked for him in the auto shop he owned.  I adored the relationship she had with her dad!  Plus the relationship she had with Emmy, Baylor's sister.  They loved and cared for one another so deeply!  But doubt could be June's worst enemy.  She had no problem playing the part of Baylor's girlfriend, but she didn't think Baylor could be feeling what she was.  There was no way!
It was all fake. I knew that— but then why did she keep breaking into my thoughts?
Baylor was someone you will fall hard for.  He had so many layers to him and we got to see all of his different sides as the story progressed.  Baylor was a player and loved baseball.  He was destined to go pro, but had his sights set on only one team.  When that team snubbed him, Baylor was desperate to do whatever to get in their good graces.  Having June be his fake girlfriend?  Of course!  The things he did for June, to help her or just out of the kindness of his heart was swoon worthy.  Baylor was kind, thoughtful and caring.  But he wasn't kind to himself.  He didn't think he was worthy of love or anything good besides baseball and having sex with random people.  My heart ached for Baylor and I kept hoping he would see himself as June saw him!
Leaning in, he put his lips against my ear and said…
"I know this is supposed to be pretend, but I wish it was real."
My breath caught in my throat.
"Then I could just kiss you whenever I want."
He paused.
"Which is basically every time you open your mouth."
Turning to him, I noticed he'd put on a playful grin.
"If this was real," I breathed, "I'd let you."
His grin slipped, and I couldn't seem to stop staring—until  someone cleared their throat.
Together June and Baylor were absolutely perfect.  The chemistry between them was intense and sexy.  And when they toed the line of friendship *fans face*, it was soooo hot!  But mistakes were made along the way.  Baylor was blind to June's love and while he thought he knew June, I loved that she stunned him again and again.  So watching their friendship turn deeper gave me all of the feels!  Rounding out the story were side characters I adored!  I loved Baylor's relationship with his siblings and mom.  They had such a strong bond, it made my heart so happy!  And I loved how they could see beyond his cluelessness.  Also keep those tissues nearby because there was a scene in this book that got me right in the feels and I cried ALL the tears!
She shook her head. "You told them I was off limits."
"Yeah."
"And what made you think you had the right to do that?"
"I had every right," I said.
"Oh really, why?"
"Because you were mine."
I took a step closer,  watching her eyes flare.
"You are mine," I said.
The Sweetest Game was sexy, hilarious and absolutely adorable!  From that first page to the last, this book was smile inducing!   The banter was a ton of fun and the characters captured my heart.  If you love new adult romance, the fake dating trope, friends to lovers or sports romance you should definitely pick this book up!
"Want to know something, Sunshine?" he asked, his breath hitting the side of my neck.
I nodded.
"I'm mad at you too."
My lips parted, and my breath caught as he nipped my earlobe.
PS I have a guess for the next book….. Masie and Dex??
*I voluntarily read and reviewed an advanced copy of this book, provided by the author. All thoughts and opinions are my own.*
Related Posts