I re-read this before diving into A Light into the Flame and I loved it even more the second time around!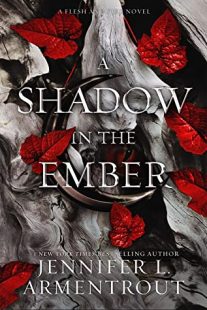 A Shadow in the Ember
(
Flesh and Fire #1
)
by
Jennifer L. Armentrout
Purchase on:
Amazon
, 
iBooks
Add to:
Goodreads
Synopsis:

#1 New York Times bestselling author Jennifer L. Armentrout returns with book one of the all-new, compelling Flesh and Fire series—set in the beloved Blood and Ash world.

Born shrouded in the veil of the Primals, a Maiden as the Fates promised, Seraphena Mierel's future has never been hers. Chosen before birth to uphold the desperate deal her ancestor struck to save his people, Sera must leave behind her life and offer herself to the Primal of Death as his Consort.

However, Sera's real destiny is the most closely guarded secret in all of Lasania—she's not the well protected Maiden but an assassin with one mission—one target. Make the Primal of Death fall in love, become his weakness, and then…end him. If she fails, she dooms her kingdom to a slow demise at the hands of the Rot.

Sera has always known what she is. Chosen. Consort. Assassin. Weapon. A specter never fully formed yet drenched in blood. A monster. Until him. Until the Primal of Death's unexpected words and deeds chase away the darkness gathering inside her. And his seductive touch ignites a passion she's never allowed herself to feel and cannot feel for him. But Sera has never had a choice. Either way, her life is forfeit—it always has been, as she has been forever touched by Life and Death.
Review:
A Shadow in the Ember slowly seeped into my heart and consumed my every waking thought.   I couldn't stop the laughter from bubbling up at the most inappropriate times, the smile that kept appearing or the tears that kept falling down my face.  This story became an instant favorite and is a must read for all fantasy lovers!  And while there were a few twists I guessed correctly, there were so many others I got wrong.  Just when I thought I knew where the story was going, the air got punched out of me time and again.  This story was epic!  Those who love fantasy, JLA or romance will fall hard for A Shadow in the Ember!
"You'll do what?" he whispered. "Go for that weapon on your thigh again?"
"Yes."
"Even though you know you wouldn't be fast enough to deliver a blow."
My grip on his shirt tightened. "Yes."
He chuckled softly, and I felt it from my hips to my breasts. "Shh."
Had he just shushed me?
Sera was to be her kingdoms savior.  The rot had been destroying their land, but a deal made before she was born set her on a path to be the consort to the Primal of Death.  She has been trained since birth and knew that she was to seduce, make him fall in love and then end his life.  All to save her kingdom.  My heart ached for how lonely Sera was and for the unfairness of her life and future.  So while she had been trained ruthlessly, the Primal of Death wasn't all she expected him to be.
If I had a child, or if any descendant of mine had been harmed, I would burn through both realms just so I could flay the skin from the body of the one who'd hurt them.
I loved Sera!  And now I completely understand why Poppy is the way she is…From Blood and Ash takes place in the future, so you'll definitely want to read the first three books in that series first before jumping into this story.  Sera was also ever so curious and impulsive at times.  She too was a fighter and went up against those, even if there was no chance of her winning.  She was so fearless, maybe even more so then Poppy since Sera felt like there was a time limit on her life.  Sera knew that there was a chance she could die trying to kill the Primal of Death.  So I loved how Sera didn't hold back; she was fierce, bold, passionate and called it like it was!
His chin dipped, his features sharpening in the silvery light. "I am not them," he said, low and deadly soft.
Hairs along the nape of my neck rose, and I fought the urge to take a step back. "I guess I'm lucky?"
His gaze flickered over me. "I'm not sure how lucky you are."
 I am obsessed with the Primal of Death, aka Nyktos!  He was surrounded in shadows and darkness but my gods he made me smile so much and laugh so hard.  He could be endearing, seductive and enraptured my attention.  There was so much more to Nyktos then meets the eye.  But while he was all of those things, he could also be terrifying.  He would kill and do anything to protect those he cared about.  Nyktos was a complex soul that I think many will fall head over heels in love with too.
My blood thrummed as his hand settled around the nape of my neck. Liessa. Something beautiful and powerful… I felt like that now.
 I didn't think anyone could rival or top my love of Poppy and Hawke, but oh how wrong I was.  Sera and Nyktos' banter was deliciously addictive!  They connected so easily, and while so much was unknown, their chemistry was instantaneous too.  Their conversations warmed my heart and as their story progressed, their moments together were passionate, seductive and lust inducing.  This book was definitely one of Jennifer's sexier books.  The scenes between them were erotic and oh so hot!   I was obsessed!  Except Sera was to end Nyktos.  So while my heart loved how their story played out, I also felt like crying because of their unstoppable fate.
"My interest in you is a very real, very potent need." His fingers skimmed the curve of my jaw and then the line of my throat. They stopped over my wildly beating pulse. "It's almost as if it's become its own thing. A tangible entity. I find myself thinking about it at the most inconvenient moments," he said, his breath dancing over my lips. Against my better judgement, anticipation sank into my muscles, tightening them.
A Shadow in the Ember was an absolute masterpiece!  There were terrifying creatures that nightmares are made of.  Battle scenes that were epic to watch unfold.  The foreshadowing for what was to come in FBAA gave me chills!  And getting to see characters that show up later in the FBAA Series, oh it was brilliant that we got to learn about their past and see who they were!  Guilt, love, secrets, passion, friendship, life and death wove through the pages and I loved every minute of it.  A Shadow in the Ember is one of my top favorite reads from 2021 and is a must for all fantasy lovers!
He didn't move. "I see I was correct about you striking me as the type to fight even if you knew you wouldn't succeed." His chin brushed the top of my head. "It's exhausting always being right."
I threw my head back with a shriek. Pain lanced my skull as I connected with some part of his face.
"Fates," he grunted, and a savage smile tore at my mouth.
PS I just have to say a follow through was beyond epic!
A burn started in my core, spreading to my throat as the eather-laced shadows took shape behind him, forming wings.
I was going to die.
I knew that then as I stared into those so-very-still, dead eyes.
PPS  I screamed out loud multiple times.
For a moment, I could only stare at the shimmering blood coursing down the defined lines of his stomach. How was he still standing?
"Nyktos," I whispered.
PPPS  So many moments left me breathless.
"You," he said, his thumb moving in a slow swipe over the side of my throat. There was something about the way he said that. "You are trouble."
*I voluntarily read and reviewed an advanced copy of this book, provided by the author. All thoughts and opinions are my own.*
Reading Order & Links:
Amazon (click on covers) & iBooks (click on titles)
Related Posts