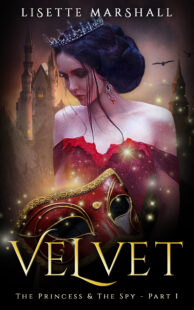 Velvet
(
The Princess & The Spy #1
)
by
Lisette Marshall
Purchase on:
Amazon
Add to:
Goodreads
Synopsis:

She despises his coldness. He loathes her nosy questions. But when a war threatens their small kingdom, they have no choice but to work together...

The Princess...

Three years at a foreign court have completed Viviette's education as crown princess of the Peaks. Now the threat of war forces her to return home: back to the thorny intrigues of Rock Hall, and to a father who still believes she's a helpless little girl. Despite his concerns, Viviette is determined to protect him and her kingdom – even if it means she must cooperate with the cold, bitter Spymaster she hates nearly as much as their enemies. And even if it means using the most dangerous weapon she has: her body.

The Spy...

Jaghar is already dealing with a looming war, a spurned lover and an old enemy stirring up memories he never wanted to confront again. The last he needs is the return of his king's daughter, with her rebellious streak and her endless questions. But the princess is no longer a little girl he can easily ignore… And as she manipulates herself into the diplomatic machinations of the kingdom, she awakens something in him too – something he thought the pain of his past had killed for good.

A threat of war…

Armies are gathering at the Peaks' borders. Dark conspiracies are taking shape in the shadows of Rock Hall. Someone must budge – or someone must die. But even with the king's life on the line, the princess and the spy cannot deny the forbidden fire flaring up between them…

Velvet is the first book of The Princess & The Spy, a steamy fantasy romance trilogy taking place in the dangerous, passionate world of the Five Kingdoms. Perfect for readers of enemies to lovers fantasy and adult fairy tale romances, it tells a story of deadly intrigue, dark secrets and sizzling forbidden love.

Content warning: Velvet is an adult fantasy romance. Featuring a broody, experienced hero and a curious, rebellious heroine, the story contains generous doses of consensual steam and other mature themes.
Review:
'You'll make one hell of a queen, Velvet.'
The Princess & The Spy was a seductive tale of mystery and intrigue!  I devoured this book way too quickly and can't wait to do that with the rest of this completed trilogy!  If you like your fantasy steamy, fun and with some grittiness to it too, then you definitely need to add this one to your tbr!
Her eyes were like bright stars even in the darkness, measuring him with so much interest that he suddenly started worrying what else she might see.
Viviette came back three years later, after studying in another court, so she would be more mature and act appropriately.  Truth be told, she was already wise above her years but her father and his spymaster always saw her as just a little girl.  And while her father still saw her that way, events led the spymaster to see her in a completely different light.  Viviette was strong, determined and wanted to learn to rule.  She could be so clever at times and I absolutely adored her!
'You can always turn back, Princess,' he muttered.
Viviette closed her eyes. She hadn't expected such tenderness, not from a man like him.
The spymaster Jaghar, could be such a mask of indifference.  He was the king's right hand man and was to keep him and his daughter safe.  Yet the Viviette that returned after three years, wasn't the one he was familiar with anymore.  She shocked, surprised him and even got him to show his emotions time and again.  And as parts of the story unfolded and we were given a full picture of what truly went on behind the scenes at the castle, and how they obtained their secrets, it pushed Jaghar and Viviette closer together.  While there was a strong attraction there, they both thought that the other one couldn't want them.  All the while the stakes around them kept getting higher!
'Look me in the eyes,' she muttered, 'and tell me you don't want me to make you.'
He didn't open his eyes. He would be lost if he opened them. 
'That is an order, Spymaster.'
Jaghar inhaled slowly, bracing himself, and looked up. Her face was close enough to kiss her, if kissing her wouldn't violate every last limit between them. 
With secret passages, seductive moments, and characters that were so easy to love, The Princess & The Spy was a spellbinding adventure!  While I guessed how one thing was going to play out, there were still so many other parts of it that were such an unknown.  This book kept me on my toes and was so fun to discover what was going to happen next.  Plus I loved that this story not only made me laugh but I also found myself gasping out loud quite a few times!  Such a huge hit, I can't wait to binge the next two books!
'You – you won't hurt me, will you?'
'Princess,' he said, kissing her neck as he lowered himself between her legs, 'I would rather die than  hurt you.'
PS I didn't even see the title of this book coming at all lol!
Related Posts