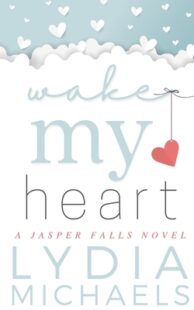 Wake My Heart
(
Jasper Falls #1
)
by
Lydia Michaels
Purchase on:
Amazon
, 
iBooks
, 
Book Depository
Add to:
Goodreads
Synopsis:

From bestselling and award winning author, Lydia Michaels, comes a small town romance readers will want to visit again and again!

Ryan Clooney moves to the outskirts of his small town and the last thing he expects to find is love, but once he meets Maggie, the beautiful, young widow next door, his plans change.

Maggie O'Malley is not looking for romance. Since losing her husband, she has withdrawn from small-town life and prefers to be left alone. But her new neighbor doesn't seem to understand personal privacy, and the more he intrudes on her solitary world, the less control she has over her heart.

Determined to charm Maggie, Ryan pulls out all the stops. But once real emotion gets involved, things go too far and Maggie has a difficult decision to make.
Review:
Wake My Heart was an emotional tale of loss, hope, friendship and love. This adult romance was an emotional powerhouse set in a heartwarming small town setting. This was my first book by Lydia Michaels, and once I finished that last page I went and added her other books to my tbr! She's an author who I'm looking forward to reading more of in the future!
Everyone was so concerned about her progress and closure, as if it were that easy.
Didn't they know her heart had been ripped to shreds? Sometimes things were too messy to simply close.
Maggie O'Malley had lost her husband in a car accident two years ago. And was still drowning in her grief. She visited his grave-site every morning, tried her best to push those she loved away, and was struggling to survive each day that she was still alive. The sorrow that seeped out of her was so intense and I kept my fingers crossed she would get some counseling or help. Because she desperately needed it. So when she met her new neighbor, Ryan Clooney, she was cold and short with him. He was just trying to help her, but she wanted no part of it. Yet there was something special about Ryan, and his arrival marked the beginning of Maggie's life starting to change.
"But I'm not. When Nash died, I died with him."
"That's not true."
"You don't know me enough to argue otherwise."
She was right, but Nash was dead and she was very much still alive.
Maggie was such a multi-faceted character. Her depression was consuming. Her life choices made me want to shake her throughout this story. Yet even though I struggled with her a lot, I loved Maggie. I wanted her to find happiness. I wanted her to be able to live again. Because she definitely wasn't living. And I hoped Ryan would be the goodness that she needed to make her see that she desperately needed to make changes in her life. I was grateful that she had a kind boss and a loving sister who tried again and again to connect with her. So when Maggie started to make a few decisions that were for the better, I was cheering her on every step of the way!
"Where did you come from?" she whispered, her thoughts jumbled and lost somewhere between her memories and reality, between here and outer space.
"I just got here." His stare held hers like a hug, warming her from the inside out.
I absolutely loved Ryan! He was my favorite character. He was helpful, sexy, kind *his offer to walk with her, cries* and I loved his huge family. But that man had no game when he ran into Maggie at her job lol! He made me smile, laugh and fall so hard for him. He tried countless times with Maggie, whether it was to help or be friendly, even though she would shut him down so many times. Thankfully he was persistent and had a kind heart. So he didn't give up easily. So when he got Maggie to have fun or even smile, I felt Ryan's joy flying from the pages!
"…. Not all emotions hurt, Maggie."
The beginning of this story started out a little slow as we got to know both Maggie and Ryan, along with their town and families. And getting that solid foundation, wow, that led to an extremely powerful effect. It felt like we knew them and their world inside and out. That they were a part of us. So their emotions bled through the pages with an intensity that was consuming. As the story progressed and Maggie and Ryan had friendly moments together, oh my heart it was breathtaking and emotional. I still felt like they were walking on eggshells. But it was all part of the process. There was still so much healing that had to take place. And I hoped Ryan would continue to have all the patience in the world for Maggie, because she needed it!
"I have this fear that you'll erase him."
"What?"
Her brow pinched with regret. "The more time we spend together, the less I think of him."
"Maggie, you can't put that on me."
"I know. But it's what's happening. I like this. But I feel like I'm losing pieces of myself the more we do this."
This book was rounded out with so many fabulous side characters. Ryan's family and extended family was humongous! And I realized that a lot of his relatives were in a completed series, The McCullough Mountain Series! So of course I went and added that first book, Almost Priest, to my tbr! Those people were heartwarming, boisterous, hilarious and I loved how much they loved each other but were also completely in each other's business ha! That's a series I'm looking to dive into!
When she pulled away, she looked up at him and whispered, "If you keep rescuing me like this, I'm going to forget how to save myself."
"Who said you have to do it alone?"
Wake My Heart was filled with being brave, making amends, fresh starts, jealousy, friendship and love, this book was so fabulous! I loved the emotional side and it was impossible not to shed tears.  I loved the laughter the large family brought. And I adored the small town this story was set in. I picked this book up because Lydia Michaels will be attending Apolllycon this year and I'm so happy I did. I can't wait to meet her in person and read so many more of her books!
*I voluntarily read and reviewed an advanced copy of this book, provided by the publisher. All thoughts and opinions are my own.*
Related Posts