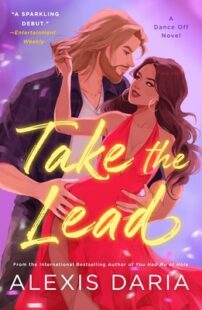 Take the Lead
(
Dance Off #1
)
by
Alexis Daria
Purchase on:
Amazon
, 
iBooks
, 
Book Depository
Add to:
Goodreads
Synopsis:

Gina Morales wants to make it big. In her four seasons on The Dance Off, she's never even made it to the finals. But her latest partner, the sexy star of an Alaskan wilderness show, could be her chance. Who knew the strong, silent, survivalist-type had moves like that? She thinks Stone Nielson is her ticket to win it all―until her producer makes it clear they're being set up for a showmance.

Joining a celebrity dance competition is the last thing Stone wants. However, he'll endure anything to help his family, even as he fears revealing their secrets. While the fast pace of Los Angeles makes him long for the peace and privacy of home, he can't hide his growing attraction for his dance partner. Neither wants to fake a romance for the cameras, but the explosive chemistry that flares between them is undeniable.

As Stone and Gina heat up the dance floor, the tabloids catch on to their developing romance. With the spotlight threatening to ruin everything, will they choose fame and fortune, or let love take the lead?
Review:
Take the Lead was a fun and flirty romance. If you like reality tv and adult romance, this book may be the perfect fit for you! The story started with Gina Morales going to meet her new dance partner in Alaska. She was one of the dancers on a show, similar to Dancing With the Stars, who was paired up each season with someone famous. Gina was a city girl, whereas Stone's family were reality tv stars that thrived in the wilderness. With a rocky start, it was hard to deny that they were both attracted to each other. And they both had goals they wanted to accomplish. Gina was determined to make it to the finals, since she never had. And Stone was dancing to help pay for his mom's surgery. Yet the show was setting them up in hopes of a romance, and Gina was determined that's now how she would make it in this industry!
Gina lost herself in the music, in the movement, in the heat of Stone's body and the warming of her own muscles from physical exertion.
To me, Gina felt a little lonely. She couldn't tell her family anything that was truly going on, since there were secrets surrounding the show. Thankfully she had her good friend Natasha there, who was another professional dancer on the show. But I loved that Gina was beyond confident in her dancing abilities. And I loved how she exuded that will trying to teach Stone how to dance. While dancing could be very intimate, Gina refused to let her feeling towards Stone sway her towards a romance. So she would be hot and cold towards him to keep him at arm's length. Even though their bodies would be wrapped around each other dancing. But by the end of this story, I was so happy the growth that Gina made! I loved seeing how far she went!
The song ended. In the moment of silence, Stone's eyes met hers. They stared at each other, breathing hard. He was so close, close enough to kiss.
Except Gina didn't fuck around with her dance partners.
"I have to go home." The words fell out of her in a rush, her voice low and breathy.
We alternated the story between Gina and Stone, and Stone was my favorite! I loved seeing inside his heart. He was such a kind, thoughtful, sexy soul. And when he could surprise her with say some of his moves, I was so happy for him. Yet Stone was carrying some huge secrets that went back to his family and their reality tv show. So I felt like Stone always had a weight on his shoulder. And as him and Gina got closer together, he realized that they were still worlds apart. She thrived in the city and he loved the wilderness. But regardless, the chemistry between them was scorching and he wanted more.
He was in too deep, but too tired to care. It was easier to like her, easier to enjoy her company and focus on pleasing her.
When she smiled, he forgot why he was fighting so hard.
Gina and Stone had to spend countless hours a day practicing and rehearsing together. So it was fun watching how their friendship formed so easily. And how comfortable they were around each other physically and emotionally. Not that far into the story they already felt as though they had each other's backs and worked great as a team. Plus it helped that they were both well versed with being on reality tv. They understood that they constantly had to watch what they said or did. Because it could and would be twisted in another way, and then shown to the whole world. So they fought becoming more. Gina wayyyyy more than Stone. But all the while, I loved hearing about their dances and cheering for them each week. The nerves of would they be cut or would they stay? And with work politics to deal with, coworkers that only thought of themselves, and their past not off limits, they lived in a tough world.
Out of habit, she looked up to meet his eyes. What she saw there scared her.
This wasn't just about attraction anymore. This was mutual respect and trust. She liked him.
With friendships, drunk dancing, steamy moments and even love, Take the Lead was a lot of fun! It was easy to get lost in the pages with this reality tv show! And I loved the epilogue that had a happy look into the future! So if you like adult romance, dancing and reality tv then this may be the book for you!
*I voluntarily read and reviewed an advanced copy of this book, provided by the author. All thoughts and opinions are my own.*
Related Posts