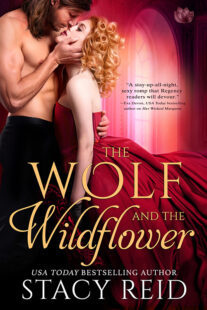 The Wolf and the Wildflower
by
Stacy Reid
Purchase on:
Amazon
, 
iBooks
Add to:
Goodreads
Synopsis:

USA Today bestselling author Stacy Reid's addictive tale of two lost people who are found…by each other

London is buzzing with the news that James Winters, the Duke of Wulverton—thought lost at sea a decade ago—survived in the harsh wilderness of the Yukon. Now he's been returned to his family, his responsibilities, and a nightmarish world of artifice and noise. He has three weeks to become a refined, elegant duke for the Queen…or doom the entire family to ruin and scandal.

Promising psychologist Jules Southby knows a lot about disguises. She's secretly been living as a boy since birth, enjoying the freedoms of men and knowing little about how to behave like a woman. When she meets the alluring duke, she's unprepared for his raw, masculine beauty and icy intelligence…or that he can see through her darkest secret.

Jules has very little time to transform the duke into a true semblance of an English gentleman. Yet his very presence seems to unravel her in every way. Their attraction is stark and achingly real—and forbidden. But loving the lost duke would mean losing every sacrifice she's made to earn her freedom…
Review:
The Wolf and the Wildflower was a charming historical romance!  Jules Southby had lived her life as a lie.  For the past 24 years, the world thought that she was a man.  Her mother did it out of self-preservation, since her father wanted a boy.   Yet Jules seemed happy with furthering her education and working in the psychology field.  Two things that were not allowed for women back then.  When Jules and her father were hired to help James Winters become refined within three weeks, they thought they were taking on an intriguing case.  Yet Jules and James didn't realize that from the moment they met, both of their lives would be changed forever.
"Were you not alone, Your Grace?"
Painfully so. Yet James would never admit that. Instead, he murmured, "I had the ice-capped mountains and the trees. At other times I had wolves and bears. I had nature and the call of the wild. Those were enough."
James Leopold Winters, the Duke of Wulverton, and the Earl of Lydon was 18 years old when he was lost in the wild.  For the last 10 years he had struggled to survive.  Alone, in a freezing environment and with danger at every turn.  Now that he was back with his family, he still felt all alone.  His family treated him like he was a savage and at times talked around him as if he wasn't even there.  It was as though he was an animal in the zoo and they were studying him.  They struggled that James didn't want to be touched and refused to talk about what he went through when he was gone.  But James was loyal and didn't want to make his mom unhappy, so he agreed to see a doctor of the mind.
Wildflower? Jules's heart shook, and she lowered her head to hide her expression. "Is this to be my new moniker, Your Grace?"
"It suits."
Do not ask, it is unimportant.
My heart hurt for Jules.  When Jules had mentioned in the past about living as a girl, her mother begged her not to and to keep up the lie.  Yet at the same point, she was terrified that if she did announce she was a girl that her father wouldn't want to share his studies with her anymore.  Ironically from the moment that James met Jules, he was the first who could see through her disguise.  And they struck a deal to keep one another's secrets.  From that first meeting I could see that they were kindred souls and they were both so alone.  As they spent time around each other, I loved watching when Jules was able to get through to James with her insight and knowledge. It felt monumental!  She was so brilliant and I loved how she explained things to him.  As time went by, they both shared things about themselves that no one else knew.  And whenever James did that, it felt like he was giving little pieces of himself to Jules. It was impossible not to fall for him!
James turned away from her and started walking. A feeling he did not understand hooked into him, and he paused. "Run with me, Wildflower?"
"Yes," she said softly.
The banter between Jules and James was fabulous!  It was much needed with the heaviness in the air about both of their lives.  Jules living a lie and James' gut wrenching past.  It hurt that they both tried to shove down love.  But when they were around each other, it felt like they were being given a fresh start.  So I loved that he called her Wildflower and why that word was important to him.  I loved how patient, kind and thoughtful James could be with Jules.  And when they did become more, their moments together were racy, steamy and sooo hot! Alternating between the two of them gave us the best of both worlds and I loved hearing their different thoughts. Especially during their intimate moments.  Yet I do need to mention that this story took quite a few times of suspending ones belief.  I thought if I could read about vampires and werewolves, I didn't see why I would struggle here and I was so right!
"What are you thinking now, James?"
"That I want my Wildflower to touch me and that perhaps I wish to touch her as well. Skin to skin, without any gloves on our hands."
Jules's heart stuttered inside her chest. His wildflower?
Joy and heartache were laced through the pages making The Wolf and the Wildflower so easy to devour. The story was filled with secrets, jealousy, friendship, love and so much heart! And James and Jules story ended with a wonderful epilogue, with a peak into the future.  Now I'm just keeping my fingers crossed that James' younger sister gets her own book hopefully.  She seemed completely fascinating to me!
*I voluntarily read and reviewed an advanced copy of this book, provided by the publisher. All thoughts and opinions are my own.*
Related Posts