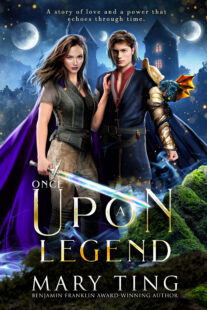 Once Upon a Legend
by
Mary Ting
Purchase on:
Amazon
Add to:
Goodreads
Synopsis:

A story of love and a power that echoes through time.

A prophecy foretold by the Council.
A sword forged by the Ladies of the Lake.
A child born from love and the hope of thousands.

Seventeen-year-old Idrisa is a student from Dumont Orphan School. When the Emperor of Dumonia invites all citizens to a birthday gala for Prince Merrick, she attends and becomes entangled in a world beyond belief. At the party, Idrisa begins to hear strange voices that urge her to go to the lake. A student from school follows and tries to kill her, but in the fight for her survival, Idrisa gains possession of an eternal sword—gifted by the Ladies of the Lake.

The Emperor demands it, but only Idrisa can wield the sword, so he imprisons her. Her only hope is Prince Merrick, but he is grieving the death of his mother and doesn't care about anything happening around him. While held captive, Idrisa uncovers secrets that challenge everything she thought she knew about Dumonia. Enemies and allies emerge when they hear news of the sword, and she must unlock the mystery of the weapon before darkness descends on the empire forever.
Review:
Retribution was a powerful weapon.
Once Upon a Legend was an enchanting tale that was woven together beautifully. It was impossible not to be fascinated with this magical world.  With a retelling involving the Ladies of the Lake, it made me feel like I was watching a movie play out in my head.  One that at first glance may seem like a Disney tale, YET as this story unfolds you see just how much darker, grittier and so much deeper this story goes.  There was murder and so much unknown laced in the pages, it felt as though plans were in place for something bigger than them.  So if you adore young adult stories that feature lore, magic, sword fighting, traitors, friendship, and the sparks of something more, then this is definitely the book for you!
I shivered, an icy blast of wind sprayed over my face. The white light from the blade, like a thousand diamonds blessed with inner fire, beckoned me to reach out for it.
Idrisa was fierce, determined and brave. She was raised in the Dumont Orphan School and the friendships she created meant the world to her.  They had been with her since the beginning.  So as we watched her train and go through the motions of being at school, I loved that she learned from her mistakes and pushed herself to be better.  Idrisa was someone we could definitely look up to.  When her school was invited to a birthday gala for Prince Merrick, Idrisa's whole world was going to change forever.  At the gala, the goddesses of the lake gave Idrisa the sword.  The one the King desperately wanted.  And with that fear in my bones, I had no clue where this story would go.
"Do not fear when the time comes. If you risk everything, you will gain what you seek."
Prince Merrick seemed to radiate pain and sorrow.  He missed his mother with his whole heart and soul.  Yet life continued and surrounding him were his brothers, father and the expectations for all of them. As we watched Prince Merrick, the tests he was put through seemed unfathomable. He showed us he was honorable, true and someone we could trust….or so I hoped. Especially when his father, the King, imprisoned Idrisa after she obtained the sword. I hoped those chain of events would be the fire that would light him to live again.  Because he had so much potential, and I loved the spark between him and Idrisa!
"Family is not only created by blood, but within the heart. Forever may our bond be strong. And like the stars, may our light never die."
The side characters in this book filled the pages with their passion.  Rocco was one I was unsure of.  He was so protective of Idrisa and I was beyond grateful for that. But his words weren't for me.  That's because I had already fallen for the prince so easily. Yet I have a lot of guesses for his future!  And Knox, who helped the prince, was someone I adored.  But on the other side, I hated the evil characters!  They felt like sociopaths who had no moral ground to stand on. What they would do in the name of what they thought was right or what they wanted *shudders*, there was no line for them that they wouldn't cross.  So hold on, because not everyone we care for will end up safe.
One of us had to die, and it wasn't going to be me.
Magic, sword fighting, darkness, betrayal, truths, and a slow burn romance filled Once Upon a Legend.  The twists in this book were fabulously done!  The why and also who someone was, my mind was blown. I didn't see those coming.  And I loved that alliances were made with those that were unlikely, it left me so excited to see how that will pan out!  This story was skillfully crafted and I loved that we even got a chapter or two from characters I didn't even think we would. The way it added to the depths of this story were magical! This story closed with leaving us at a good stopping point, but I'm excited to see what happens next. And I just have to say that even though this story is young adult, I think it would be a great read for middle graders to pick up too!
I am worthy. I am deserving. You can't take away who I am.
Out of anger, and to prove to myself that I could, I nocked an arrow and released, straight to the target dead on.
*I voluntarily read and reviewed an advanced copy of this book, provided by the author. All thoughts and opinions are my own.*
Related Posts