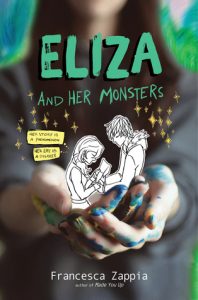 Eliza and Her Monsters
by
Francesca Zappia
Purchase on:
Amazon
, 
iBooks
, 
Book Depository
Add to:
Goodreads
Synopsis:

Her story is a phenomenon. Her life is a disaster.

In the real world, Eliza Mirk is shy, weird, and friendless. Online, she's LadyConstellation, the anonymous creator of the wildly popular webcomic Monstrous Sea. Eliza can't imagine enjoying the real world as much as she loves the online one, and she has no desire to try.

Then Wallace Warland, Monstrous Sea's biggest fanfiction writer, transfers to her school. Wallace thinks Eliza is just another fan, and as he draws her out of her shell, she begins to wonder if a life offline might be worthwhile.

But when Eliza's secret is accidentally shared with the world, everything she's built—her story, her relationship with Wallace, and even her sanity—begins to fall apart.
It makes no earthly sense how another person can do this. Not even with words, just touches. Just looks. He just looks at me and I feel simultaneously like myself and someone else, like I'm here and I'm not, like everything and nothing.
Every once in a while you come across a book that was only supposed to be a filler. You pick it up, don't expect much, and you just want something to pass the time until a book you REALLY want comes out. And there are times when those books serve their purpose, where you're content and don't think anything of it after finishing because the story fulfilled the part of you it needed to. And then, sometimes, those books you could care less about become something much, much more.
I'll be frank: I read this book right when it came out. Wasn't that like…a month ago? I feel like it was forever ago, yet I think about it frequently. I'll also wholly admit that I forget some things about it. Does that mean I didn't love it as much as I had originally thought? Perhaps…but I don't think so. I still remember things that made me smile. I still remember how sweet Wallace was, how he didn't speak often-but when he did, it was worth every moment he didn't. I still remember being nervous, anxious, awaiting the big reveal and inevitable blow up. And, ya know, I still remember how it made me feel.
I'll be the first to acknowledge that I slapped a 4 star rating on Zappia's previous novel, Made You Up, yet I don't think it deserved it, from my standpoint. I never got wholly into it, I found it hard to completely connect to, and I didn't LOVE IT-but I also didn't know how to rate it. With this novel? I knew. I knew immediately. Where MYU didn't have anything I really connected to, EAHM was like a fairy tale of nerdiness made just for moi.
rainmaker: Weird, I didn't know you had such a thing for timid guys.
MirkerLurker: Really does it for me when a guy is paralyzed with fear on a regular basis.
rainmaker: Aw. Sad.
MirkerLurker: What's sad?
rainmaker: That it would never work between us. I'm too courageous.
Recently I've found that online romances are stealing my heart-as I stated in my AA review, '2017, the year of the YA Romance cyber stalkers', is my most recent obsession, and it has been my favorite type of book to read this year. There's just something so touching to me about reaching out, taking a chance, imagining what it would be like to meet that certain someone who just GETS you…but not knowing who they are or what they look like. I mean, with each new relationship you engage in on the internet, there's a huge risk (We've all seen Catfish, am I right?).
So yeah, these online stories are crazy and zany and have that touch of unbelievability…but that's what makes it fun. And I guess what I'm saying is: I just have a major connection to this type of story and can't help but to become all fangirlish when I pick up one of these books-they are so far and few between, and it's an extreme happiness I feel when I finally find one-because, frankly, even though the realistic factor is low, online/meet-in-real-life-without-knowing-it books have tended to be the most heart-wrenching, soul-crushing, addicting, and unforgettable stories of the year.

Sully and Church stuff their gangly selves in the backseat of my car so Wallace can sit in the passenger seat.
"No hanky panky up there," Sully says.
"Yeah," Church adds. "If I see a hand cross those seats, it will get smacked."
"Smacked?" Sully says. "If I see a hand cross those seats, I'll chop it off and burn it."
So, let's do a quick look at this book and why it worked for me…it's quite simple actually. In a lot of ways, I found our main character's problems mirroring my own. No, I'm not an EXTREME introvert like Eliza, and NO I most likely wouldn't have led our main man on, but I could see similarities: Her attitude, the way she handled problems, the passion she feels when in her own world, creating…there was more, but I won't lie, I am foggy on all the details :/ One of the numerous downsides to waiting so long to write a review. But, anyway, I really liked her character even though she made a few mistakes I didn't agree with.
And I will also go so far as to say Wallace made a huge error, as well, in the end….but I have to wonder if it would have stood out so glaringly if I hadn't read about it in a review before I started. Sometimes we learn something, like an out of character moment, before we pick up a book, so we look for it, and I think that's what happened here. It upsets me because I am so easily influenced, and even after I say that, here I am doing the same thing to all of you….so, sorry in advance. My point in saying all that was to point out that Wallace wasn't without his flaws, even though I adored him 95% of the story.
I loved how they had each other's backs. I loved that they found a connection through her writing. I loved that they became fast friends after she stood up for him. And I loved everything about the two of them. This story touched me in the weirdest way, and I just haven't forgotten about it, even for a minute.
I will admit I am upset and mad at myself…I started this review two weeks ago. I was halfway done with it when I got interrupted, so I thought I'd finish it later. But this doesn't work for me. I'm the type of person who has to write a review right when I am feeling it, and once I lose that flow, it's gone. All of my spunk, all of my originality, and my whole train of thought. Add to that my bad mood I've had the last two weeks and here we are-I'm finally just writing the review to 'get it over with' and I lost my happiness while writing it-the whole reason I began writing it in the first place. Plus, I haven't slept well for a week. SO UGH. I hate that this is the watered down review I was on the way to writing, but at least now I can post it and move on-next time I'm writing a review for an instant favorite, I will refuse to pause or just plain wait. Sometimes that same mood or perfect moment doesn't come around again, so I have learned that lesson the hard way. I just wish it wasn't for this particular book. But just know: this book is worth all the stars and I endorse it 100%. It's amazing and I hope all my friends will love it. ♥