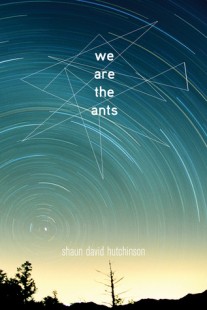 We Are the Ants
by
Shaun David Hutchinson
Purchase on:
Amazon
, 
iBooks
Add to:
Goodreads
Synopsis:

There are a few things Henry Denton knows, and a few things he doesn't.

Henry knows that his mom is struggling to keep the family together, and coping by chain-smoking cigarettes. He knows that his older brother is a college dropout with a pregnant girlfriend. He knows that he is slowly losing his grandmother to Alzheimer's. And he knows that his boyfriend committed suicide last year.

What Henry doesn't know is why the aliens chose to abduct him when he was thirteen, and he doesn't know why they continue to steal him from his bed and take him aboard their ship. He doesn't know why the world is going to end or why the aliens have offered him the opportunity to avert the impending disaster by pressing a big red button.

But they have. And they've only given him 144 days to make up his mind.

The question is whether Henry thinks the world is worth saving. That is, until he meets Diego Vega, an artist with a secret past who forces Henry to question his beliefs, his place in the universe, and whether any of it really matters. But before Henry can save the world, he's got to figure out how to save himself, and the aliens haven't given him a button for that.

This is, my friends – without any doubt – the most unexpected and remarkable book I've read this year (and the year before, if I'm being honest), soothing and yet poignant at the same time. I feel as if I should wait and write a better review because let's face it, my midnight thoughts hardly come close to what this book deserves but I can't. I'm ecstatic and barely thinking straight as huge is its impact on me, and honestly? I need to vent.
As far as 5 stars ratings are concerned, mines are often of two kinds : the flashy, mind-blowing, usually crazy ones (what? I love my evil cutters), and the quietly unforgettable others. We Are the Ants is part of the latter : I can't, for the life of me, think about something I didn't like in this strange and beautiful story.
Closing this novel, I feel like a walking-talking-contradiction : speechless, and yet so many words are fighting fiercely into my mind for the honor of – perhaps – convincing you to give it the chance I strongly think it deserves.
► Must I mention the splendid characterization that gives life to these flawed, multi-layered and endearing human beings, whose relationships are pictured in such honest and real way? Speaking of which, do you know why I think that Shaun David Hutchinson shows so much talent when creating his characters? Because albeit begrudgingly, I can't hate any member of Henry's family – they're messed-up sometimes, but oh, how they ring true! Their struggles, their reluctances, their mistakes – none of them can hide the profound love they feel for each others, even if they don't always know how to show that yes, they do care. Also, Diego. Gah. I won't say much and let you discover this hopeful wonder of a boy by yourself but trust me, he won't let you indifferent.
► Can I gush about the fact that everything is beautifully crafted, every event way more complicated than it first appears? Forget the blurb and your – well-deserved – doubts : although Henry's journey is freaking weird, it works wonderfully.
► Should I talk about the heartbreaking yet so realistic confusion between what the characters believe about themselves and the reality? How the fog they're walking in can be both their end and their relief? How Henry's narration, hovering between lucidity and delusion, never loses its hilarious and off-beat spikes, especially when he describes the world we're living in? Gosh, I'm still recovering from the SnowFlake Page. So fucking true.


☞ I could go on and on and on for hours, it wouldn't do it more justice than this little sentence can : We Are the Ants is brilliant, and like nothing I read before. Oh, who am I kidding? It just entered my all-times favorites. Highly recommended.
PS. I may never get over the giant cockroaches. Bloody HELL.