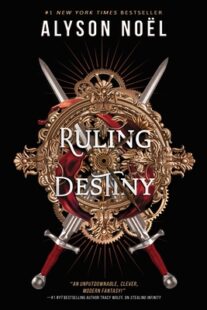 Ruling Destiny
(
Stolen Beauty #2
)
by
Alyson Noel
Purchase on:
Amazon
Add to:
Goodreads
Synopsis:

The second I stepped through the doors of Gray Wolf Academy, my world disintegrated. Here, time is malleable. It can be manipulated, shifted. Changed. And for those of us who Trip—or travel through time—the possibilities are infinite and perilous.

Now my life is caught in the secrets of everyone around me. Arthur, the eccentric billionaire who rules this school. Killian, who could be the only honest person here…or the biggest liar. And Braxton, magnetic, gorgeous, and unfathomable. The only thing I trust about him is our electric connection.

Whether we're Tripping through Renaissance Italy or thieving from a ball in Regency England, my life's become a web of lies and strange truths. And beneath the surface is an elaborate puzzle, filled with cryptic symbols and priceless treasures scattered across history—all somehow connected to my strange ability to see through time.

But Arthur has a dangerously ambitious agenda. And if what my dad taught me is true, I'm not just a threat to everyone at Gray Wolf.

…I'm a threat to time itself.

The Stealing Infinity series is best enjoyed in order.
Reading Order:
Book #1 Stealing Infinity
Book #2 Ruling Destiny
Review:
All of us at Gray Wolf— including Braxton, and certainly me— we are all liars here.
Ruling Destiny was a fast paced romantasy with a love triangle that will keep you on your toes! With so many answers swirling within the pages, I loved how that ending left us desperately needing that next book now! And with short chapters, it was easy to keep entertained, and always needing to know what happened next.
"So, which is it?" I snap. "Are you angry or worried?"
Killian loosens his grip. "Can't I be both?" His voice is thick in a way that has me averting my gaze. "If something were to happen to you—"
"Arthur would never forgive you. I know." I grind out the words.
"No, Shiv," Killian says, looking at me in a way I'd rather not see. "It's me who'd never forgive myself."
The two love interests Killian and Braxton left me constantly guessing. Was Killian truly bad or just acting paranoid around Baxton because he couldn't trust him? Or where we supposed to think that Braxton was the one we shouldn't trust? Both of these men kept us and Natasha in the dark. Over what truly happened in their pasts and other aspects about them too. The things we learned, oh my goodness! I almost felt like it was Shatter Me all over again. I always chose the right person in love triangles, except for that series. BUT I'm still holding out hope and doubling down, which may go epically wrong haha. I'm hoping a certain someone will redeem themselves. Because Natasha and that one, oh my heart. They are the WHOLE story for me! The emotions he created within her, even if she wanted to deny them. I feel everything when they were together. So I'm keeping my fingers crossed for that final book.  That things will flip around, because I love him so much *cries*! Yes there was so much more going on then the romance, but for me that was everything.
Without hesitation, Killian presses a hand to his heart and, in a solemn voice, says, "I swear to you, Shiv. I swear on the moon to every last word."
Natasha did such a fabulous job of growing within these pages. While at times I thought she might be naïve, looking back she definitely wasn't. She used her instincts beautifully. It was hard not to be impressed with her. Although her bravery definitely scared me a few times. And as her world expanded, I loved learning more about those that surrounded her. And her world. Ohhhhhh what we learned, it was mind boggling. I didn't even think about those certain aspects. I was completely interested in learning more. So with drama, romance and stealing pieces from the past while trying to put clues together, this book was a magical ride!
*I voluntarily read and reviewed an advanced copy of this book, provided by the author. All thoughts and opinions are my own.*