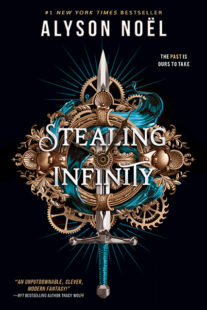 Stealing Infinity
(
Stolen Beauty #1
)
by
Alyson Noel
Purchase on:
Amazon
, 
iBooks
Add to:
Goodreads
Synopsis:

These days, I've been killing it when it comes to letting people down. Now I've been kicked out of high school, arrested, and accepted into a remote, off-the-grid school owned and operated by an inscrutable billionaire tech guru.

Gray Wolf Academy is looking for a certain kind of student. Ones that no one will miss. Like me.

Then there's Braxton. The beautiful, oddly anachronistic guy who showed up right when the trouble started. And he's a total enigma―which means that I definitely can't trust him, even if there's something about him that makes me want to.

They all tell me I have a gift. A very rare gift. And Gray Wolf Academy wants me to learn it. To use it. Because if what they say is true, I have all the time in the world.

And that makes me the most dangerous high school student you'll never know…
Review:
When you can't go back, the only choice left is to move forward.
Stealing Infinity was a unique fantasy that kept me guessing!  With a premise of traveling into the past, and an academy setting, this book completely intrigued me.  If you love young adult, academy or time traveling, then you'll want this one on your tbr!
"What the hell is happening?"
Last thing I remember, before I black out, is the feel of Braxton's arms breaking my fall.
"Oh darling," he says. "I'm afraid you're about to find out."
Natasha seemed to be struggling to get by.  Not only in life, but financially and with her mother too.  Her dad disappeared when she was younger and her one constant was her fabulous friend, Mason.  She also had Elodie as a friend, but she seemed to have 'bad friend choice' written all over her lol.  Elodie was flashy, people were obsessed with her and she took Natasha on adventures instead of being in school, where she belonged.  After being arrested and kicked out of school, Natasha was shipped off to a remote school where her entire world completely changed.
"You've been accepted into Gray Wolf Academy." He waits, like he's expecting me to be grateful or something.
"Yeah, no thanks." I stab another forkful of buttermilk pancake and lift it to my mouth. Taking great satisfaction in the way Braxton stares at me in shock.
I liked Natasha right away.  I loved how confident she could be.  She was so sure of herself, even when she faltered.  So as we slowly started to learn about this new world, it was right along with Natasha.  Not all was what it seemed, and I wanted to scream at her to be suspicious.  Yes she was given weird answers at times, but she was smart and cunning.  So I was thankful when she started to put stuff together.  Add in that we got to see memories from her past and it completely rounded out this story.  Those memories were like clues leading to her future.  And I couldn't wait to see how it all went together.
On my waist, I can feel the ghost of his hand.
There's a place on my neck where his lips continue to haunt.
And I have no idea what to do with any of that.
Braxton, hmmm.  I wasn't exactly sure what to think of him.  Could he be trusted?  I loved how he got flustered around Natasha and that he made Natasha feel cared for.  But he could also be hot and cold with her.  So there were many moments I desperately wished we knew his thoughts.  I understood why she liked him, but call me a skeptic….I hesitated with him.  So when Killian stepped onto the pages, he garnered all of my attention.  Yes he intrigued me too, but there was just something about him that so easily captured my attention.  He was brave, heroic, took chances and caused all of the butterflies. I don't think I've ever said this before, but I'm hoping for a love triangle because goodbye Braxton and hello Killian.  Please?  Pretty please?
The pieces of the puzzle are coming together, but I've got a terrible feeling about the image they're forming.
Stealing Infinity was a ton of fun and I'm looking forward to reading that next book!  With so many other characters in the pages, I had some strong opinions and I can't wait to see if I'm right down the road.  And I loved that this book started in the past, her father gave us a glimpse that was filled with so much knowledge. So after finishing this story, I went back and read that prologue and eeps, soooo many things clicked into place!  I highly recommend doing that too!  Finishing that last page we were left at a good stopping point but also left us wanting more!  Come on next book!
With my back against the wall, I crouch low in the shadows, head bent in submission, hands pressed together as though praying for redemption.
Whoever it is, they're in for a surprise.
I am not the broken girl they're expecting to find.
*I voluntarily read and reviewed an advanced copy of this book, provided by the author. All thoughts and opinions are my own.*
Related Posts