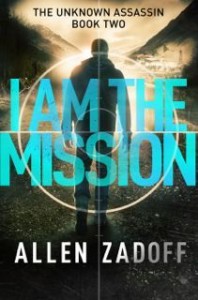 I Am the Mission
(
The Unknown Assassin #2
)
by
Allen Zadoff
Purchase on:
Amazon
, 
Book Depository
Add to:
Goodreads
Synopsis:

He was the perfect assassin. No name. No past. No remorse. Perfect, that is, until he began to ask questions and challenge his orders. Now The Program is worried that their valuable soldier has become a liability.

And so Boy Nobody is given a new mission. A test of sorts. A chance to prove his loyalty.

His objective: Take out Eugene Moore, the owner of an extremist military training camp for teenagers. It sounds like a simple task, but a previous operative couldn't do it. He lost the mission and is presumed dead. Now Boy Nobody is confident he can finish the job. Quickly.

But when things go awry, Boy Nobody finds himself lost in a mission where nothing is as it seems: not The Program, his allegiances, nor the truth.

The riveting second book in Allen Zadoff's Boy Nobody series delivers heart-pounding action and a shocking new twist that makes Boy Nobody question everything he has believed.
That was before. And I've been taught to handle before. 
You put it away and replace it with now.
Okay, so, I'm extremely mad at myself. Excellent story, wonderful flawed boy to obsess over, fast-paced and intricate story-line so there was no way I could lose my interest easily-and yet, here I am, the next day after finishing, wishing I would have waited to read IATM until this weekend. I was tired. I was dreary. I had, like, no time to read in more than 20% chunks…I am beside myself with how dumb this decision was. I wasted a wonderful, amazing book because I couldn't keep my damn fangirling in check, and a wonderful book lost half a star because of that. *Face palm*
It hurts to watch her go. Not in my head. Someplace else, someplace deeper.
Closer to my heart.
This story was completely different than the first. For one, our dear, er, hmm, can I say his real name without it being a spoiler? Ummm okay, I'll just use his 'op' name for this mission-Daniel, our dear Daniel has faced an emotional trauma from his last mission he isn't likely to recover from. His heart is broken, but he knows what his job entails and he knows he must move forward. But now, on top of all the maturity he has to wrangle at his age, he can finally 'feel'. He isn't just an emotionless drone going from operation to operation-he is finally starting to question the morality and sanity of The Program. And with these doubts comes fear-what if he messes up again? Will it cost another life? And, most of all, when it comes right down to it, would he make the same decision again if he had to?
I see this too-thin, too-tired boy who has been up most of the night, first on a mission and then on postmission planning, and I transform his energy into that of a boy who had trouble sleeping because he is nervous about the day to come. A sixteen-year-old desperate to impress, yet confused about who he is and what he is here to achieve.
In short, I make myself into Daniel Martin, the new recruit at camp.
I really enjoyed seeing his struggle to make the right decisions and to know whether he was heading down the right path or not. The thing is, it all became blurred. He had very little sleep, was trapped where he couldn't reach his 'Mother' or 'Father', and he was questioning every little thing set before him. But here's the kicker-At one point?? I'm pretty sure Daniel went off the deep end. He wasn't himself for a very long time in this story, and it was so sad (and addicting, sue me) to see him fraying at the edges, losing himself through doubt, determination, and a longing for someone to connect to. But one thing was clear-he would not make the same mistakes from his last mission. His last mission took a piece of his soul, and we get to see first hand how it effects him every single day. Poor widdle 'Daniel'. 🙁
Physical pain is easy. It's the other kind that's new to me. The emotional kind.
One thing was for certain in this story: The bromance stole the show, right alongside the action. It tore my heart to pieces to see two lonely boys finally find what they always wanted: An awkward best-friendship lol. At one point, and good lord this will seem weird, I totally laughed/squealed/giggled from the adorable-ness that is Howard and Daniel. I LOVE their friendship and it actually became my favorite part of the story-and if you know me at all, you know I don't give two shits about friends in stories. A lot of people would balk at that, me not caring about friends and only looking out for the romance, but eh, that's me! And for me to fall so hard for two best friends and almost tear up at the epicness that is their friendship? That's huge (Think Jazz and, gasp, Howie, from I hunt killers and that whole series).
Before I can stop him, Howard rushes forward, squashing me in a bear hug.
I say, "I've got to be honest. It makes me uncomfortable when you do that."
"Just once," he says. "Then you can go back to being a tough guy."
So, while I absolutely adored this story and am completely enraptured by this series and the boy that leads it, something key was missing here. Whether from my lack of sleep or time for this story, or from the lack of a romance I could get behind like in book one, something tiny was missing-Something that would make me go wooooooahhhhh, no way, like in book one. But, again, I screwed up and read the meat of the story last night with my eyes half closed and floated through every page when it was supposed to be perilous sooooo I'm guessing my rating would have been 5 had I read this when I should have. Anyway-Tortured, lonely, confused Daniel is someone I really fell hard for in this book. His humanity (or lack thereof near the end) was amazing to follow as we watched him decide just how far he'd go to prove his loyalty. I NEED book three now…damn it, why do I have to wait until JUNE?!!! UGH!