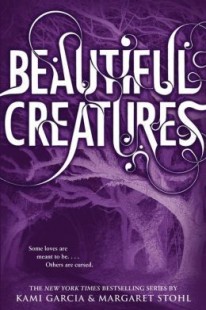 Beautiful Creatures
(
Caster Chronicles #1
)
by
Kami Garcia, Margaret Stohl
Purchase on:
Amazon
, 
iBooks
, 
Book Depository
Add to:
Goodreads
****Could seem spoilerish, although I do not believe it ruins or reveals anything***
Okay..I loved this book. I had never even heard of this, so naturally when I went to the movies in November I was surprised to see it as a movie preview. I thought it looked intriguing, if nothing else, so I added it to my TBR shelf. I kept putting it off and putting it off because of the (in my opinion) horrible rating average, until finally my curiosity got the best of me…and of course the now constant tv commercials for the upcoming movie release.
I must say I was pleasantly surprised as I started reading.
YES, there was a LOT of history and background information, which normally I loathe (just get to the point, right?), but I didn't mind it much in this book. I thought the story between Ethan and Lena was really cute, and I think it was "cute" because the whole story was from Ethan's perspective. You don't get that much from romance novels, and it was refreshing to see what he was thinking and feeling the whole time. Aren't fans of romance novels always wanting the POV from the respective hero's perspective? These authors just cut to the chase.
Also, I think people didn't like the immediate dream connection, and believed he loved her from just seeing her in his dreams, but that's not how I saw it at all. I believe he was FASCINATED by this "dream girl" and if anything just felt a connection to her-this could have developed into a friendship for that matter. I believe the actions that followed when she came to the school are purely from getting to know each other. So that issue is a matter of opinion, I suppose, for those who read it.
A good book makes me want to keep reading and not want to put it down, makes me want to finish at the cost of losing sleep, using all my free time, and secretly reading at work, and this one had all those qualities-despite the somewhat slow start. Near the middle, I just had to know whether she was claimed light or dark and what would happen between her and Ethan. The climax was so much better than I could ever have expected, with a twist and then some. I was glued to the book and there was no putting it down. I might have even had a "mini" freak out session when a certain something happens- like a serious WTF moment.
It kept me reading until the conclusion and I was more than satisfied with the results. I hope people will give this book a chance despite the "oh it's becoming a movie hype," despite the lack of good reviews, because all in all, I believe this book IS original AND gripping, contrary to popular belief.
Related Posts