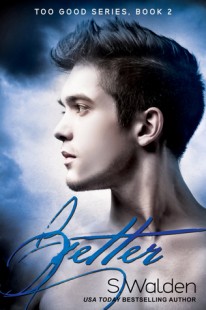 Better
(
Too Good #2
)
by
S. Walden
Purchase on:
Amazon
, 
iBooks
Add to:
Goodreads
ARC kindly provided in exchange for an honest review
There are so many things that can be said about this two book series, but what comes to mind first is the creativity with which this author molded this story and created these characters. I've said it once and I'll say it again-sculpting a story around an underage romance where an adult male teacher falls for one of his female students is a damn hard thing to do. Even harder, though, is writing a story that is wholly unique in it's ideas, and Walden managed to do that with no problems whatsoever.
Mark was the kind of guy in book one that I completely fell in love with.
He was sweet, kind, caring, and willing to do anything for Cadence. He risked it all by showing his feelings and taking a chance at true love. And he fell hard-consumed by his undying attraction to her, they fell head first into a forbidden relationship that no one could know about….until it all fell apart. Caught in an act of passion where Mark showed he no longer cared what the world thought of their secret affair, they were found out and forced to show their hand.
Picking up the pieces in book two, this is where we start the final stretch of Mark and Cadence's tremulous journey. Mark is no longer working for the school and Cadence is being forced to grow up quicker than she had ever anticipated. Attending college and learning what it is to be an adult, we start to see Cadence's immaturity and how this hurried transition in life is starting to effect her attitude and overall personality.
A very ugly look at her true self, indeed, I found myself more than once wishing the story would end and wondering what Mark could possibly see in this new and not-so-improved Cadence. I found myself asking that very same question in the last book as well, but never to the extent that I did in Better.
The corny dialogue that surrounded this young girl's journey to self-discovery was cringe-worthy and hard to swallow, making for a bogged down feeling as I trudged through the initial chapters. Things do begin to turn around, of course, but it doesn't change the fact that Cadence took a certain shocking and unpleasant occurrence and twisted it into an excuse to party in college and delve into 'experiments' that were better left unexplored.
Overall I did find some enjoyment in this story-I love Mark, he is a kind and caring man who would do anything for this girl he loves. That alone is enough to carry the three star rating I felt this book deserved. The epilogue was both beautiful and sweet, helping to melt the ice in my heart I had attributed to Cadence's horrible attitude and behavior in this installment. It almost made up for some of the things she did, but not completely. She still was almost unbearable. BUT…she eventually did start to grow into the woman she is suppoesd to become, and for that, I can look back on this book and smile. I will miss Mark and his understanding ways, but I am satisfied with the way the story ended-Cadence is a very lucky girl.
Related Posts