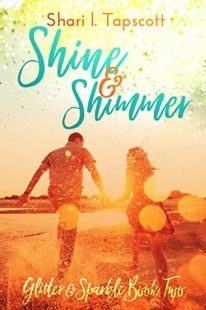 Shine and Shimmer
(
Glitter and Sparkle #2
)
by
Shari L. Tapscott
Purchase on:
Amazon
Add to:
Goodreads
Synopsis:

All her life, Riley's followed in her perfect sister's footsteps, but now that she's graduated high school, she's not sure who she really is.

When she meets Zeke, a brooding artist who's the very definition of trouble, she decides to throw caution to the wind and set her sights on a guy no good girl would dare bring home to her parents. But just when things are looking promising with Zeke, in steps Linus, a genuinely nice gamer who's just a little (or a lot) geeky for Riley's tastes. But where Zeke is the bad boy she's always dreamed of, Linus just might be her knight in shining armor.

By the end of the summer, she's going to have choose, but if she takes too long, she just might lose them both...
Review:
Shine & Shimmer was beyond adorable and I found myself laughing, smiling and falling in love.  This is the second book I've read by Shari L Tapscott, and I've come to realize that I'll definitely be devouring the rest of her books.  They're completely addicting and I love how the character's voices pull me right into their hearts!  While this can be read as a standalone, I recommend picking up the first book, Glitter & Sparkle, since the series revolves around a group of friends that I completely love!
Something about Linus sets me slightly off-kilter. It's like we're dancing, and, for once, I don't know the steps. I don't think he's flirting with me; he hasn't even tried to ask me out.
It's almost as if he wants to be…friends.
And that's weird.
We met Riley in Glitter & Sparkle.  She was Lauren's best friend and lusted after who Lauren was crushing on, unbeknownst to her.  Now that Lauren and Harrison were together, it felt super awkward.  And while she was happy for her friend, Riley desperately needed an escape.  So she decided to spend the summer in Montana, with her Aunt. Upon arriving in town, Riley found a new guy to crush on.  His name was Zeke and he was a bad boy, oh so sexy and had an artist vibe.  He was unlike anyone she'd ever dated, so she set her sites on him.  But to get close to him, she lied.  A lot, and she kept digging herself in deeper.  Don't say I didn't warn you lol! She definitely set herself up for disaster and I found myself stressing out while laughing at everything that happened.
"Thanks for coming." Linus smiles, gives my shoulder a friendly squeeze, and then wanders off to help clean up.
I stand here for several minutes, watching Linus help load dozens of empty kennels and cages into a van, and I realize I haven't thought of Zeke all evening.
Now I'm more conflicted than before.
Confession time, yeah Zeke was charismatic and hot, but I never lusted after him like Riley did.  He always rubbed me the wrong way.  Which is ironic because Zeke is most definitely my type of guy when it comes to books!  Instead I had my eyes on an entirely different boy and I was desperately waiting for Riley to catch up with me.  His name was Linus and he worked at a video game store.  Riley quickly dubbed him as a geek.  But he sure didn't act or look like how she typically viewed one.  
Leaning close, he snatches my goggles off the counter behind us and dangles them in front of my face. Then he flashes me an ornery smirk. "Can you refrain from wearing these around me? If you continue to flaunt them in front of me, I'm not sure I'll be able to keep my hands off you."
I laugh, embarrassed and surprised. After I grab the goggles from Linus, I swat his shoulder with them. "You're very funny."
That smirk grows and morphs into something real. He leans against the back counter and crosses his arms. "Seriously, Riley. We're good. Just friends."
Which is exactly what I asked for, so I shouldn't be this disappointed.
Oh I loved Linus.  I loved how he was always there, how he was patient with Riley and that he would always help her out. He was the good guy who was so easy to be friends with.  And while he came across as just a friend, every once in a while he'd say or do something that would make her second guess their just friends status.  And those moments made my heart race and had me sighing out loud.  But then in the next minute he'd go back to calm, collected, good guy Linus.  And as the summer went by, he became sexier and even more intoxicating.  Over time Riley started to notice too. But she wanted Zeke not Linus, right?
Slowly, with maddening control, he slides his hands up my arms until they're gently cupping my face, and his fingers are in my hair. His eyes are intense, almost gray in the dimming light, and they're focused on mine.
No one has ever looked at me the way Linus is looking right now, not ever. My heart hiccups, and a wave of confusion and longing washes over me.
Linus's thumb brushes over my bottom lip, making me gasp, and he leans in until our noses brush. "Just for the record, nice doesn't necessarily mean boring."
Just as I'm weak-kneed and utterly defenseless, he drops his hands and steps past me, heading back the way we came. I turn, bringing a trembling finger to my lips, and watch him go.
Riley was her own worst enemy.  Again. She was the struggle in this book.  With her preconceived thoughts or how she handled things, she definitely didn't do herself any favors.  And some of the decisions she made, especially after the halfway point, oh I wanted to shake a lot of sense into her.  But the girl had the hugest heart, could be the sweetest person ever and she was someone I definitely liked. So I gave her a lot more patience than I normally would, and I'm so glad I did because I watched her mature.  I love that I got to watch her figure out who she was and what she wanted!
Yes, I like Zeke. But there's something here, too. Something real and warm and honest.
Something, that if I'm truthful, scares me a little bit. Linus isn't like anyone I've ever met. He doesn't like me because I was a cheerleader, he's not using me to boost his social status. He's just him. And I'm just me.
The way the story played out was a ton of fun and I loved how my emotions felt all over the place.  I even found myself shocked near the end, because I ended up liking a character I wasn't the biggest fan of.  Shari L. Tapscott writes characters that somehow speak to my heart and I can't help but like them all. And by that last page I found myself ecstatic again.  That epilogue was beyond perfect! Now I'm off to devour the next book, which is about Riley's older sister, I can't wait!
Related Posts