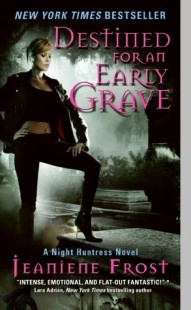 Destined for an Early Grave
(
Night Huntress #4
)
by
Jeaniene Frost
Purchase on:
Amazon
, 
iBooks
, 
Book Depository
Add to:
Goodreads
"I know you do," he whispered. "And I love you. Always."
Ooooooh boy, did this one ever piss me off. By far the most emotions pulled from me yet in this installment, I was seething for at least 20% of this book.
I'll admit it-I get so engrossed in a story that if, say, something terrible happens to the heroine, it happens to me as well. So when a certain something happened, I wanted to rip everyone apart in the story.
"Kitten." His voice was thick with something I couldn't name. "This is the part…where you don't have a choice."
I think it goes without saying that each review I've written and rating I've dubbed for each story in this series has been a 4 or above. This series is completely consistent, and with each new installment, there's a new hurdle that Bones and Cat must face together-and they are hardly ever cliche.
"All I've got is how I live. How I'll die? That's the problem of the guy who kills me." -Tate (I LOVED that line ha)
The writing remains consistent and takes me to another world where I am happy to escape reality-that's by far my favorite thing about this series. There are no typos. There is consistency in the character development. There is no changing for the sake of the other person-they are who they are and they remain a constant in their ever changing world. I know when I pick up a Night Huntress book, I'm going to get a very loyal male lead. I know Cat is going to be sarastic, fierce, LOYAL, and protective of those she loves, and I know she would do anything for Bones no matter the cost. And finally, I know there are going to be loyal family members and friends backing both Cat and Bones, and that in any situation, they will all come out of it together if at all possible.
"Never let it be said that you're predictable, Cat."
I absolutely love this series, and while I'm taking a break so it doesn't lose the magic, I know it won't be a mere month before I find myself picking up the next book and falling helplessly back into this perilous world again. I love each character for their uncanny ability to make me laugh, and that in itself is priceless.
Related Posts