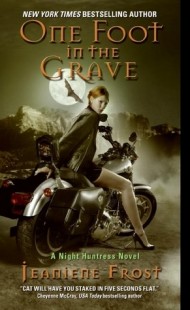 One Foot in the Grave
(
Night Huntress #2
)
by
Jeaniene Frost
Purchase on:
Amazon
, 
iBooks
Add to:
Goodreads

Life's a bitch and then one stabs you.

Ya know….I think these books are like a drug. I'm currently on book three (which is the best, thus far) and I can't seem to think about reading anything else. I'm perfectly content to just daydream about Bones (the character, not the body parts, mind you) and how much he adores Cat. There's just something so sweet about a guy who has been around for…forever, and she is the one he fell in love with. There's just something so sweet and romantic about that and I can't seem to get these characters out of my thoughts. Call me cheesy, but I'm right where I want to be-dreaming about Bones all day long.
"I knew without a doubt I'd fallen in love when we met. Then I knew I'd do anything to make you feel the same way."
*spoiler for those who didn't read book one*
The second installment starts four years after book one where we were left in turmoil of the unfavorable events of the ending of the first story. Cat has started working as a special agent in the government and is relocated in Virginia. After being threatened by Don, the man who is now her boss, she had to choose to leave Bones behind for his own safety-and her mother's. But I think we all know that Bones isn't so easily deterred or left behind if we remember anything from book one: If you run from me, I'll chase you. And I'll find you….
There's something to be said for living instead of just existing.
Suffice to say that they find each other again and emotions are high when they do. As things begin to unravel, it becomes clear that they will need Bones's help, and he begins to work with Cat and her team as well. This was such a funny turn of events. Not only because of the humor that came from Bones and members of her team, but just from the idea of it all: The vampire hunters are working with a vampire. lol
I opened my mouth-and had nothing to refute that with. Damn people who argued using logic. Talk about unfair.
I don't know that there is much more I can say that wasn't already said in my first review, seeing as how this is the same series, but I've said it once, and I'll say it again-Bones is something special, and he is something that doesn't come around that often. Sure, we've all seen the overprotective paranormal alpha types, but there is just something that separates him from the rest. I can't quite put my finger on it yet, but he is unique. And I just adore reading about him.
Related Posts