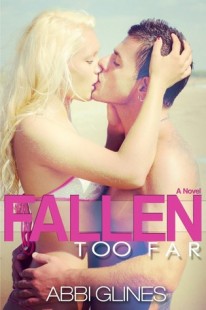 Fallen Too Far
(
Rosemary Beach #1
)
by
Abbi Glines
Purchase on:
Amazon
, 
iBooks
Add to:
Goodreads
Damn it, just..(sighs)..damn it. Apparently I love torturing myself with tremulous endings and cliffhangers becuase I have been reading book after book where they end with a bang…a massive unfinished bang. I read the reviews and I still couldn't wait another week to read it so I could just smoothly transition to the next in the series instead of setting myself up for a tortuous week of waiting. This is clearly my fault..I was warned.
Let me start off by saying I absolutely love Rush. He is the oh so perfect badboy we all adore. For one, when Blaire is mislead to believe she has a place to stay at his house by her never present father, whom Rush hates by the way, he doesn't make her leave. Well..at the last second he lets her stay-but that's just a technicality we can overlook. After that, Blaire wants to make it clear she isn't a mooch so she does everything a good houseguest should, all the while Rush is observing and absorbing more than she knows. I think we all know where the story mostly leads, as the formula for this type of story has a template that is rarely wandered from.
I did like this book, I did. I just wish Blaire had a LITTLE more conviction, in the sense of not being so sure that she likes Rush despite his bad boy behavior right away: i.e. girls and parties all the time. Just a little resistance to the whole scenario would have been nice. But overall, Blaire and Rush are great characters, especially after the halfway point. This is when I couldn't put the book down. Things were finally starting to happen…the formula, you see? ha.
The beginning is why this is only a four star read for me; I wasn't truly drawn in until the 1/2 way point, and from there the book was ingrained in my mind until I could finish it. Bad boy tears are a big weakness for me, and when they were shed, a part of my heart went into this story, making the second installment a necessity-and soon. I can't wait to read Never too far, and to find out if Rush and Blaire's story ends as a happy one. I don't know what I'd do otherwise.
Related Posts