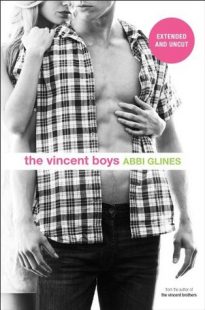 The Vincent Boys: Extended and Uncut
(
The Vincent Boys #1
)
by
Abbi Glines
Purchase on:
Amazon
, 
iBooks
Add to:
Goodreads
Synopsis:

There was something wicked about Beau that drew me to him. What was wrong with me? Why did I want to sin so badly?

Ashton is getting tired of being good, of impressing her parents and playing ideal girlfriend to Sawyer Vincent. Sawyer is perfect, a regular Prince Charming, but when he leaves town for the summer, it's his cousin Beau who catches Ashton's eye. Beau is the sexiest guy she's ever seen, and even though he's dangerous, Ashton is drawn to him.

Beau loves his cousin like a brother, so the last thing he wants to do is make a move on Sawyer's girl. Ashton is off-limits, absolutely. That's why he does his best to keep his distance, even though he's been in love with her forever. When Ashton wants to rekindle their childhood friendship in Sawyer's absence, Beau knows he should say no.

Ashton and Beau don't want to hurt Sawyer. But the more they try to stay away from each other, the more intense their urges become. It's getting way too hard to resist...
Review:
The Vincent Boys was sweet, addicting, hot, a little dirty and so much fun!  You quickly emerge into their lives and everything becomes so clear, so fast.  Ashton, aka Ash, has been friends with the Vincent Boys since she was a kid.  And the Vincent Boys, Sawyer and Beau, are not only bffs, but cousins too.  The three of them did everything together, although Ash and Beau were the trouble makers.  The things they did as kids, oh my goodness lol, thank goodness they had Sawyer who was always there to bail them out.  But then three years ago, Sawyer and Ash started going out, and their little group of three completely changed.  
Watching her laugh and play as we dove into the oncoming waves made it feel as if our years apart had just disappeared. There was then and now. The lost time in between was erased. Being with her made me feel complete. She'd always been the one to hold me together when my world crumbled around me. – Beau
On that first page, you watch Ash come across a drunk Beau and his girlfriend.  She doesn't want to stop and help them out, but she knows that's what Sawyer, her boyfriend, would do.  Since Sawyer's away for part of the summer, and she's always trying her hardest to be as good as him, she stops.  From just that one interaction, a domino affect occurs.  Ash and Beau start hanging out, and they realize how much they miss each other's company.  But nothing is as simple as it was years ago.
If I'd ever taken the time to wonder about my soul being as black as this town seemed to believe, I knew the moment Ashton stepped out of her little white Jetta, looking like an angel from heaven, that my soul was damned to hell. – Beau
And this is where I have to stop for a second.  Because normally I loathe books about cheating.  I'm one of those people who won't forgive the characters for their transgressions and my star rating will plummet because of how they hurt someone they love.  But I wasn't attached to Ash and Sawyer's relationship.  I never saw it and I had no loyalty to him whatsoever.  And maybe it's horrible to say, but I was shocked when I realized how much I wanted Ash and Beau to cheat.  I wanted to see them together, because their friendship was beautiful and their chemistry was addicting.  
The right thing to do would be to say no. But I always did the right thing. Always. Just this once I wanted to do what I wanted to do. I let the bad girl out just a little. – Ash
So here's Ash, the town's preachers daughter, and Beau, the town's trouble maker, sneaking around so they could spend time together.  And with Beau, Ash doesn't have to act or pretend.  She can be her true self.  I loved how similar Ash and Beau were in certain ways.  They were both passionate, thoughtful, kind-hearted and they both liked it a little dirty.  I won't ever forget how Beau liked to talk dirty to Ash.  Usually that's not my thing, but hey a girl can change her mind.  Especially when Beau is the one doing the talking lol.  So their moments together were hot and it was so addicting watching everything spiral out of control.
"Touch me," she whispered. The fact she was Sawyer's girl no longer seemed to matter. I couldn't tell her no. Hell, I couldn't tell myself no. – Beau
While the story was at times cliché and had some conversations that were a little cheesy, it didn't matter.  Because they were done in a way that I loved.  So if you're looking for a book that's filled with drama, friendship, true love and finding out how far you're willing to go to not only find yourself but for the one you want, then this could definitely be your book!
Related Posts