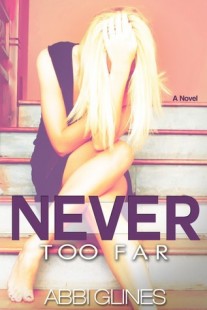 Never Too Far
(
Rosemary Beach #2
)
by
Abbi Glines
Purchase on:
Amazon
, 
iBooks
, 
Book Depository
Add to:
Goodreads
Oh gosh. I feel as though I should start this review with an awesome quote that represents the story…but there were way too many! How can I just pick one perfect Rush quote? They're all too perfect to choose just one.
I absolutely loved Blaire and Rush's story. Rush goes to the ends of the earth to prove he is worthy of Blaire and her love, and it made the story all the more intriguing. I couldn't help but smile every time Rush got overprotective for Blaire. As sad as it sounds, I loved the caveman tendancies that Rush displayed everytime another man came into the picture. Who wouldn't love a handsome man tending to your every need? I'd love it. Yes. That's all there is to it.
While Blaire still assumes way too many things, and doesn't listen to what Rush constantly tries to tell her, she still grows more mature as the story continues, and in some cases she doesn't overreact when many people would have; she comes into her own and I enjoyed reading about her HEA. I don't know that I could have handled another cliffhanger like the last one…ugh..horrible.
I found Rush to be so passionate that I couldn't help but to be obsessed with his quest to make Blaire forever his, and obviously finished within 24 hours…okay, a lot less. My only complaints about the story might be the lack of character closure. Yes, I believe there are going to be more stories about the other characters like Woods, but how come we had to deal with so many loose ends in THIS story? As much as I despised her character, I would have liked to have known more about Nan and Blaire's coexistence-and Grant, Bethy, Jace, and Cain for that matter. What happens in THEIR lives? What about her relationship with her father? They were all just so abruptly tossed out of the picture near the end..it felt kind of like a cop out. They are secondary characters, though, so I guess I will have to live with it if I don't continue to read more.
A heartwarming and fun read, I would recommend this to anyone. I don't know that anyone can withstand Rush Finlay's charms, and I am more than willing to recommend this series to friends and family so they can get their "Rush crush" on. Enjoy!
Related Posts