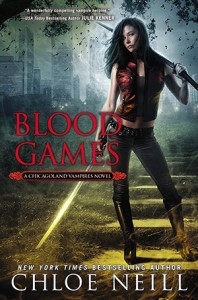 Blood Games
(
Chicagoland Vampires #10
)
by
Chloe Neill
Purchase on:
Amazon
, 
iBooks
, 
Book Depository
Add to:
Goodreads
Synopsis:

While Merit didn't choose to become a vampire or Sentinel of Cadogan House, she vowed to fight for her House and its Master, and she's managed to forge strong alliances with powerful supernaturals across Chicago. But even though Merit has had wild adventures, this may be her deadliest yet...

A killer is stalking Chicago, preying on humans and leaving his victims with magical souvenirs. The CPD hasn't been able to track the assailant, and as the body count rises, the city is running out of options. Vampires and humans aren't on great terms, but murder makes for strange bedfellows. Can Merit find the killer before she becomes a target?
UGH. One of my fav series of all time-thanks for the Xmas present, Jenny!
*4.5 stars*
And so I'm finally caught up…..I can't say I wasn't wanting a little more. Like, you know, a certain something that would have been abso-freaking-lutely adorable…but sadly I am still left waiting. And that's okay, I suppose…but I NEEDS IT. And soon. My fragile little heart can't take the teaseing anymore lol. Or maybe it can….it's pretty cute, really, how much Ethan loves and adores Merit. I know I gush a lot about this series, but it takes a special kind of author to write this many books and still have a steady story-line.
At times does it seem repetitive? Maybe a little. There's always a mystery they need to solve. They are always fighting to stay in good light with both the Vampire politic world and the citizens of Chicago. And, a lot of the time Ethan and Merit fight-like most couples do. It's different now, though. It's more about not wanting the old you to interfere with the new and improved you, not wanting to lose the love of your life because of your past wrongs…and I get that. It's adorable to see the fear of losing Merit in Ethan's eyes. And it's clear she is his world. I love it and cherish these moments, especially when he plays that possessive, jealous card….yum.
I refuse to write a lot more, because I want to write a good ARC review for book 11-but just know, things are changing, more enemies emerge in each new installment, and Ethan just becomes sweeter and sweeter…a certain Mallory scene comes to mind from the end of the book-Ethan, I love you, you sweet, adorable, loyal hunk of a man.
So, again, more quotes……Ethan has some of the best ones ever. Seriously. But Merit's are pretty great, too…
Ethan's shining moments:
This is exactly what I feared would happen. That you'd end up hurt because of me, because of Darius. I have known fear," he quietly said. "I've soldiered, seen men die, walked toward death's door and gone through it. But I have never known fear like the sight of you unconscious."
—
His frustration was nearly palpable, his magic irritable. "I do what I do to protect you. That I trained you to fight, to bear a sword, to act with honor, doesn't negate the fact that I would give my life for you, Merit."
—
If he'd been afraid to tell me this-how much worse was it, at least in his own mind?
"That look in your eyes paralyzes me, Merit."
*************************************
Merit's moments:
"If you're going to yell at me, do it in English please. I'd like to understand the insult so I can frame an appropriately pithy response."
—
"I expected you'd be starving," Ethan said. "So I asked Margot to bring this up."
"Why do people always think I'm hungry?"
"Because you're always hungry."
"Well, I did run three miles today."
—
"Liege, Merit. Dinner is served."
I braced myself for fish stuffed with more fish, or a mousse of meat. But the meal that stared back from gleaming white plates was perfectly normal. Bacon cheeseburgers with hand cut fries and tumblers of chocolate milk shakes.
He smiled at me. "I decided for our award dinner we might have a meal that suited us both."
"I've never loved you more."
"Are you talking to me, Margot, or the burgers?"
"Yes," I said.
Related Posts