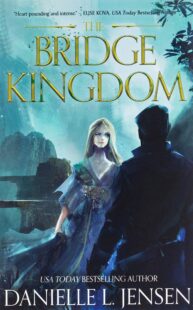 The Bridge Kingdom
(
The Bridge Kingdom #1
)
by
Danielle L. Jensen
Purchase on:
Amazon
Add to:
Goodreads
Synopsis:

A warrior princess trained in isolation, Lara is driven by two certainties. The first is that King Aren of the Bridge Kingdom is her enemy. And the second is that she'll be the one to bring him to his knees.

The only route through a storm-ravaged world, the Bridge Kingdom enriches itself and deprives its rivals, including Lara's homeland. So when she's sent as a bride under the guise of peace, Lara is prepared to do whatever it takes to fracture its impenetrable defenses. And the defenses of its king.

Yet as she infiltrates her new home and gains a deeper understanding of the war to possess the bridge, Lara begins to question whether she's the hero or the villain. And as her feelings for Aren transform from frosty hostility to fierce passion, Lara must choose which kingdom she'll save… and which kingdom she'll destroy.

Passionate and violent, The Bridge Kingdom is a seductive fantasy perfect for fans of From Blood and Ash and A Court of Thorns and Roses.
Ithicana would pay for its crimes against her people, and by the time she was through with its king, he'd do more than bend.
He'd bleed.


This is a hard one for me to write, as I think that, while undeniably addicting and spell-binding, it wasn't without its flaws. I've never been one to completely forgo logic, but I do suspend disbelief quite often to raise enjoyment for some of my favorite stories. Why must we be so critical? Well, the reason I am so critical is because if I'm not, I get sloppy with my choices, and I do NOT like to waste my time when I read, so I critique down to the finest point…about my own personal issues (which are far from what most of my fellow readers find repulsive).


Ithicana needed a queen who was a warrior. A woman who'd fight to the death for her people. A woman who was cunning and ruthless, not because she wanted to be, but because her country needed her to be. A woman who'd challenge him every day for the rest of his life. A woman Ithicana would respect.
And there was one thing he was certain: Lara Veliant was not that woman.


Personal issues of disbelief aside, something I'm shocked I cared enough to even say, to be frank, is this duology is everything my peril loving heart could ask for. Slow-burn. Tortuous. Agonizing. Perilous. Absolutely heart-breaking. But also, for those who are not so macabre: adventurous, bright, vivid, and full of action packed battles and games of deceit and political intrigue. This book had it all, and it led to one of my favorite sequels ever, which is crazy because, essentially, I've had a LOT of favorites, as of late.

I'm not going to lie when I say I am really pulling out all the stops here to write this review, as my brain is slow and I feel as though I'm in a haze from being sick, but I felt both this series and Aurora Cycle deserved better than one sentence sentiments. So while I am doing no justice here, I do feel that, at least I tried-grammar be damned, apparently.


Still, she was aware enough to hear him, his voice hoarse as he said, "Since the moment I set eyes on you in Southwatch, there's been no one but you. Even if I'm a goddamned fool for it, there will never be anyone but you."


Aren is one of the most idealistic, beautiful souls I've read about (okay, ha, whatever. I've met a lot of beautiful BBF souls, sue me) in recent memory, always hoping and praying for the good, even while preparing for the worst. Even though he falls head over heels in lust (unbeknownst to her) when they first meet, he never lets it rule his sense of urgency on whether she is truly there for him, or to spy. He is clever in that way, and I found it refreshing neither one gave into their desires, even though he so clearly wanted to be a good man to her and take care of her even more as time progressed.

When they finally give into one another…this book truly soared, the feels abundant and without a care of ceasing for for my rapidly beating heart and preemptively bleeding soul. But, like most horrendous enemies to lovers, bad things must occur lest we have no plot, and when shit hit the fan, I wasn't mad-I was furious.


You are a fool, she thought as darkness took her. And that made two of them.


Look, I knew. Arielle tells me everything I deem I need to know-which is all things bad and unfortunate. I'm not wasting time and investing my heart into bullshit-I'm not kidding when I emphasize this. So, I knew. And because I knew, or perhaps literally EVERYONE knows because it's so god damn glaringly obvious that I couldn't help but to keep a permanent scowl in anticipation of pigs flying, because the unbelievable stupidity of the heroine to be so blind in her hopefulness and lack of belief when it's needed most SLAYED me, I was ready to be hurt. But not in this way, because MY GOD IT IS SO EASY TO HAVE PREVENTED. I dO nOt CaRe if it is touched upon (I will speak of this likely later or in book two review) and therefore halfway forgivable in this sense, and I do not CARE if it needed to happen to further the plot-WHY. MY HEART. WHY. Couldn't it have happened any other way?


They did what they needed to survive, and with every piece of information she stored away about them, her guilt swelled, because she knew Ithicana wouldn't survive her.


That's it. That's literally my only complaint (perhaps barring that I wish she'd have trusted him and loved him sooner)-because this series is otherwise my literal fantasy of every book I'd like to read. It was just so so tortuous…and I need less easy, more angst in my life [but not TOO much angst, I don't want a damn heart attack okay].

And that is, I suppose, all this review really needed to say. I needed to warn y'all that you WILL fall for them. You WILL see it coming. You WILL hurt. And, if you like them at all, you WON'T care. End of story.



View all my reviews
Related Posts