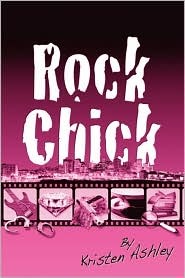 Rock Chick
(
Rock Chick #1
)
by
Kristen Ashley
Purchase on:
Amazon
, 
Book Depository
Add to:
Goodreads
Synopsis:

Indy Savage, cop's daughter, rock chick and used bookstore owner, has been in love with Lee Nightingale, once bad boy, now the man behind Nightingale Investigations, since she was five years old. No matter what ingenious schemes Indy used to capture his attention, Lee never showed an interest and Indy finally gave up. Now Indy's employee, Rosie, has lost a bag of diamonds and bad guys are shooting at him. When Indy gets involved, Lee is forced to help. Complicating matters, Lee has decided he's interested, Indy's decided she's not. But she can't seem to keep Lee out of her life when she's repeatedly stun gunned, kidnapped and there are car bombs exploding (not to mention she's finding dead bodies).

Indy's best bet is to solve the mystery of the diamonds before Lee. Lee's challenge is to keep Indy alive and, at the same time, win back her heart.
Controlling asshole + TSTL heroine + plot nonsense + stereotypes everywhere = I'm calling bullshit.
For real, this book takes the crappy romance at a whole new level – I could be almost bewildered if I wasn't so pissed. You know what? I read the full book and I don't get it. I might write a full review when I calm down. Someday. In the meantime, I must introduce some facts to provide further information to explain my rating, because I do realize that I'm in a huge minority here.
Before I start, what you need to know is the fact that Indy knows Lee from her childhood and loved him almost always since, except for the 10 previous years. Why is it important? Why, because it's used as the perfect excuse to explain that there isn't ANY character development and/or relationship growth.
➊ Controlling asshole : Okay OKAY I get it, I get it. Here's a handsome wild man, a tad mysterious, drop-dead sexy, who Indy loves since she's 5, who carries a gun and is protective, who's…
WHATEVER. I don't care about all these wonderful qualities, because :
1) He is repeatedly violent in his moves : he pushes her, catches her wrist, "hook [her] around the back of the neck with enough force to send [her] slamming into him". Wow, how romantic.
2) He wants to control every one of her actions, starting with their relationship : "This is happening between you and me," he threatened." Indeed Indy repeats several times that she is SCARED by him and his controlling behavior. What bothered me the most is the fact that the TSTL behavior of the heroine is used as an EXCUSE to explain Lee's reactions and to make the reader believe that it's okay. Nope. It's not okay to handcuff your girlfriend at the bed because you don't want her to go out. And it's certainly not okay to FORBID your girlfriend to wear what she wants to wear. Oh, but don't worry, Lee has an asshole as a friend who agrees with him.
"For what it's worth, I'm with Lee. If you were my woman, there's no fuckin' way I'd let you out of the house wearin' that."
YOU DON'T SAY?!
3) He is a jealous prick. Now, a little jealousy can be great, but come on. Lee overreacts completely when Indy talks to another guy.
➋ TSTL heroine : basically, Indy is the stupid chick in scary movie. Yeah, you got it, the one we can't help but yell at to STAY IN THE FUCKING HOUSE! To sum up, she is kidnapped 3 times, goes out every time someone tells her to stay hidden despite the really bad guys who constantly shot at her, decides to investigate while she obviously shouldn't (plus, she gives her real name to every dubious person she meets : who does that??). I know some readers found her kick-ass. I'm sorry but this girl? She isn't badass. No. When I think of her, here's how I picture Indy :
What? She acts like she's 16 while she's 30.
Moreover, although in her inner monologues she complains about Lee's controlling behavior, she always gave in. EVERY. FUCKING. TIME.
PS: I almost forgot to say that she is so fucking SPECIAL that she has 3 guys fighting for her. Yep. 3.
➌ Plot nonsense
You know what? I'm done.
Related Posts