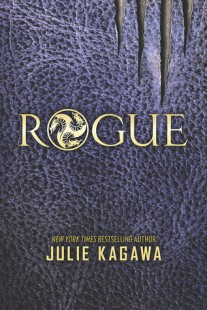 Rogue
(
Talon #2
)
by
Julie Kagawa
Purchase on:
Amazon
, 
iBooks
Add to:
Goodreads
Synopsis:

Ember Hill left the dragon organization Talon to take her chances with rebel dragon Cobalt and his crew of rogues. But Ember can't forget the sacrifice made for her by the human boy who could have killed her—Garret Xavier Sebastian, a soldier of the dragonslaying Order of St. George, the boy who saved her from a Talon assassin, knowing that by doing so, he'd signed his own death warrant.

Determined to save Garret from execution, Ember must convince Cobalt to help her break into the Order's headquarters. With assassins after them and Ember's own brother helping Talon with the hunt, the rogues find an unexpected ally in Garret and a new perspective on the underground battle between Talon and St. George.

A reckoning is brewing and the secrets hidden by both sides are shocking and deadly. Soon Ember must decide: Should she retreat to fight another day…or start an all-out war?
Ladies and gentlemen! Welcome to the Dragoooooon Gaaame! Please welcome the fighters, I said PLEASE WELCOME THE FIGHTERS, Talon and Rooooooogue!
► I can't deny that this sequel is action-packed, and that's why my rating isn't lower. Moreover, we learn more about both Talon (via Dante's and Cobalt's POV) and Riley's rogue organization. Secrets societies people! You've being watched. Controlled. Hunted. All this stuff was pretty cool.
► I'm going to be blunt here : in my opinion none of the characters was fleshed-out in this sequel, except Riley. Indeed Ember and Garret seem to be the shells of themselves, and they often act out of character (especially EMBER, because Garret I can understand his reactions, and he's fucking trying at least!). I mean, at some point, I felt like book 1 NEVER HAPPENED for fuck sake!
That's why while I loved Ember and Garret in Talon, here my favorite character was Riley by far : the rogue is loyal, sarcastic, brave, and even if I don't agree with everything he does, I like him, because he makes me laugh and he knows what he wants (and that's maybe the only one, sadly). BUT. What bothers me is the fact that I feel like I was supposed to root for him here. That is to say that the whole changes in the characterization sounds rather manipulative to me, because in my opinion Riley is the only character who is fairly treated.
► In my review of Talon, I said that there wasn't a love triangle, not really. Well. I guess I have to eat my hat now.
Because welcome to the fucking love triangle hell! I'm so mad right now, I can't even. Ember, remember Ember?? In Talon I really appreciated her personality and sadly, I can't say the same thing now. Yes she fights, yes she's sometimes snarky, but overall, she annoyed me something fierce because American Singer syndrome. I can't deal with that shit anymore. I. Can't. To be fair, I know that some readers found it acceptable because of the dichotomy between her dragon side and her human side but to me it was schizophrenic, confusing and bloody annoying.
Just tell me : Why makes me care for this storyline if everything goes downhill in the end? Why? It's predictable and completely unnecessary – I can just see it coming 20 000 miles away. Mark my words : Ember will end with Garret. SO WHY FUCKING BOTHER WITH THE LOVE TRIANGLE? Maybe I'm wrong, but I'm pretty sure I'm not, and if I am, I'll eat a hat again, that's all. But then, the end is scheduled for 2019 so well, let's say that I'm not that scared >.<
► That's pretty simple actually, because I felt completely disconnected most of the time in Rogue. Indeed except for some scenes including Riley, I didn't care much about what happened to the characters and it's a shame, really, because in the first I felt enthralled. While here, No butterflies. No fears. Everything felt flat, dull, tame.
► It's Kagawa, therefore it's well-written, duh. Even if I never felt fascinated, I was never bored either, I have to admit. Indeed when it comes to her writing, I can't help but be hooked from page one, even when the plot struggles to keep my interest.
★ EVEN ★

Results!


Sadly, Rogue was a disappointment to me, as the accelerated action couldn't make up for the lack of characterization and the useless love triangle, which are part of my biggest peeves. Finally, I didn't like the ending^^
Related Posts