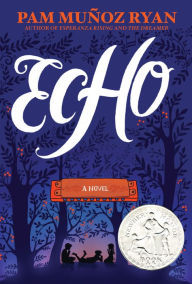 Echo
by
Pam Muñoz Ryan
Purchase on:
Amazon
, 
iBooks
Add to:
Goodreads
Synopsis:

Winner of a 2016 Newbery Honor, ECHO pushes the boundaries of genre, form, and storytelling innovation.

Lost and alone in a forbidden forest, Otto meets three mysterious sisters and suddenly finds himself entwined in a puzzling quest involving a prophecy, a promise, and a harmonica.

Decades later, Friedrich in Germany, Mike in Pennsylvania, and Ivy in California each, in turn, become interwoven when the very same harmonica lands in their lives. All the children face daunting challenges: rescuing a father, protecting a brother, holding a family together. And ultimately, pulled by the invisible thread of destiny, their suspenseful solo stories converge in an orchestral crescendo.

Richly imagined and masterfully crafted, this impassioned, uplifting, and virtuosic tour de force will resound in your heart long after the last note has been struck.
For a few hours, Echo healed my cynical heart with pure hope. Beautifully written and compelling, what I will call an historical fairytale – with all the hardships that come with it – enchanted me from the very first page, and my interest never wavered : Friedrich, Mike, Frankie, Ivy… They all earned a little place in my heart.
One might say that these stories are not free of some kind of simplistic resolution (and I agree), but in my opinion the novel's worth lies elsewhere : in the heartwarming and hopeful messages that music can bring people together and that we all can find the place where we belong, no matter how different we think we are, no matter how intolerant our contemporaries are being, no matter how idiotic and selfish people can be.
As it turns out, I shouldn't have worried about the age target. If I could see straight away that the story was aimed at children, I think that there's a reason we adults come back to fairytales sometimes. As much as I love my Dark Fantasy novels, as much as I complain about the stupid and intolerant comments I see every day on the social medias, there's a part of me that needs to believe. I wouldn't be a teacher if I didn't hope for the future to be more open-minded, more accepting, less scared of differences.
Everyone needs to believe in a better world once in a while, to let a bright day overtake the clouds of ignorance.
Now I'll patiently wait for someone to translate Echo in French to throw it into my pupils' hands.
PS. I'm rating this book according to its age rank.
Related Posts