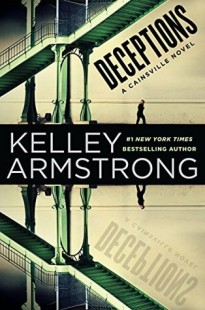 Deceptions
(
Cainsville #3
)
Purchase on:
Amazon
, 
iBooks
Add to:
Goodreads
Synopsis:

The #1 New York Times bestselling author of the Otherworld series delivers her most suspenseful novel yet, where the discovery of Cainsville's dark past and the true nature of its inhabitants leads to murder, redemption, love, and unspeakable loss.

Olivia Taylor Jones's life has exploded. She's discovered she is not only adopted, but her real parents are convicted serial killers. Fleeing the media frenzy, she took refuge in the oddly secluded town of Cainsville. She has since solved the town's mysteries and finds herself not only the target of its secretive elders but also her stalker ex-fiancé.

Visions continue to haunt her: particularly a little blond girl in a green sundress who insists she has an important message for Olivia, one that may help her balance the light and darkness within herself. Death stalks both Olivia and the two men most important to her, as she desperately searches to understand whether ancient scripts are dictating the triangle that connects them. Will darkness prevail, or does Olivia have the power to prevent a tragic fate?
✨ Now available in Paperback! ✨
Whaaaat? Is it finished already? Damn it.
▨ Gabriel character's growth : Alright. I feel like a broken record, so don't mind me. As in the first two books, here lies my favorite part of these books. I'm all about the characters most of the time, and a great characterization can decide of my love for a book. In Deceptions Gabriel continues to learn how to stop being a cyborg (not really) and I absolutely adored peeking through the layers of his character. GAH. I love this man. See, I love the way he talks. All practical. I've loved his tough side from the start, his inability to react like people are supposed to, because that what makes him different from other characters : he's not a bad-boy, he's not a knight in shining armor either, he just… is, and I can't help but enjoy every time he appears, even if he is being an ass (yes, it happens. No, it doesn't change a thing). When he starts showing vulnerabilities, though? I melt. I just – I can't. It's subtle, and it's way more interesting as it is. It's showing, never telling, but he cares, so much – it made my heart throb with wonder and yes, break a little.
"He kept giving me that look, the confusion deepening to something like disappointment, like hurt, as if he'd tried to be kind and thoughtful, and I was rejecting it, and he didn't know why. That little boy, reaching out and being pushed away. Goddamn it, Gabriel. Don't look at me like that. Wake up. Snap out of it, pull that wall back up and retreat behind it."
Finally, his interactions with Olivia and really – everyone – made my day. I'll take more of this, please.
"His brows shot higher. "That would imply I have time for such frivolities. I don't watch television or movies, and while I read a fair bit, fiction would hardly advance my education. Data, data, data. I cannot make bricks without clay." I crossed my arms and glowered up at him. "Obviously, you've made an exception." "I never make exceptions. An exception disproves the rule." " I hate you so much right now."
▨ Ricky's case : Strangely, I feel bad about Ricky. Why? Because he's genuinely adorable with Olivia and they seem really great together but even if 1)he doesn't annoy me and 2)I don't mind their sex scenes, on the contrary, I can't help but feel not involved in their story. I'm a Gabriel girl through and through, even if I repeat, it's not a love triangle-team Gabriel kind of situation. Not really. To be frank, I have nothing against Ricky : he's sweet, respectful, charming, a little wild… I like him, really. And still… He isn't near as fascinating as Gabriel. *shrug* Gabriel is the one who makes me smile. Always.
▨ Olivia's behavior : I still like her, but I have to admit that she annoys me a little when she refuses to see the obvious View Spoiler »I mean, really? Ricky? It's been obvious since the beginning of book 2 « Hide Spoiler. View Spoiler »I mean, really? Ricky? It's been obvious since the beginning of book 2 « Hide Spoiler However, she does act on it and I appreciate how realistic that makes her : yes, in real life we bury our head in the sand sometimes. I'm often the Queen of that ship, even if I'm not proud of it. That doesn't prevent me from waking up when I sense that I need to, and Olivia does. Whilst lost and confused, she always stays brave, smart, and funny. Am I tired to be in her head? No, never. And that's saying something : she doesn't ramble, she doesn't daydream, but she always tries to make the best out of the chaos that followed her arrival in Cainsville. However, I cannot stand how she handles a certain situation, and it's a spoiler, so here we goes (sorry) :View Spoiler »I don't believe in loving equally. I just don't. Don't give me that shit. Plus, please tell Ricky how you feel, because it's not fair at all. « Hide Spoiler[I don't believe in loving equally. I just don't. Don't give me that shit. Plus, please tell Ricky how you feel, because it's not fair at all. (hide spoiler)]
▨ TC! Every book needs a moody cat.
▨ Addictive factor : Once again, the writing is completely addictive and I couldn't stop reading for the life of me. From page one I dived into Cainsville's mess as if I had never stopped, and there are very few series about which I can say that.
▨ Creepy factor :
First of all : I'm a chicken (yes, it's important to state). This being said, the creepy scenes increased in number in this third book, definitely. I got chills at her visions and no, the light of my Kindle wasn't enough anymore. Chicken, I said.
▨ ANSWERS! I'm not gonna lie, the first two books let me –
You get the idea. Lost. Confused. Did I say lost? So, does it change? Yes we get explanations about the murders. Yes they're twisted and wicked. Yes I loved that. Does the story seem less captivating after getting these answers? Oh hell no. I'm even more curious to see where the story will go from now on. Now, I must confess that some parts disappointed me and that I am scared that this series will become stereotypical (that's why I lowered my rating) View Spoiler »with the "reincarnations" « Hide Spoiler[with the "reincarnations" (hide spoiler)]. I hate Fate related plots and I really can't fathom why authors do that. I strongly hope I'm wrong, and I want to trust Kelley Armstrong to stay far from the easiest path View Spoiler »love-triangle shit « Hide Spoiler[love-triangle shit (hide spoiler)], because so far everything was way more complicated than it seemed, and I loved these books for it.
Ps. I need to say something about the bike club scene : it made me cringe so bad. I do not like girl fight at all, and the whole "handling over" Olivia played with my nerves. I know, I have no idea if it is accurate or not. Maybe it is. I still can't help but hate the casual sexism that is pictured there. Ugh.
Related Posts