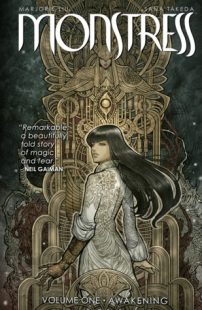 Monstress, Vol. 1 : Awakening
(
Monstress (Collected Editions) #1
)
by
Marjorie M. Liu, Sana Takeda
Purchase on:
Amazon
, 
iBooks
, 
Book Depository
Add to:
Goodreads
Synopsis:

Set in an alternate matriarchal 1900's Asia, in a richly imagined world of art deco-inflected steampunk, MONSTRESS tells the story of a teenage girl who is struggling to survive the trauma of war, and who shares a mysterious psychic link with a monster of tremendous power, a connection that will transform them both. Entertainment Weekly praised MONSTRESS as "one of Image Comics' most imaginative and daring new series" and dubbed it the "Best New Original Series" in their year-end "Best Comics of 2015" list.

Collects MONSTRESS #1-6
Monstress, Vol. 1: Awakening was… weird, but dark and pretty good?
There's no hiding that the plot is convoluted… at best, and if there was such thing as a CONFUSING ALERT!, I would raise it instantly. Indeed Monstress, Vol. 1: Awakening doesn't burden itself with simple details like chronological order and basic knowledge before throwing you in the meat of the (epic fantasy-like) action.
Keyword being : HUH?!
And then, there are these cat-ish info-dump pages at the end of every chapter (issue) : Oh my GOSH. MY EYES. Too long, too tiny, too much.
However, despite the general confusion and slowness, in the end I'm eager to know where the story will go… especially after THAT. BIG. CLIFF. DAMMIT.
Overall, the characters are very interesting and pretty fun to follow :
First a kickass heroine…

… teamed-up with an adorable fox girl… Awww <3

… a talking cat…

… also, a monster…

… and many complex villains. What more could we want?!
See above. Mix everything. You've got your world.
Want more details, do you? Alright. What you need to know is that the world is separated into two parts (so far), the Human World (with witches) and the Arcanic World (with old gods, animal-head people). Because differences and greed always win, once upon a time there was a war (of course there was). Finally, because those in power are often morons, they built a wall (of course they did). Oh, and the talking cats somehow achieved the status of wise entities at some point during the History. Don't ask me when, though (info-dumping cat pages, remember?) They even go so far as calling themselves Masters *snorts*
As the plot, the world is interesting and complex, yet so very confusing at first.
Remarkable. Stunning. I loved it to pieces, okay?
Sources :
– Flower doodle : http://www.vecteezy.com/flourishes-sw…
– Other vector images (edited by myself): Free vector art via Vecteezy.com
Related Posts