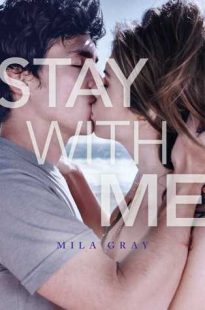 Stay With Me
(
Come Back to Me #2
)
by
Mila Gray
Purchase on:
Amazon
, 
iBooks
Add to:
Goodreads
Synopsis:

From the author of Come Back to Me comes a heartwrenching novel about a forbidden romance, a wounded marine, and the girl who's determined to save him.

Didi Monroe has waited her whole life for happily ever after. So when charming Zac Ridgemont sweeps her off her feet, Didi believes she might finally have met the one.

Until she begins an internship at a military hospital in California. There she meets wounded marine Noel Walker. Frustrated on the outside and broken on the inside, Walker's an irritating patient who refuses any care, keeping his distance from everything and everyone—including Didi.

Walker is strictly out of bounds. Didi knows this, respects this, but the more she tries to help Walker the closer the two grow. Soon neither one can ignore the sparks flying between them as their attraction simmers into dangerous territory.

But Walker doesn't believe in love or happily ever after—not after what he's seen. Not after what he's been through. He doesn't want to hurt Didi, but he doesn't want to push her away either. She makes him feel peaceful. Hopeful, even.

Then tragedy hits, shattering both their worlds, and Didi realizes that love isn't as simple as happily ever after. Love isn't easy. It's difficult. Messy. Complicated.

Now all Didi has to do is decide if it's worth fighting for.
Review:
Stay With Me was an emotionally, beautiful story that will stay in my heart for a long time to come!  While there are many reasons I fell hard for this book, it ultimately boiled down to two things.  The characters and the sexual tension.  The characters easily worked their way into my emotions.  I couldn't help but feel everything they did.  And the sexual tension and angst left me longing to read the pages as fast as possible while also slowing down so I could savor every sexy moment.  So yes, I definitely recommend this book, and I can't wait for you to meet Walker and Didi!  But before I go any further, I want you to know that this book can be read as a standalone.  Although I love and highly recommend the first book too (Come Back To Me), it was about Didi's best friend Jessa.  
Everything can change in a heartbeat. – Didi
Didi Monroe ends up taking an internship at a medical facility on a Marine Base, since she's a trainee psychologist.  She's the bosses daughter and knows that it won't be easy, but she didn't expect her first day to be a total nightmare.  And part of that nightmare has to deal with her run in with Grumpy aka Noel Walker.  Walker was part of the Alpha Team and was one of the youngest Lieutenants in the Marine Core.  But the majority of his team died while he was left blind with a knee injury.  
The goddamn darkness. I can't get away from it. It's like being slowly buried alive. Every day another shovelful of dirt gets thrown on top of me. – Walker
Walker didn't even want to talk to Didi.  But as her daily visits added up, he started to warm up to her.  Slowly over time start they formed a friendship, yet it's not that simple.  You see when Didi and Walker are around each other, there's an underlying sexual tension that is through the roof scorching hot!  Their moments together had me holding my breath, because the electricity between them was mind-blowing intense.  It couldn't be ignored.  And anyone around them saw it too.  There is a shaving scene and many, many others that you must read.  Those moments contain the perfect amount of sexual tension and angst!  I absolutely love when angst is done in such a fabulous way that I can't help but have my emotions on edge.  
His hand nudges closer across the bed. I move my own hand to meet his. Our fingertips brush— that's all. But it feels like I've just leaped across a line, smashing every last boundary that lay in the way. – Didi
Underneath Walker's gruff exterior, he is suffering from PTSD.  Watching him struggle through the flashbacks, mood swings and nightmares shattered my heart into a billion tiny pieces.  Yet Didi's friendship starts to help, although they have a lot of obstacles in their way.  She isn't allowed to have relationships, let alone even be friends, with patients.  And he doesn't want to tie anyone down, since he is blind.  But the connection between the two of them, even when they were talking about something as simple as music and movies, moved me.  It was pure and so real.
What are the scars on the inside like? Are they just as bad? And how do you heal those ones when you can't even see them? – Didi
The story was rounded out with side characters that I absolutely loved!  Sanchez and Dodd were wounded Marines who were at the same facility as Walker.  They added moments of laughter and moments of heartbreak.  I became just invested in them, and I hoped they would get their happily ever after too.  And I loved the friendship they not only had with Walker, but with Didi too.  They saw that Didi had this huge heart and good head on her shoulders.  I loved that she tried her hardest to help others and find good in the world.  While some of her choices, cough Zach cough, made me shake my head, it made her that much more human.  She had flaws, just like we all do, and it made me love her that much more!
There's another pause before he asks, "What color's the sky?"
I smile, but at the same time I feel a sharp tug in my heart. What must it be like to know you might never see the sky again, or colors?
I look upward. "It's blistering blue. Swimming-pool blue. Like someone's poured chlorine into it."
"Is chlorine blue?" he asks.
I laugh. "Actually, I have no idea. But the sky is very blue today. And there's not a single cloud."
He tilts his face up to the sun and I find myself staring at him, at the hard line of his jaw and the soft curve of his mouth. I look quickly away.
So yes, I definitely recommend this book!  Especially if you love tortured males and slow burn romances!  Although I will say that I wish this story had an epilogue.  There was an epilogue in Come Back To Me, the book about Didi's best friend, and it was absolutely perfect.  So I wish Did got one too, since I had a few questions about the future.  But then again, I'm an epilogue junkie.  But regardless, I can't wait for you to read Didi and Walker's story!
*ARC kindly provided by author in exchange for an honest review*
Reading Order & Links:


Amazon

(click on covers),

iBooks (click on titles) & Book Depository

(click on book #)


***Each book can be read as a standalone.***

Come Back To Me #1
Reviews:
Jen

Stay With Me #2
Reviews:
Jen
About Mila Gray:
Mila Gray is a pen name for Sarah Alderson, author of Hunting Lila (winner of the Kingston Book Award), Losing Lila, Fated, The Sound, Out of Control and Conspiracy Girl (all Simon & Schuster).
Having spent most of her life in London, Sarah quit her job in 2009 and took off on a round the world trip with her husband and daughter on a mission to find a new place to call home (a journey that was documented on this blog and later turned into a book).
As well as writing young adult novels and screenplays, Sarah also writes adult fiction for Pan Macmillan (Simon & Schuster in the US) under the top secret pen name Mila Gray.
Find out more here: 
Save
Save
Save
Save
Save
Save
Related Posts