Life:
I am SO unbelievably excited about this weekend!  We are going on The Polar Express *gasps*.  If you aren't familiar with the children's book or the movie (both I highly recommend!) it's a train ride that takes kids to the North Pole to meet Santa Claus.  On the train ride there are people on-board each car that sing, dance and dress up to look like the characters in the movie and book.  Then when you arrive at the North Pole Santa climbs on board with a few of his elfs and they visit with each child on the train.  I can't wait to see the excitement and wonder in my two little boys eyes this weekend.  Here's hoping you all have a fabulous weekend too!
In case you aren't familiar with our Friday Star Posts, we like to take a look at what's happened around here in the last week, what's coming up that we are excited about and anything else that we may have to share!
♥ Enjoy!
✩✮✩✮✩✮✩✮✩✮
Giveaway:

Enter to win a signed set of the Wait For You Saga (not including FIRE IN YOU). Enter → here
✩✮✩✮✩✮✩✮✩✮
Just Finished and Loved: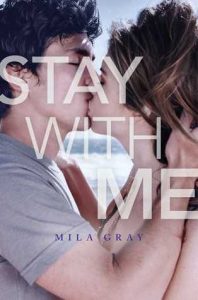 Stay With Me (Come Back to Me #2) by Mila Gray → Jen's Review
5 Stars! Stay With Me was an emotionally, beautiful story that will stay in my heart for a long time to come!
Didi Monroe has waited her whole life for happily ever after. So when charming Zac Ridgemont sweeps her off her feet, Didi believes she might finally have met the one.
Until she begins an internship at a military hospital in California. There she meets wounded marine Noel Walker. Frustrated on the outside and broken on the inside, Walker's an irritating patient who refuses any care, keeping his distance from everything and everyone—including Didi.
Walker is strictly out of bounds. Didi knows this, respects this, but the more she tries to help Walker the closer the two grow. Soon neither one can ignore the sparks flying between them as their attraction simmers into dangerous territory.
But Walker doesn't believe in love or happily ever after—not after what he's seen. Not after what he's been through. He doesn't want to hurt Didi, but he doesn't want to push her away either. She makes him feel peaceful. Hopeful, even.
Then tragedy hits, shattering both their worlds, and Didi realizes that love isn't as simple as happily ever after. Love isn't easy. It's difficult. Messy. Complicated.
Now all Didi has to do is decide if it's worth fighting for.
✩✮✩✮✩✮✩✮✩✮
Reading Next: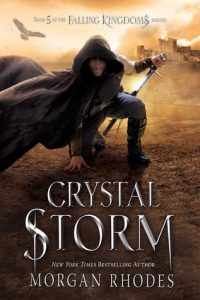 Crystal Storm (Falling Kingdoms #5) by Morgan Rhodes
The story continues!  In the first book, Falling Kingdoms, War brought them together. Love will tear them apart.
 Princess Cleo of Mytica confronts violence for the first time in her life when a shocking murder sets her kingdom on a path to collapse. Once a privileged royal, Cleo must now summon the strength to survive in this new world and fight for her rightful place as Queen.
 The King of Limeros's son, Magnus, must plan each footstep with shrewd, sharp guile if he is to earn his powerful father's trust, while his sister, Lucia, discovers a terrifying secret about her heritage that will change everything.
 Rebellious Jonas lashes out against the forces of oppression that have kept his country cruelly impoverished—and finds himself the leader of a people's revolution centuries in the making.
Witches, if found, are put to death, and Watchers, immortal beings who take the shape of hawks to visit the human world, have been almost entirely forgotten. A vicious power struggle quickly escalates to war, and these four young people collide against each other and the rise of elementia, the magic that can topple kingdoms and crown a ruler in the same day.
✩✮✩✮✩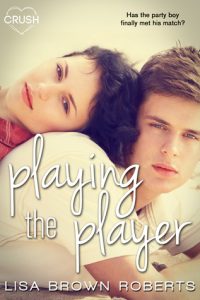 Playing the Player by Lisa Brown Roberts
Trina Clemons needed the money. Why else would she – the most organized, prepared student in school – spend the summer as a nanny and partner with the biggest slacker ever? Now she's ready to tackle nannyhood with her big binder of research and schedules. Just don't ask her about the secret job of "fixing" the bad habits of a certain high school player…
Slade Edmunds prefers easy hook-ups, and Trina is definitely not his type. She's all structure and rules, while Slade wants to just have fun. Fortunately, Trina has no idea about the bet Slade made with his best friend that he can totally get her to unwind by the end of summer…
Then the weirdest thing happens. There's chemistry. A lot of it. But nothing gets between a boy and a girl like a big, fat secret…
✩✮✩✮✩✮✩✮✩✮
Upcoming Releases: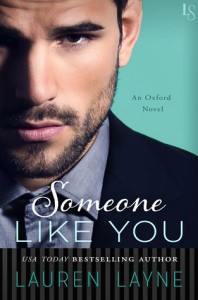 Someone like You (Oxford #3) by Lauren Layne (Releases 12/06)
Lauren Layne's bestselling Oxford Series continues with the poignant, heartwarming story of New York's most eligible bachelor, Lincoln Mathis, a man who's living a lie—until his dream woman takes away the pain.
Lincoln Mathis doesn't hide his reputation as Manhattan's ultimate playboy. In fact, he cultivates it. But behind every flirtatious smile, each provocative quip, there's a secret that Lincoln's hiding from even his closest friends—a tragedy from his past that holds his heart quietly captive. Lincoln knows what he wants: someone like Daisy Sinclair, the sassy, off-limits bridesmaid he can't take his eyes off at his best friend's wedding. He also knows that she's everything he can never have.
After a devastating divorce, Daisy doesn't need anyone to warn her off the charming best man at her sister's wedding. One look at the breathtakingly hot Lincoln Mathis and she knows that he's exactly the type of man she should avoid. But when Daisy stumbles upon Lincoln's secret, she realizes there's more to the charming playboy than meets the eye. And suddenly Daisy and Lincoln find their lives helplessly entwined in a journey that will either heal their damaged souls . . . or destroy them forever.
✩✮✩✮✩
You can check out the rest of the books that we can't wait to release → HERE
✩✮✩✮✩✮✩✮✩✮
Sales:
$0.99
$1.99
$2.99
$4.19+
Freebies:
Save
Save
Save
Save
Save
Save
Save
Save
Save
Save
Save
Save
Save
Save
Save
Save
Save
Save
Save
Save
Save
Save
Save
Save
Save
Save
Save
Save
Save
Save
Save
Save
Save
Save
Save
Save
Save
Save
Save
Save
Save
Save
Save
Save
Save
Save
Save
Save
Save
Save
Save
Save
Save
Save
Save
Save
Save
Save
Save
Save
Save
Save
Save
Save
Save
Save
Save
Save
Save
Save
Save
Save
Save
Save
Save
Save
Save
Save
Save
Save
Save
Save
Save
Save
Save
Save
Save
Save
Save
Save
Save
Related Posts