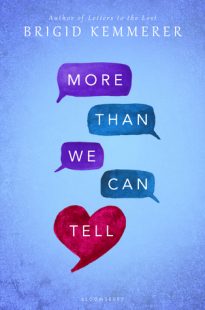 More Than We Can Tell
by
Brigid Kemmerer
Purchase on:
Amazon
, 
Book Depository
Add to:
Goodreads
Synopsis:

With loving adoptive parents by his side, Rev Fletcher has managed to keep the demons of his past at bay. . . until he gets a letter from his abusive father and the trauma of his childhood comes hurtling back.

Emma Blue's parents are constantly fighting, and her only escape is the computer game she built from scratch. But when a cruel online troll's harassment escalates, she not only loses confidence but starts to fear for her safety.

When Rev and Emma meet, they're both longing to lift the burden of their secrets. They connect instantly and deeply, promising to help each other no matter what. But soon Rev and Emma's secrets threaten to crush them, and they'll need more than a promise to find their way out.

From the author of Letters to the Lost comes a new compulsively readable story for fans of Nicola Yoon.
Review:

More Than We Can Tell was an emotional book that was the perfect mixture of heart-wrenching and oh so sweet.  So I definitely wasn't surprised that I had tears in my eyes, when I was only a few chapters into this story.  It was a testament to how easily these characters captured my heart.  And while this can be read as a standalone, I recommend picking up Letters to the Lost too.  That story first introduced us to Rev, and it was one of my favorite books from last year.
I think of the girl beside the church.
You're afraid.
I've spent years learning how not to be afraid. And now, with a few short sentences, my father has sliced through all my defenses. – Rev
Confession time – I had already fallen for Rev Fletcher in Letters to the Lost.  He was Declan's best friend, and we saw what an amazing man he was.  He was always there for Declan, had so much compassion in his heart, and was such a good guy.  Even though it was obvious that he suffered from his own personal demons.  So to start off the book with his world exploding?  Oh.  My heart ached so badly for him.  And it was all because he received a letter from his biological father.  The man who raised him till he was eight, and who physically and mentally tortured Rev.  All in the name of God.  And from just that one letter, Rev started to spiral down into a dark abyss.
I keep worrying about my father, wondering when something is going to snap inside me. Wondering when I'm going to turn vicious and cruel, just like he did. – Rev
While Rev found himself sinking into a horrific darkness, he met someone who was suffering too.  Emma Blue.  Within that first interaction, they shared a tiny piece of what they were feeling.  I loved that with just a few words, they felt that connection.  They made each other not feel so alone in the world.  And from there, each time they ran into one another or met up, they let each other in just a little bit more.  It was such a beautiful progression to watch their friendship blossom.  They listened, they offered advice, they confessed and they found solace in each other.  But within it all, was butterflies and the possibility of a first love.  
I block him.
Then I slam my laptop shut. I flip over in bed and scream into my pillow.
I scream so loud and so long that I forget what silence is like.
I scream until I run out of breath. – Emma
I was so thankful that Emma met Rev.  Because it felt as though she had no one at times.  She struggled in her relationships with her parents.  They weren't supportive of her, weren't around, and they treated her like an inconvenience.  On top of that, she seemed to be drifting away from her best friend.  As if that wasn't enough, she suffered from horrific online bullying.  And while I loved how outspoken and tough Emma could be at times, I did struggle with her.  She had a habit of pushing others away or saying hurtful things.  And the few times she did that to Rev, well it hurt me too.  Even though I saw where she learned that behavior from, and I got why she did it, I still didn't like it at all.  But thankfully Emma made up for it again and again.
"Thank you."
"For what?"
"For seeing me."
Then he turns, jogs across the street, and disappears into the darkness beyond.
There were so many beautiful messages in this book, that I believe are extremely important.  They ranged from bullying, to trusting the wrong people, to discovering solace in the ones you love and to also finding acceptance within yourself.  And on top of the messages, there were other people that added so much heart to this story.  Such as Declan, Rev's adoptive parents and Matthew!  Ahhh I can't say anymore, but I'd love to read Matthew's own book someday *fingers crossed*!  So I found myself closing the book extremely happy with how it all ended.  It's a fabulous read, and I definitely recommend it!!
PS If you want to read my 5 Star Review of Letters to the Lost, the book the first introduces us to Rev, you can read it here.
*ARC kindly provided by Bloomsbury USA Children's Books via Netgalley in exchange for an honest review*
Related Posts