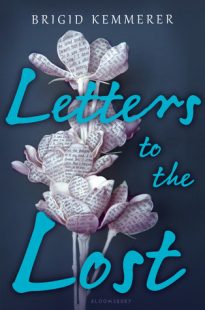 Letters to the Lost
by
Brigid Kemmerer
Purchase on:
Amazon
, 
iBooks
, 
Book Depository
Add to:
Goodreads
Synopsis:

Juliet Young always writes letters to her mother, a world-traveling photojournalist. Even after her mother's death, she leaves letters at her grave. It's the only way Juliet can cope.

Declan Murphy isn't the sort of guy you want to cross. In the midst of his court-ordered community service at the local cemetery, he's trying to escape the demons of his past.

When Declan reads a haunting letter left beside a grave, he can't resist writing back. Soon, he's opening up to a perfect stranger, and their connection is immediate. But neither Declan nor Juliet knows that they're not actually strangers. When life at school interferes with their secret life of letters, sparks will fly as Juliet and Declan discover truths that might tear them apart.
Review:
Letters to the Lost was emotionally breathtaking and beautifully crafted. The story that unfounded was filled to the brim with pain and heartache. I don't even knew how many times I found myself with tears in my eyes, my heart in my throat and with the incessant need to make their lives filled with love. But I held out hope that over time, they would help each other find not only strength, but love too.
Do you believe in fate ? Sometimes I want to. I want to believe that we all walk some path toward . . . something, and our paths intertwine for a reason. Like this, the way we've found each other. The way you told me the right story when I so desperately needed to hear it. – Juliet in her letter to Declan
It all started out from a letter Juliet left her mother, at her gravestone. And Declan came across the letter, while he was getting ready to mow the cemetery's grass. For his court ordered community service. That letter resonated deep inside of Declan, so he simply wrote back "Me too". To let the girl know that she wasn't alone in her thoughts and feelings. And from there, their communication slowly escalated over time. The found kinship, they found someone to release their most secretive thoughts with. They no longer felt alone. Yet they had no clue who the other was, even though they went to the same high school.
Half-broken breaths are coming out of me in short bursts. – Juliet
I loved the path this story took, and I loved even more that it wasn't easy. That nothing was glossed over. That we got to see their varying shades of pain, and that it was splattered everywhere for us to witness. Especially since not everyone in their lives knew their darkest, deepest thoughts. But we did. And Juliet Young and Declan Murphy knew that about each other too. When I started this book, I didn't think it would have as dark of a feel to it as it did. But the words they wrote to one another and their feelings they talked about sometimes felt as though I was drowning in an endless abyss with them. It was powerful, and their pain was so acute.
"What are you afraid of?"
I look at Declan , but he's still staring out at the rain. His voice has gone quiet, and he's not half as threatening as he was.
"I don't know," I say.
While they were still teenagers, they both had so much growing up to do. Juliet could at times be cold and judgemental. And she compared herself to her dead mother, which always made her come up short. Yet, I loved this girl. Especially when she would contemplate her word choices or how she treated someone. And that had a lot to do with Declan. Because not only did the letters make her question how she acted around others, but when her and Declan ran into each other in person, it had a similar affect. Not at first of course, but slowly over time. And when they did interact in person, it was explosive. If only they knew who they were baring their soul to………
I need her. More than anything right now. I need her. And because of everything between us, I can't have her. – Declan
Declan was dark, his own worst enemy, and he was so tortured from his past. Especially since he placed the blame of an event on his own shoulders. Not only was his home life troubling, but he was an outcast at school. Yet he had this ability to radiate power, and he was sexy as hell. So Declan easily broke my heart, while also making me fall for him. And when he was completely honest in his letters to Juliet, he took my breath away with his words. It was so different than how he acted around so many others.
I can't look away from that last line.
Now write back and tell me you're all right.
He cares. About me. – Juliet
Letters to the Lost alternated between Juliet, Declan and their letters to one another. While the book seemed to move at a somewhat slower pace than I'm use to, I loved it. We got to witness their interactions with not only every single letter, but we also learned everything about their home and school lives, and also their friends. It gave me a deeper sense of knowing them. Letters to the Lost was definitely an emotional book, and I can't wait for Rev's book next year! He was Deacon's best friend, who I absolutely adored, and I think you'll fall for him too!
*ARC kindly provided by Bloomsbury USA Children's Books via Netgalley in exchange for an honest review*
Related Posts