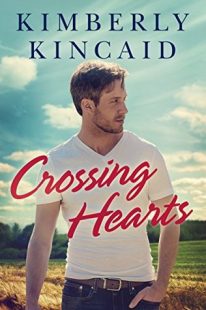 Crossing Hearts
(
Cross Creek #1
)
by
Kimberly Kincaid
Purchase on:
Amazon
, 
iBooks
, 
Book Depository
Add to:
Goodreads
Synopsis:

Hunter Cross has no regrets. Having left his football prospects behind the day he graduated high school, he's happy to carry out his legacy on his family's farm in the foothills of the Shenandoah. But when a shoulder injury puts him face-to-face with the high school sweetheart who abandoned town—and him—twelve years ago, Hunter's simple life gets a lot more complicated.

Emerson Montgomery has secrets. Refusing to divulge why she left her job as a hotshot physical therapist for a pro football team, she struggles to readjust to life in the hometown she left behind. The more time she spends with Hunter, the more Emerson finds herself wanting to trust him with the diagnosis of MS that has turned her world upside down.

But revealing secrets comes with a price. Can Hunter and Emerson rekindle their past love? Or will the realities of the present—and the trust that goes with them—burn that bridge for good?
Review:
Crossing Hearts was sweet, sensual and such a fabulous second chance romance.  The way the story evolved reminded me of honey slowly pouring out of a jar. It was beautifully slow and mesmerizing.  While Emerson and Hunter met again, right from the start, we got little pieces of their past here and there.  And we didn't fully learn all there was about Emerson and Hunter until further into the story. As someone who is more of a fast paced kinda girl, I found myself loving every single second of it!  So if you adore small town stories, sexy cowboys and strong females then definitely give this one a try!
He'd forgotten her once. He could damn well stick to forgetting her again.
Emerson and Hunter dated in high school, and they were so serious that Hunter even proposed to her.  She not only turned him down, but left the state for college, leaving him with his heart completely shattered.  Twelve years later, Emerson left her high profile career, her NFL boyfriend and was back in their tiny town as a physical therapist.  And Hunter was about to be her very first client!
"I'm even wondering what if right now. Like what if"— he paused, but just long enough to fully face her on the bench, letting his opposite hand trail up the outside of her arm—" you let me get closer to you."
While they tried their hardest to have a professional relationship, over time chemistry started to appear.  Not only was their friendship still there, but their past was definitely not buried.  Their old emotions were just begging to be released.  It slowly started to come out in their physical therapy sessions, their little town's festival and it got to the point that there was no way they could ignore it any longer.  The sexual tension between the two of them was so hot. And when they finally caved, ohhh the sex scenes were even hotter!
"Hunter,"she whispered, her breath hot on his hand, and just like that, he was done waiting. He'd wanted his mouth on hers for twelve goddamn years. He might be light-years away from playing it safe right now, but he didn't even want to wait another twelve seconds.
He just wanted her.
I found myself easily obsessed with Hunter.  He was strong, caring, determined, a hard worker and such a good guy.  As someone who usually prefers the bad boys, I was shocked how hard I fell for him.  His feelings were so real, and I loved watching him struggle between caring for Emerson yet being guarded because of their past.  And while I liked Emerson, it took me a little bit longer to warm up to her.  You see, she could be so stubborn at times.  She didn't want anyone to know her medical condition, let alone help her in any way. But over time, Hunter started to wiggle his way into her heart, and I found myself caring for Emerson too.  I so wanted them to make it this time around, and I found myself rooting for their HEA!
"Don't worry. I've got you, Em. I won't let go."
As he settled against the bedsheets with her nestled in close, Emerson realized that when she was in Hunter's arms, she didn't just feel normal.
For the first time she could remember, she felt whole.
In Crossing Hearts, you definitely feel all of the small town charm.  And on top of that, I loved Hunter's family!  His dad and two brothers worked with him on their farm, and I adored how true their family dynamics felt.  Yeah they had some problems, and I can't wait to see how it plays out in the future books, but I loved learning about all of them.  And I loved even more how Emerson fit so effortlessly in with Hunter's family. Scenes that just involved them eating dinner together, always felt like so much more.
"I don't think I realized it until now, but what I've been waiting for is you. It's always been you. And this time, I'm not letting you slip away." – Hunter
Crossing Hearts had a ton of character and soul.  I absolutely adored this book, and I'm so excited to read the rest of Kimberly Kincaid's books.  The next two books in this series are Hunter's brothers stories, and I can't wait to dive into them!
*ARC kindly provided by Inkslinger in exchange for an honest review*
Additional Standalone Books In The Series:
Cocky farmer Eli Cross plays twice as hard as he works. When his latest stunt drums up a heap of negative PR for the family farm, he grudgingly agrees to play host to an ambitious New York City photographer. Her feature on Cross Creek could be just the ticket to show the country what the Cross brothers do best…which is more problem than solution for Eli.

Scarlett Edwards-Stewart has photographed everything from end zones to war zones. She's confident she can ace this one little story to help her best friend's failing magazine. At least, she would be if her super-sexy host wasn't so tight lipped. But the more Scarlett works with Eli, the more she discovers that he's not who he seems. Can his secret bring them closer together? Or will it be the very thing that tears them apart?
For Owen Cross, the only thing that matters more than family is farming. As the oldest Cross brother, the land is his legacy, and he'll do whatever it takes to make Cross Creek a success—including hiring local widow Cate McAllister to manage the bookkeeping tasks that are growing in his office like weeds. Cate's as pragmatic as she is pretty, and she rattles his hard-fought composure at every turn.

Cate had known a lot of things about her husband before he died three years ago in a car accident, but how much debt he'd gotten them into wasn't one of them. She needs her job at Cross Creek, even if her boss is both gruff and gorgeous. But Owen's a family man, through and through, and the last thing Cate is interested in is anything—or anyone—with strings attached.

As Owen and Cate join forces to right the farm, they discover there's more to the other than the surfaces shows, and that passion can be found in unexpected places. Can Cate heal from the loss of one family to gain the love of her life? Or will the past prove too much for the promise of the future?

Amazon * Barnes and Noble * iBooks * Kobo
Excerpt for Crossing Promises:
[scroll-box]Cate dragged a hand through her hair, her gaze moving over the boxes in disbelief. "Let me see if I've got this right. You don't do any of your bookkeeping online. At all?"
"We do. Just not a lot of it," he amended. The Cross men lived to work the land, not the ledgers. Sure, their current system was a little time consuming, but it wasn't totally ineffective. Cross Creek had been running on it for decades. "We have software right here on the computer." He paused to pull up the program they used for much of their bookkeeping before adding, "It's just that none of us are great at using it."
"So I see," Cate said after a quick perusal over his shoulder.
Irritation splashed through Owen's chest. "Our books aren't that bad."
The parting of her lips said she was primed and ready to take him to the mat on that count, and damn it, he really didn't have time to argue with her. "Look, I know it's going to take some work to get things running smoothly in here."
"It's going to take a lot more than that," she murmured with a shake of her head, and just like that, Owen's patience redlined.
"Can you do it, or should I find someone else?"
Once again, his words came out gruffer than planned. But before he could even think of cooking up an apology, Cate's arms had snapped across the front of her sweater dress to form a don't-mess-with-me knot that was far, far more of a turn-on than it had a right to be.
"That's what you hired me for, isn't it? To manage your books effectively?"
"Yes," Owen answered carefully, still caught between the desire to be annoyed, the desire to apologize, and, well, just plain desire.
"Well, then. Since I have my work cut out for me with a chainsaw, I suppose I should get to it," Cate said.
After a quick internal debate, Owen nodded. Brash or not, he needed her. More than he cared to admit. "Okay, then."
She answered by way of pushing up her sleeves and sliding an elastic from her wrist to secure her hair in a knot at the crown of her head. Even with the more casual edge, the powder-blue dress still hugged her curves, her calves flexing and releasing as she moved from one stack of boxes to the next in her heels, and he cleared his throat.
"Just so you know, we're pretty casual around here. You don't have to look nice."
Cate's cheeks flushed a shade of pink that, while highly pretty, didn't bode well for him in the mending-fences department. "Good to know," she said, and holy hell, why did his mouth refuse to cooperate with his brain around this woman?
"Not that you don't look, uh. Fine like that. All I meant was, you don't have to get dressed up. Jeans are okay."
She stared down at the toes of her shiny black shoes, but only for a split second before meeting his stare with her own. "Got it, Casanova. Is that all?"
For just a heartbeat, Owen was tempted to say no, to dig deep into his Neanderthal brain for the right words to tell her she actually looked fucking beautiful. To surrender to the hot demands coming from both his chest and his cock, and cross the room to impulsively kiss her sexy, sassy mouth.
But this was Cate McAllister. His buddy Brian's widow. He shouldn't think she was pretty. He shouldn't wonder if the skin on her shoulders bore the same provocative dusting of freckles as the neck she'd just put on display. And he damn sure shouldn't be turned on like floodlights at the fire in her eyes that he'd never quite seen before, but seemed to somehow fit her perfectly.
So, he simply said, "Yes. That's all," and walked out of the room.[/scroll-box]
Giveaway:
Cross Creek Series Tour:
[scroll-box]
February 26
Read-Love-Blog-Review What is That Book About-Excerpt
February 27
Reading in Pajamas-Review All Things Dark and Dirty-Excerpt
February 28
Always a Happy Ever After-Review Thoughts of a Blonde-Excerpt
March 1
Irishdaisylovesromance-Review The Fairest of All Book Reviews-Excerpt
March 2
Just the Write Stuff-Excerpt I Love Romance-Review
March 3
Tangents and Tissues-Excerpt What Do We Want Book Reviews & More-Review 1 Chick and her Kindle-Review
March 4
KDRBCK-Review Books According to Abby-Excerpt Bad Boys and Bedtime Stories Book Blog-Review
March 5
Guilty Pleasures Book Reviews-Review Jax's Book Magic-Excerpt
March 6
Nicole's Book Musings-Excerpt Oh My Growing TBR-Excerpt
March 7
The Heathers' Blog-Review Becky on Books-Review
March 8
Melena's Reviews-Review Read Your Writes Book Reviews-Excerpt
March 9
One-Click Chocolate Chick-Review Kari's Book Reviews & Revelations-Review
March 10
KatyaRath-Review Reese's Reviews-Excerpt
March 11
Two Book Pushers-Excerpt
March 12
Only One More Page-Review My Book Filled Life-Review
March 13
Fire and Ice Book Reviews-Review The Power of 3 Readers-Review
March 14
Shannon's Book Blog-Review Book Loving Pixies-Review The Romance Reviews-Review Blushing Babes Are Up All Night-Review
March 15
Star-Crossed Book Blog-Review Sascha Darlington-Review Bookgasms Book Blog-Review Hannah's Words-Review
March 16
G & T's Indie Café-Excerpt TBR Book Blog-Review Teatime and Books-Excerpt
asdf
[/scroll-box]
About Kimberly Kincaid:
Kimberly Kincaid writes contemporary romance that splits the difference between sexy and sweet. When she's not sitting cross-legged in an ancient desk chair known as "The Pleather Bomber", she can be found practicing obscene amounts of yoga, whipping up anything from enchiladas to éclairs in her kitchen, or curled up with her nose in a book. Kimberly is a USA Today best-selling author and a 2015 RWA RITA® finalist who lives (and writes!) by the mantra that food is love. Kimberly resides in Virginia with her wildly patient husband and their three daughters.        
Related Posts
I signed up for the Cross Creek Series Tour because not only did Kimberly Kincaid's books sound amazing, but she'll be attending RT this year. After reading the first book in this series, I'm not only super excited to meet her in person, but I can't wait to read the next two standalone books in this series! So check out my review below, see what the other books are about and enter a fabulous giveaway! Enjoy!!