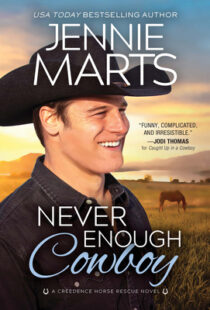 Never Enough Cowboy
(
Creedence Horse Rescue #4
)
by
Jennie Marts
Purchase on:
Amazon
, 
iBooks
, 
Book Depository
Add to:
Goodreads
Synopsis:

Fans of Carolyn Brown, Maisey Yates, and Jennifer Ryan will fall head over cowboy boots for this second-chance romance from USA Today bestseller Jennie Marts.

Single mom Jillian Bennett barely has a moment to herself between raising her ten-year old son, volunteering at the horse rescue ranch, and working her new job as head librarian of Creedence, Colorado. She doesn't have time for romance either, even though she and the cute deputy, Ethan Rayburn, have been doing a lot of flirting the last few weeks. But when he also forms a bond with her son, Milo, Jillian falls hard, and Ethan soon realizes he would do anything for the feisty librarian who's won his heart.
Review:
Never Enough Cowboy was heartwarming, touching, and an instant favorite!  This book had me constantly laughing and I loved being back in this world.  It truly felt like coming home.  But keep those tissues nearby, because this one pulled on my heart more times than I can count.  If you love small town romances, or country romances, definitely make for sure this book is on your tbr!
"It's okay for you to fall," he said, his voice a husky whisper. "I promise I'll catch you."
Jillian Bennett was new to town, a librarian, and a single mom.  She was quirky and I loved her for it, especially her ridiculous underwear lol!  Through mutual acquaintances, Jillian found herself running into Ethan Rayburn time and again.  He was a deputy and was completely smitten by Jillian.  Yet, Jillian was focused and had a lot on her plate.  She didn't feel as though she had time to date, even if Ethan clicked so easily with her son, Milo.  Ethan was determined to knock down Jillian's walls and find a way into her heart.  And his path to that was beyond adorable and steamy too!
Tilting her face up to his, she looked into his gorgeous blue eyes and saw such tenderness there, it hurt her chest. Emotion burned the back of her throat, and she feared she might start crying again. "I could really fall for you, you know?"
His lips curved into a roguish grin. "That's what I'm hoping for."
I absolutely loved Ethan!  I loved that he knew what he wanted in life and went after it.  From the first moment he met Jillian, he just knew she was for him.  And that man did not have a subtle bone in his body about wanting Jillian lol!  Ethan was kind, patient, sexy, romantic, hilarious and so sweet.  Yet he could also be tough as nails and a force to be reckoned with.  So I loved his softer moments with Jillian and her son.  He was so thoughtful and I loved the lengths he went to, to try and win Jillian over.  But I was so nervous for him.  Would Jillian open up and let him in?
"I'll just look around then, maybe check out a book or two, while I wait." He leaned forward, lowering his voice further. "Got any recommendations for books about romance? I'm kind of interested in this woman, and I feel like I need to up my game with her."
She pressed her lips together to keep a giggle from escaping.
Jillian and Ethan had such an emotional path.  Their old fears and pasts crept in.  Mistakes were made.  And there were scenes that pulled at my heart and made me cry all the tears.  Not only for Jillian and Ethan, but for the animals too as we watched them work towards their HEAs also.  But don't worry because there was lots of joy, and I had so many happy tears too!  So many of our favorites are back, humans and animals.  I loved Otis the goat and Aunt Sassy and her meddling.  I laughed so hard, I don't even know how many times, that I had tears streaming down my face and was gasping for breath!   And watching Ethan and Jillian's son Milo together made my heart burst with joy!  Ohh plus this book had a surprise that I'm not saying a word about other then I LOVED how it affected the story!
"Darlin', haven't you figured out by now that it doesn't matter if you're wearing my hat, your superhero undies, a down parka, or nothing at all, I am completely at your mercy."
Why is this series not a tv show?!?!  I would binge it again and again, just like I still do with Friends! Never Enough Cowboy was fun, flirty and heartwarming! With friendship and love, this story was so much fun! I was completely swept away and I think romance lovers will feel the same way too! And now I'm dying to know, are Knox and Carly the next book? *fingers crossed!*
*I voluntarily read and reviewed an advanced copy of this book, provided by the publisher. All thoughts and opinions are my own.*
Related Posts