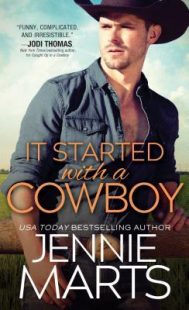 It Started with a Cowboy
(
Cowboys of Creedence #3
)
by
Jennie Marts
Purchase on:
Amazon
, 
iBooks
Add to:
Goodreads
Synopsis:

What will this cowboy risk for love?

Colt James is back home on the family ranch, and he's done taking risks. A car accident ruined his shot at a professional hockey career and messed up his love life, and he's not taking a chance on anything that seems too good to be true. Especially not on Chloe Bishop, his nephew's irresistibly charming teacher and the one woman he can't stop thinking about.

Chloe Bishop liked her life the way it was—orderly, structured and safe. Life goes from managed to messy when Colt talks her into helping him coach a hockey team of rowdy eight-year-olds. Being this close to the cowboy she's crushing on is dangerous territory. But when a real enemy threatens Chloe, Colt will do anything to protect her. Even if it means risking himself—and his heart.
Review:
It Started With a Cowboy was smile inducing, absolutely adorable and oh so hot.  If you aren't familiar with Jennie Marts, she writes romance stories that pull at your heart and make you feel like you're watching a new favorite movie.  The story always flows so smoothly and even the side characters are well thought out. And while I have fallen in love with this series, about brothers who are hockey playing cowboys, I have a confession.  This easily became my favorite Jennie Marts book!
"What is your type?" He leaned in, just the slightest, the fishing line drawing him closer.
She gazed up at him, her eyes wide. Her lips parted as she inhaled another soft breath, and he imagined how her mouth would taste, how her body would feel if he pulled her against him and crushed her lips with his.
This can definitely be read as a standalone, but if you haven't read Caught Up in a Cowboy or You Had Me at Cowboy, I recommend you do.  Each book is about one of the brothers, and you fall more in love with this family as the series progresses.  This time around we got to hear from the youngest brother, Colt James. He not only helps out at his family's ranch, but also around town too.  And in the last book, we saw him flirting with Chloe Bishop, who is his nephew's teacher.
Something about Chloe Bishop was poking the edges of his heart, as if looking for a soft place to sneak in. And he could feel those rough edges giving in— not breaking, but bending a little each time she offered him a bashful smile.
Ladies, you have to meet Colt James.  He was swoon worthy, sexy, charming and I just wanted to steal him out of this book.  I loved his friendly, easy-going nature but his past made him cautious.  Colt lost the chance to be in the NHL and the girl he loved because of a bad decision.  It hurt my heart to see how he viewed himself because of his past actions. Especially since he was one of the good guys.  Colt always helped others out and his actions showed how sweet, thoughtful and kind-hearted he was. He deserved someone who would see how wonderful he was and I kept hope that Chloe would be that woman.
He'd picked her up like she weighed nothing , and she'd wanted to cuddle against him, wanted to bury her face in his neck and inhale the scent of his aftershave. Heck, she'd wanted to lick him and claim him as hers.
Chloe Bishop was a sweetheart who lived a quiet life that was filled with teaching, her cat and knitting while binge watching Netflix.  She went above and beyond with her students and you could tell she had a heart of gold.  But just like Colt, her past made her doubt her worth. I wanted to reach into this story and give her the hugest hug ever and tell her she was enough and deserved love.  Especially when she thought Colt was helping her out, just because he was nice, and that was how he treated everyone.
"But I don't know anything about the rules or how to play. I don't even know how to score."
A playful grin covered his face. "I can teach you how to score."
Life ended up pushing Colt and Chloe together right from the start.  And when Chloe agreed to help Colt coach a hockey team of 8 year olds, they were around each other even more.  Yet Chloe could be so awkward, since she didn't have a lot of experience with guys. But that didn't matter because Chloe and Colt could be so funny together.  The banter between them felt effortless, even if Chloe had to work at it. But then those funny and sweet moments would shift and I'd find myself smiling for an entirely different reason or sighing out loud.  Like when they baked cupcakes, who knew that could become so hot! *fans face*
She couldn't breathe, couldn't move, as heat and want surged through her veins. It had been so long since a man had touched her lips, and the soft pressure of his thumb against her chin felt more delicious than a thousand tastes of chocolate.
While this is a love story, it also has a strong family feel.  I absolutely adored the James family and their dinners or get togethers had me laughing so hard.  Plus I heart Aunt Sassy, that woman is so much fun! So yes, I absolutely loved this book. It Started with a Cowboy is perfect for those who love swoon worthy romance that will make you smile and laugh.  And even if cowboys aren't your thing, this is the best book to dip your toes into their world.  I can't recommend it enough!
"What if I fall?" she whispered.
"It's okay to fall." He gazed down at her, his expression sincere, and it felt like he was talking about something else, something deeper.
PS I'm totally going to beg on my knees, can Logan please get a story?  I know he's not a James brother, but he's close enough. I'd love to watch him get his HEA.  Please?  Pretty please?
*I voluntarily read and reviewed an advanced copy of this book, provided by the publisher.  All thoughts and opinions are my own.*
Reading Order & Links:




Amazon (click on covers), iBooks (click on titles) & Book Depository (click on book #)
***Each book can be read as a standalone, but best enjoyed in order.***


Caught Up in a Cowboy #1
Reviews:
Jen

You Had Me at Cowboy #2
Reviews:
Jen

It Started With a Cowboy #3
Reviews:
Jen

Wish Upon a Cowboy #4
Reviews:
Jen
Related Posts